World Football: A Tactical Review of the Copa Del Rey Clasico
January 18, 2012

David Ramos/Getty Images
Another day, another Clasico. These seem to be getting pretty commonplace, and it seems that we had better get used to an interesting tactical battle. Jose Mourinho vs. Pep Guardiola, again, and both managers returned to the formation that made them both famous: 4-3-3. In fact, it was a classic Mourinho side, with three defensive box-to-box midfielders in the central midfield in a deep-lying 4-3-3, with Madrid even having a Joe Cole-equivalent role in Karim Benzema.
 Starting Lineups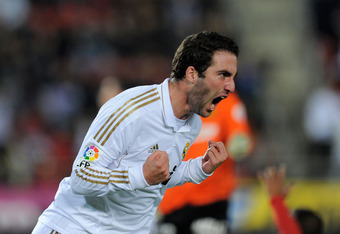 Denis Doyle/Getty Images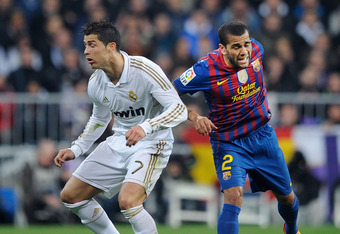 Denis Doyle/Getty Images
Madrid started with a 4-3-3 with a lack of any true playmaker in the side, as destroyers Pepe and Diarra, as well as deep-lying playmaker Xabi Alonso, started. Benzema and Ronaldo were on the wings, although Ronaldo played a very different role to Benzema. Benzema tucked in behind the more defensive Abidal into a Mata-esque wing playmaking role, and Ronaldo "did a Dirk Kuyt," putting in a good defensive shift and helping Madrid's counter-attacking game.
Coentrao and Altintop both attacked in the first half, taking advantage of Barcelona's lack of natural width. Coentrao in particular helped by Ronaldo's filling in with Altintop's positioning, as Benzema never really tracked back. Gonzalo Higuain played a lone poacher role, and in truth, didn't see much of the ball throughout.
Barcelona started with a 4-3-3 in a style which has since become their trademark. Alves attacked higher on the right, making Abidal, Puyol and Pique shift into a back three from time to time. The midfield played as per usual, with Fabregas and Iniesta switching positions often. Messi was dropped in as a false nine into the attacking midfield positions, while Alexis Sanchez played as the only true winger/ only true striker.
First Half
As the game started, it became apparent that Real Madrid were pressing selectively, laying off the defence and concentrating on the midfield, with every player except Higuain making movements backwards in defence rather than playing upfront.
During the first half, Madrid saw quite a lot of the ball in terms of chances. They broke well, helped by (as mentioned before) the lack of width in Barcelona's starting XI as the full-backs bombing forward. This contributed quite significantly to Madrid's attack. This decreased after about 15 minutes, as Alexis moved to the left (as shown in the starting lineup), decreasing Coentrao's runs.
The other aspect of Madrid's attacking game was the use of Benzema as a tucked-in playmaker type wing forward. This was very effective in the start of the game, with Abidal forced to go deeper to cover for Alves's runs forward. The first goal is especially indicative in this case. Madrid win the ball, Benzema gets it in the Attacking midfield position and passes to Ronaldo, who runs on as Alves fails to catch him,and he scores.
After Madrid's goal, around about the 20-minute mark, Alves was told to curb his attacking instinct, and Abidal was told to mark Benzema more closely. This helped to curtail Madrid's attacking threat, which was never really the same after. The downside was Barcelona losing their main source of width, making the game narrower and more scrappy.
And of course,  Madrid were kept under constant Barcelona pressure.
Second Half
The lineups generally stayed the same, and the pattern of the game generally stayed the same. Barcelona scored, Pepe's lack of attention at the back post costing him as Puyol headed it in. Madrid still kept soaking up pressure from Barcelona after the goal, the side now waiting for Barcelona to tire. When that did happen( or was supposed to happen), Ozil and Callejon were introduced to help Madrid's attack.
Ozil's positioning in this case was interesting. He drifted out to the wing position more than staying to the centre, with the appropriate winger covering him. Abidal, of course, scored the second after a magic pass by Lionel Messi, a moment of magic which transcended the tactics of the game.
Conclusion
Again, Mourinho started correctly, reflected in the early scoreline, but Guardiola adapted his tactics, blunting Madrid's attacking game. However, he did that at the risk of weakening Barcelona's own attack, narrowing the game and making it more scrappy. In this context, it is notable that the Barcelona goals came from a set-piece and a moment of individual brilliance, in either case helped by a dose of defensive incompetence by Madrid.

This article and others like it can be found on my blog.