Patriots vs. Ravens Prediction: 5 Bold Predictions for AFC Championship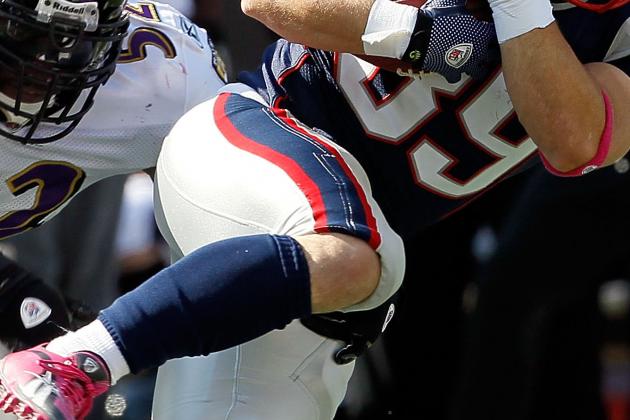 Jim Rogash/Getty Images

The time has finally come. This is what Baltimore and New England fans have been waiting for all year long: a chance to represent the AFC in Super Bowl XLVI.
Both squads butted heads in the playoffs two years ago, with the Ravens running all over New England on their home turf.
The Patriots will be looking to redeem themselves this Sunday and end the constant chatter regarding the downfall of the Tom Brady reign.
On the other side of the coin, Baltimore is looking to finally break through. Coach John Harbaugh has led this team to 44-20 record throughout his first four years in Baltimore but has yet to take his team over the hump into the land of greatness.
There is no doubt this game has high expectations. The Ravens defense will be bloodthirsty, the Patriots offense will be clicking on all cylinders and the coaches will be performing at an all-time high level.
Will one of the greatest offenses of all time defeat one of the greatest defenses? Will Baltimore finally reach another Super Bowl?
Here are five bold predictions for this week's AFC Championship game.
Begin Slideshow

»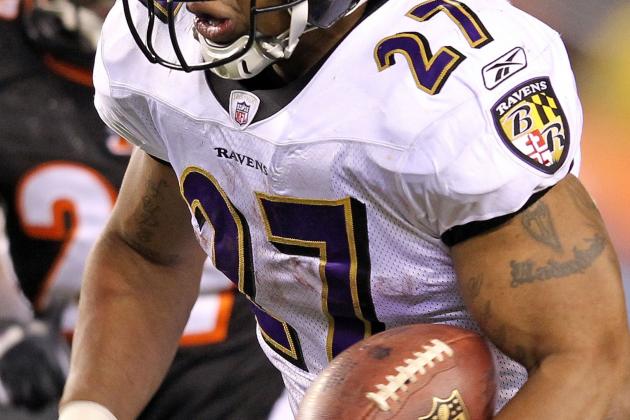 Andy Lyons/Getty Images

The New England defense has played well, as of late, and showed toughness last week against the Denver Broncos.
Whether the defense can keep this up, we will find out shortly. But I'm sure Baltimore remembers the damage Ray Rice did last time these two met in the playoffs.
Rice carried the ball 22 times and compiled 159 yards on the ground, including a touchdown on the first play from scrimmage.
With a slightly above-average quarterback, Baltimore will rely on Rice to carry the majority of the load this Sunday.
Although Rice has not gone over 29 carries this season, and only averaging about 18 carries per game, Baltimore will feed him the ball over and over until New England's defense can stop him.
His season high in carries will come this Sunday.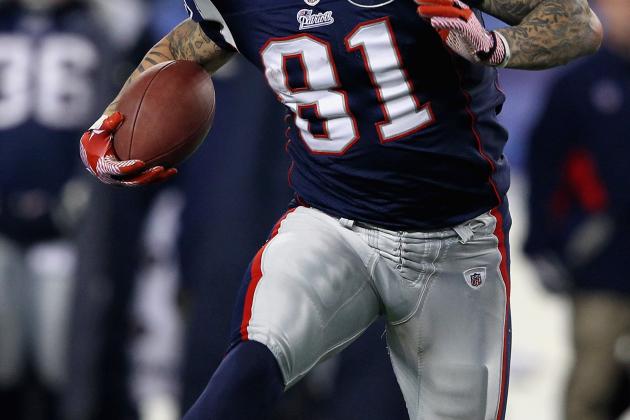 Al Bello/Getty Images

New England's receiving corps is just too tough for most secondaries to handle.
Although I believe Baltimore can slow them down more than other teams, these guys will still get their usual stats.
One difference, though, will be the leader in receiving yards.
Every week, people normally see Rob Gronkowski and Wes Welker leading the team with double-digit catches and 100-plus yards receiving. The Patriots are going to have a receiver break the 10-catch mark and 100-yard-receiving plateau, but it won't be the usual two guys.
Aaron Hernandez is going to play phenomenal. While the Ravens are going to key in on Gronk and Welker, Hernandez will have opportunities over the middle and down the field.
One thing about Hernandez that teams don't realize is his versatility. He has the body of a tight end but the quickness and agility of a wideout.
Look for Hernandez to put up big numbers receiving this weekend.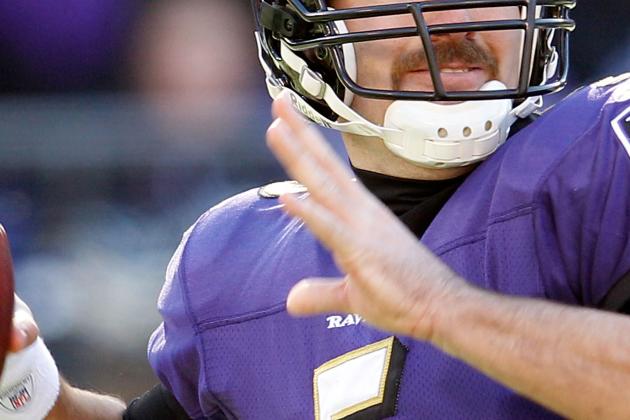 Rob Carr/Getty Images

Out of the 17 games played this season, including playoffs, Joe Flacco has completed over 50 percent of his passes 13 times.
He doesn't take many shots down the field but he takes up a large chunk of the clock and moves his team down the field, slowly but surely.
Look for Baltimore to run their usual quick routes and let Flacco become comfortable in the pocket.
The only difference between this game and the other regular-season games, or the playoff game two years ago in New England, is this: A trip to the Super Bowl is on the line.
Flacco will come out with a few jitters. He has been criticized for not bringing the Ravens to the Super Bowl in his first four years even though they have had good enough teams to make it there.
I do not see Flacco handling the pressure well. He will throw about 25 passes but look for him to complete about 11 or 12. His accuracy has been in question and it could hurt Baltimore's chances.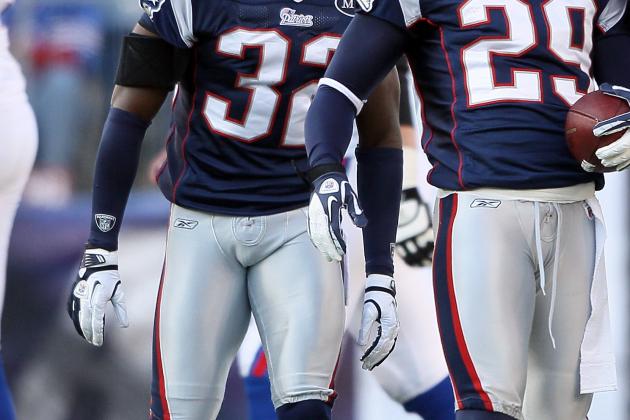 Elsa/Getty Images

The Patriots seem to have found their mojo on defense.
People will still question the stability of their squad, and rightfully so, but they have proven doubters wrong the last few weeks.
Not only will they force a few Ravens turnovers, this secondary will score a touchdown early in the game.
I see the Ravens trying to get Flacco into the game slowly by giving him short and square out-routes. One of the New England defenders will jump the route and take it to the house.
This, by no means, suggests the Patriot defense will play above average. All I am predicting is a defensive touchdown by a secondary player due to the inaccuracy of Flacco.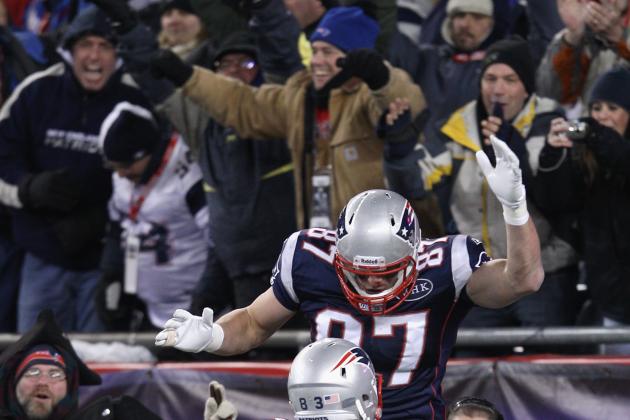 Elsa/Getty Images

I already know I will get a bunch of negative comments about this prediction but hear me out.
This New England offense is as potent as ever and no team has stopped them since early November. The Baltimore defense is getting a tad older each week and last week's game took a toll on them.
I'm sure the Ravens defense will be rested and ready to go, but this offense is too powerful.
Look for New England to put up 35 points or more.
Scoring 35 points seems like a sure-fire victory for most teams, but no one knows what defense will show up for New England.
The offense will score and the defense will get that huge stop they seem to get week in and week out.
Final Score Prediction: New England 35 Baltimore 27