New York Yankees Rotation Turnaround: Predictions for the 2012 Starters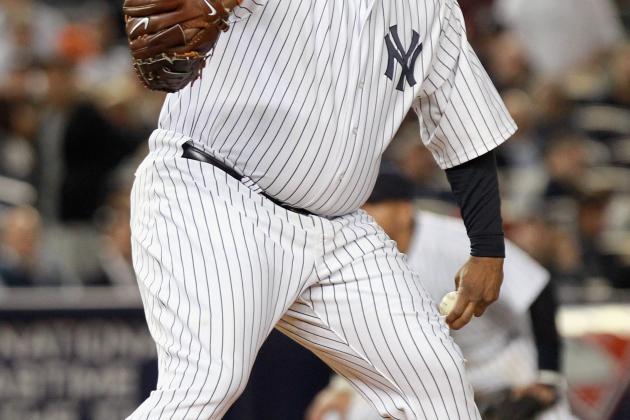 Nick Laham/Getty Images

Brian Cashman was nothing but patient in the early goings of the 2011-2012 offseason, and for good reason. Opposing general managers were asking for enormous returns for their ace starters.
Cashman thought it wise to hold on to his prized pitching prospects, Manny Banuelos and Dellin Betances, when asked for them in deals regarding John Danks, Gio Gonzalez and Matt Garza.
For all Yankees fans knew, Cashman seemed perfectly content heading into the season with a rotation similar to last season's makeshift one. CC Sabathia and Ivan Nova would headline the rotation, with an inconsistent Phil Hughes in the third slot and the shaky AJ Burnett and Freddy Garcia rounding out the starting five.
Then, out of nowhere, Cashman agreed to a blockbuster deal with Seattle to obtain rookie sensation Michael Pineda, along with prospect Jose Campos, for super prospect Jesus Montero and right-hander Hector Noesi.
As if that wasn't enough, Cashman then went out and agreed to a one-year, $10 million deal with veteran Hiroki Kuroda.
The Yankees rotation, once a huge question mark, now appears to be a relative strength heading into the 2012 season. Here's how I believe it will shape up.
Begin Slideshow

»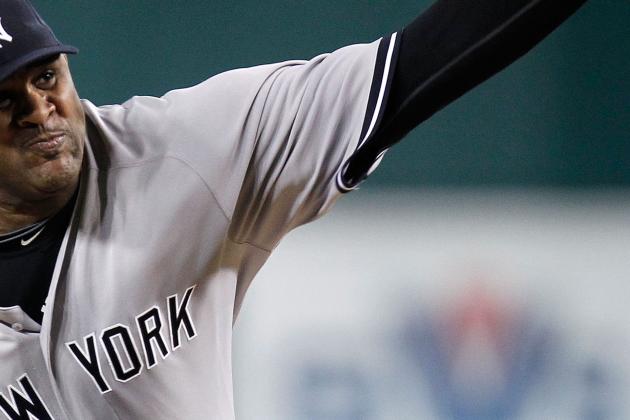 Gregory Shamus/Getty Images

Predictions
Record: 21-6
Innings: 225 IP
ERA: 2.86
Strikeouts: 215 K
Mainly due to the fact that his supporting cast will be much improved this season, CC Sabathia will have much less of a load on his shoulders.
The bullpen will be much better rested throughout the season because of more consistency in the rotation, so Joe Girardi will no longer have to stretch him out in games where he would normally just call on one of his relievers. He will be asked to pitch a few less innings, which will result in success late into the season.
The big lefty saw his WHIP rise to the highest it had been since 2005, so expect a decrease in that category in 2012. This rise in WHIP was a result of more hits against Sabathia, not more walks allowed.
His BB (nine) was actually the lowest of his Yankee career, at 2.3, but his hits (nine) rose to 8.7, the second highest total of his career.
When all is said and done, expect another All-Star season from the Yankees workhorse, and don't be surprised if he's one of the leading candidates for the AL Cy Young.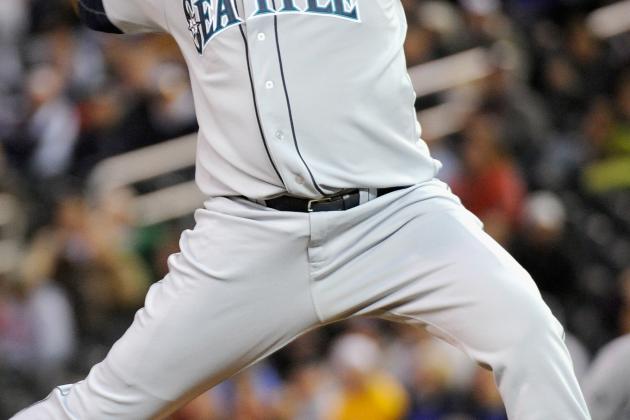 Hannah Foslien/Getty Images

Predictions
Record: 15-9
Innings: 180 IP
ERA: 3.68
Strikeouts: 185
A trade to the Yankees may have been the best thing for the young right-hander. Not only will he be able to learn his craft from the great Mariano Rivera, he will learn how to condition himself from fellow big man Sabathia.
Pineda, standing at 6'7" and weighing about 260 pounds, sports a similar build to that of Sabathia. Sabathia has been able to stay pretty healthy throughout his career, and learning how to stay in shape from someone of a similar build will be great for Pineda.
Pineda's electric stuff will be a welcome addition to the Yankees rotation. His high-powered fastball and sharp slider will help Pineda be a devastating force behind Sabathia in the rotation.
Mostly because of a much better offense, I predict Pineda's win total to drastically rise from the nine he won in 2011 in Seattle.
I don't believe he will exceed 180 innings pitched, though, as the Yankees will want to be somewhat cautious with their future ace.
Pineda is the real deal, and he and Sabathia will form a formidable duo atop the Yankees rotation for years to come.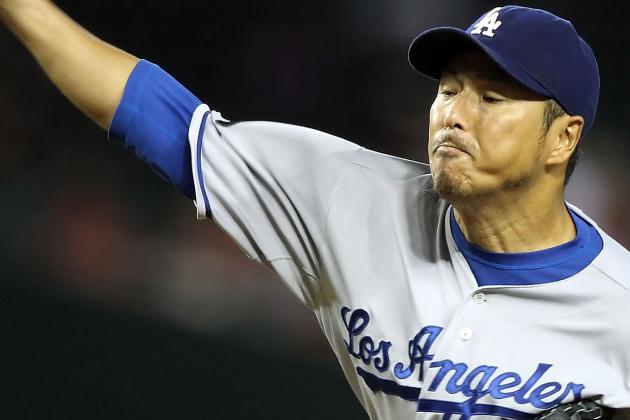 Christian Petersen/Getty Images

Predictions
Record: 14-10
Innings: 205 IP
ERA: 3.40
Strikeouts: 150
The addition of Hiroki Kuroda strengthened the Yankees rotation in many ways. For one, it gives the club a veteran arm who is capable of giving them 200-plus innings of very respectable baseball. Also, he sported a 48.6 percent ground ball rate last season. This will help him to transition easier into Yankee Stadium.
Ever since coming over from Japan after 2007, Kuroda has been very consistent. Although he's only had one career winning season, he owns a career record of 41-46. This is mostly because of the offensive woes of the Dodgers.
The offense really let Kuroda down last season, as he sported a 3.07 ERA and was still accredited with 16 losses.
I'd expect similar production from Kuroda next season. He will, however, have a winning record for just the second time in his career, as the Yankees most likely won't be playing in many close ball games.
Kuroda is a perfect one-year stop-gap option for the Yankees and at just $10 million, Cashman did not have to break the bank to get him.
Patrick McDermott/Getty Images

Predictions
Record: 14-9
Innings: 180 IP
ERA: 3.95
Strikeouts: 120 K
I expect a slight regression from Ivan Nova in his sophomore season. Nova has great stuff, but it is very unlikely that he will repeat his 16-4 performance from a season ago. A 14-9 record seems like a much more realistic expectation, with anything more being a bonus.
Nova, barring an injury, will almost certainly increase his innings pitched from the 165.1 he pitched last season. With the increase in innings, as well as with an increased familiarity with the American League hitters, Nova's strikeout rate will climb. He struck out just 98 last season.
He allowed just about a hit per inning last season, so he'll have to improve upon that during the 2012 season. His WHIP finished at 1.331 last season. That number is respectable, but the Yankees would love if he pitched with no one on base a little more often.
Despite the regression, Nova will still turn in a fine 2012 season.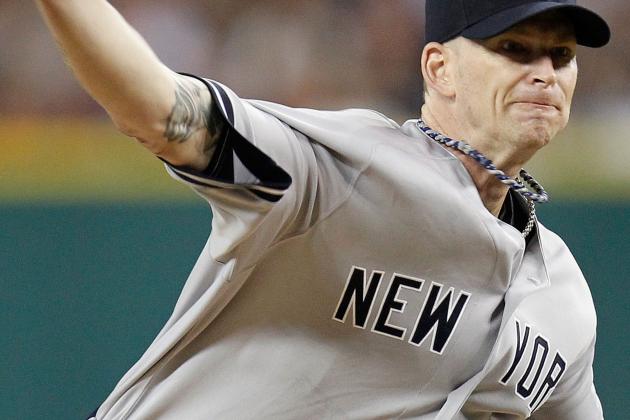 Gregory Shamus/Getty Images

Predictions
Record: 4-8
Innings: 95 IP
ERA: 4.90
Strikeouts: 80 K
As much as it pains me to say this, AJ Burnett will most likely begin the season as the fifth starter. I give him until the All-Star break, when Joe Girardi realizes that his best chance of winning will come from banishing Burnett to long relief and promoting either Freddy Garcia or Phil Hughes to the rotation. That discussion will take place on the next slide, however.
Despite Burnett's strong showing in Game 4 of last season's divisional series against the Tigers, many Yankee fans still don't have much confidence in Burnett. Quite frankly, I don't believe he even has the confidence in himself at this point.
The predictions listed on this slide are what I predict he will do in the rotation. They don't include what he will do as the long man out of the bullpen.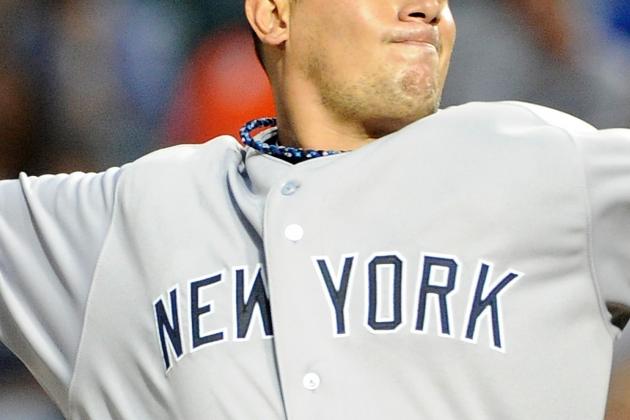 Greg Fiume/Getty Images

Predictions
Record: 8-4
Innings: 110 IP
ERA: 3.75
Strikeouts: 80 K
Freddy Garcia pitched wonderfully for Joe Girardi in 2011. This will help make his decision of taking Burnett out of the rotation much easier.
Garcia, despite being older and having much worse stuff, is a much safer option than the inconsistent Burnett.
He won't regress much from his 2011 numbers and in limited time in the rotation, will prove to be very valuable in 2012.
When combining Burnett and Garcia's numbers for 2012, we should expect to see something like a 12-12 record, with close to 190 innings pitched, a 4.50 ERA and about 160 strikeouts. All-in-all, that's not too bad for your fifth starter.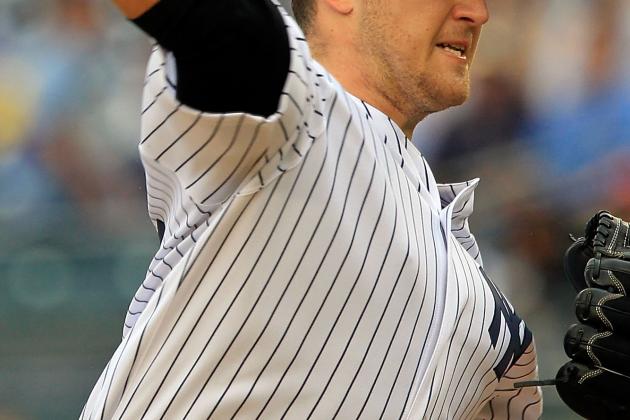 Chris Trotman/Getty Images

The Yankees, prior to this week, seemed rather short on pitching. Now, after the Pineda and Kuroda acquisitions, the Yankees now have the ability to call in adept reinforcements should there be an injury.
Phil Hughes would most likely get the first call to take a spot in the rotation, followed by young arms Adam Warren, David Phelps and Dellin Betances.
Manny Banuelos, although a top prospect, most likely won't get the call until the rosters expand in September.
The Yankees lineup should see increased production this season with a healthy Alex Rodriguez, so an improved starting rotation will definitely help the Yankees progress through the postseason.
A trip to the World Series next season may not be out of the question if the Yankees rotation produces at the level it is capable of in 2012.