New Orleans Saints: Steve Spagnuolo Set to Have Wade Phillips-Like Impact
January 19, 2012

Jared Wickerham/Getty Images
Steve Spagnuolo, former St. Louis Rams head coach and New York Giants defensive coordinator, has reportedly agreed to become the New Orleans Saints' defensive coordinator.
Coincidentally, Spagnuolo will replace Gregg Williams, who left the Saints to join Jeff Fisher with Spagnuolo's former team in St. Louis.
While Spagnuolo was a failure as a head coach in St. Louis, he was a huge success in New York previously as a defensive coordinator. That success carried over to his defense in St. Louis, even if it is not evident statistically.
Last season, the Rams defense ranked 26th in the league, giving up 25.4 points per game while also being the 31st-ranked run defense in the NFL. Unlike in New York, Spagnuolo had little talent to work with in his front seven, while his secondary was dismantled by injuries.
When Spagnuolo arrived, youngster Chris Long, a former second overall pick, was just entering his second season after struggling during his rookie season. Long had started all 16 games as a rookie, predominantly as a right end, but struggled to make an impact with only four sacks.
Spagnuolo moved Long back to the rotation as he only started four games during his second season. He also moved Long to the left side of the line—where he would avoid the elite pass-blocking left tackles—full time, which allowed him to learn for a season.
Understanding how to deal with defensive linemen is an expertise of Spagnuolo's.
In New York, he allowed Michael Strahan to continue to harass quarterbacks late into his career, while Osi Umenyiora became a feared rusher, notching 13 sacks in Spagnuolo's final season in New York. Justin Tuck added 10.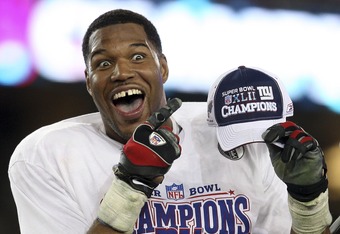 Elsa/Getty Images
While Strahan, Tuck and Umenyiora were all relative veterans when they led the Giants to a Super Bowl upset over the New England Patriots in 2007, Spagnuolo had to work hard to get the best out of Long.
After Long moved back to the starting lineup for the 2010 season, he posted 8.5 sacks that season and 13 last season. Thirteen sacks, considering the Rams' issues in the secondary (up to 10 defensive backs on IR including three starting cornerbacks), is unbelievable from the fourth-year player—especially considering that the Rams faced the fifth-least amount of pass attempts last season.
Spagnuolo got the best out of Long while also rebuilding the interior of the defensive line, which was a major issue when he arrived, and attempting to rebuild the linebacking corps. His attempts were made redundant last year because of the state of the secondary, as well as the last-ranked offense that gave them no chance of competing in games anyway.
Nonetheless, when you look at the players on the Rams defense who were actually of NFL quality, each of them improved under Spagnuolo's tutelage.
James Laurinaitis has become a Pro-Bowl player who is hidden by the poor level of talent in front of and either side of him. Long has obviously improved, while James Hall returned to his prime the last two years with 16.5 sacks and six forced fumbles.
Outside of Laurinaitis, Long, Hall and to an extent Fred Robbins and Robert Quinn, who showed many flashes as a rookie, the Rams' front seven was made up of old players who had proven themselves to be mediocre in the past.
Spagnuolo's defense begins up front, which is exactly what the New Orleans Saints need.
Arriving in New Orleans, Spagnuolo's two biggest issues will be to outline which free agents he will want to return, of the many scheduled to hit the market, as well as getting more pressure from the team's defensive line.
There likely won't be much money available for Spagnuolo to bring in any marquee free agents to add to his defense, but he has, in the past had some success without much money or incentive to offer. Fred Robbins was a serviceable defensive lineman in St. Louis while Quintin Mikell's impact would have been much greater playing in a fully healthy secondary last year.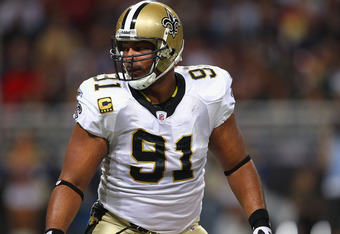 Dilip Vishwanat/Getty Images
Re-tooling the Saints' defensive line will be difficult. Cam Jordan and Will Smith will start at defensive end presumably, but Shaun Rodgers and Aubrayo Franklin were both disappointments last year. Both of those tackles will be hitting free agency and whether either of them return will likely fall on Spagnuolo.
Spagnuolo's biggest issue on the defensive line will be to get the best out of Jordan.
As a first-round pick, the talent is undoubtedly there, but his rookie season was not a good one. Jordan should benefit from moving back to a more orthodox defensive scheme opposed to Williams' blitz-happy package.
Improving Jordan and returning Will Smith to Pro Bowl level will go a long way to making this defense a championship-worthy group.
Despite Tracy Porter's potential departure, Spagnuolo has enough talent on the back end. In fact, he has more talent than he has had in quite a long time. The secondary really isn't the problem in New Orleans. If Spagnuolo can reignite the front seven, which is his speciality, then their defense should be in for a big year complementing arguably the best offense in the NFL.
That is, presuming Drew Brees re-signs with the team.
Spagnuolo and Williams have very similar defensive philosophies in that they both look to pressure the quarterback. However, Spagnuolo is arguably a better fit for the Saints because he doesn't rely on the blitz.
Instead of sending multiple rushers and stressing his cover men, Spagnuolo will instead rely on his coaching and ability to understand how the pieces of a front seven best complement each other to get the best out of the Saints' personnel on defense.
The Saints do not need Spagnuolo to have as big an impact on their defense that Wade Philips had on the Houston Texans' group, however they will be looking for him to invigorate the group and push them closer to another Super Bowl.


Tweeting @Cianaf