2012 NFL Free Agents: LaRon Landry and Players That'll Shine on 1-Year Deals
January 18, 2012

Larry French/Getty Images
Whether a player is getting older, coming off a bad season or not worthy of a long-term contract, choosing to sign a one-year deal can be his best option for future success. 
The 2012 NFL free-agency period will be here before you know it, and with it we'll see several players being overpaid, underpaid and chased by different NFL teams. 
Oftentimes, players will reach new heights during a contract year so they can earn the big bucks the following year, which is another reason that signing a one-year deal will benefit some of them. 
With that said, here are three free agents that will excel should they take a one-year contract. 
LaRon Landry, S 
Having spent five season with the Washington Redskins, Landry's shown he can be a force on defense. Unfortunately, injuries have hindered him from shining in recent years, which is why he isn't likely to get a mega-deal. 
Choosing a lengthy contract won't benefit Landry because he could take a one-year deal, play out of his mind and then sign for so much more money the following year. 
Staying healthy will be key for Landry, and with a normal offseason, his chances of getting injured decrease. 
The former LSU star would be wise to take the one-year deal and use it as motivation to play at a dominant level so he can get the money he desires the next year. 
Brandon Lloyd, WR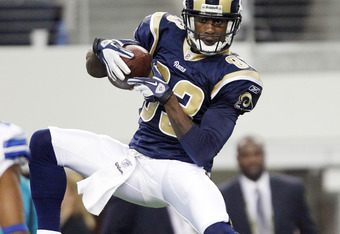 Layne Murdoch/Getty Images
After being traded by the Denver Broncos to the St. Louis Rams, Lloyd seemed to develop a good connection with Sam Bradford, even though he only played with him for a short period of time.
Since his numbers were down significantly from the previous year, Lloyd is likely to only get a small deal. Staying with the Rams would be smart for him, but they could be thinking about drafting a wideout with the No. 2 overall pick.
Even if that is the case, Lloyd can still go back to St. Louis and show everyone that he truly is a legitimate No. 1 wide receiver.
That is uncertain at this moment, but taking a one-year deal and then having a superb season like he did in 2010 would do wonders for his future bank account. 
John Abraham, DE 
The veteran defensive end isn't getting any younger, which means he is likely to go wherever the best place to win a Super Bowl is. 
It remains to be seen if the Atlanta Falcons are that team, but it wouldn't be surprising if Abraham left. The 33-year-old would thrive on a one-year contract with a playoff contending team. 
Even if he does want to come back to Atlanta, going with a long-term plan could hurt him if the Falcons don't make the necessary strides toward reaching the Super Bowl. 
Since Atlanta is going through coaching changes, Abraham could very well be on his way out. Joining up with his former team, the New York Jets wouldn't surprise me, but then again, they too are having to deal with plenty of changes. 
Abraham's main focus needs to be on winning a championship, and signing a one-year contract with a legitimate contender is the best way to go about achieving that goal.