Chicago Cubs Rumors: Cole Hamels Contract Could Expedite Matt Garza Trade
November 21, 2016
Len Redkoles/Getty Images
Cole Hamels and the Philadelphia Phillies agreed to a one-year, $15 million contract Tuesday, a deal that moved Hamels one step closer to free agency at the end of the 2012 World Series.
Though the Chicago Cubs signed six arbitration-eligible players to contracts Tuesday, for Theo Epstein, Jed Hoyer and Matt Garza, the Hamels deal may have been the biggest one of the day.
The pact between Philadelphia and its youngest co-ace does not preclude further contract extension negotiations. Hamels is a top candidate for such a deal, having been a top-10 pitcher in MLB over the past two seasons. Since learning a cutter prior to the 2010 season, he has been durable, struck out nearly four times as many batters as he has faced, and gotten the ball down more often.
As such, the Phillies certainly will not give up altogether on extension talks.
However, once a deal is signed, there is considerably less pressure bringing the two sides to the table for such a negotiation.
Hamels is not, as Cubs ace Matt Garza is, awaiting an arbitration hearing to have his salary settled. He may have considerably less interest in returning now, preferring to focus on pitching as Spring Training looms.
Assuming, then, that Hamels is headed for free agency, the Cubs have a target locked on him. At 28, Hamels is not exceptionally young, but he is not old. He is left-handed, a trait for which the new Cubs' front office has shown a dear predilection thus far this winter. He does all of the key things well that a pitcher ought to, and the Cubs need to acquire an ace of his caliber from outside the organization if they hope to compete within the next three or four years.
Without a doubt, if Hamels becomes a free agent, the Cubs are going to aggressively court him.
That makes Matt Garza a bit more expendable. Garza, who filed for arbitration with an asking price just over $10 million Tuesday, has been the subject of trade rumors all winter. Epstein, Hoyer and player development/scouting czar Jason McLeod would love to trade him for a peck of promising prospects prior to convening in Arizona next month.
Since the Cubs are loaded up with six starting pitchers as it is, Garza would hardly be missed on a rebuilding team, and they could get deeper in the minor leagues.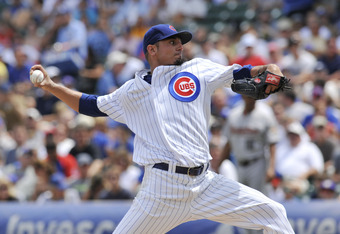 David Banks/Getty Images
The 2013 season, however, posed a potential problem for that plan. Ryan Dempster will not be back that season; nor will one-year signee Paul Maholm. Therefore, if the team were to deal Garza, it would have been left without a prospective top-of-the-rotation guy in 2013. That move may have even made filling out a rotation difficult. 
If Hamels is even a viable possibility, though, the front office should not and will not hesitate to deal Garza and take a chance on signing either Hamels or Zack Greinke prior to the 2013 campaign.
By getting the impact prospect package Garza should command, the Cubs could get better in the long term, and they would still have a shot to land their much-needed ace well before that piece would be necessary.
Phillies GM Ruben Amaro apparently plans to speak with Hamels more during spring camp, and could reach an extension yet. With such a talented crop already slated to hit the market next fall, though, the Cubs no doubt hope Hamels decides to test those waters himself.