Notre Dame Football: Gunner Kiel Top QB Prospect Foolish for Leaving LSU Tigers
January 18, 2012

It was the biggest news in Baton Rouge when Gunner Kiel committed to the LSU Tigers, but it was even bigger news when arguably the nation's best quarterback prospect left for the Notre Dame Fighting Irish. 
Kiel is making a huge mistake leaving the Tigers—career and reputation wise.
First, we will look at his career prospects.
The Tigers play in the SEC, a premier team in the nation's premier college football conference. They won the SEC Championship and played the Alabama Crimson Tide in the BCS National Championship Game this past season.
LSU has been weak at the quarterback position, graduating underachieving seniors Jordan Jefferson and Jarrett Lee. The Tigers do have Zach Mettenberger, who will be a junior next year, but he has little experience.
Kiel could've realistically competed for the starter's job during his freshman season and led a dangerous Tigers' squad, which will be a top national championship contender in 2012.
The Tigers also have top offensive weapons in running backs Spencer Ware and Michael Ford. These talented players would make Kiel's transition as a starter much easier. 
If Kiel didn't win the starting job from Mettenberger, he could have been groomed for two years and have two or three years as a starter depending on if he would redshirt a year.
At Notre Dame, Kiel will be buried on the depth chart. Future junior Tommy Rees had 20 touchdowns and 2,871 yards in 2011 and will be the starter. Also, future sophomore Andrew Hendrix has been in the system for a year and fit in Kelly's spread offensive system.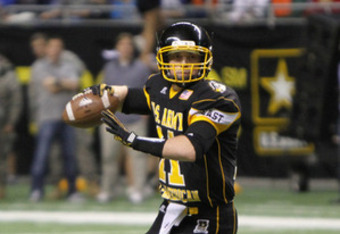 Whenever Kiel would get the starting job, he would have added pressure in South Bend, as the Fighting Irish have underachieved year after year since legendary Coach Lou Holtz left the program in the 1990s.
It has been no different under Brian Kelly's tenure, finishing 8-5 both years despite having talented rosters. In 2011, the Irish were ranked No. 16 in the Associated Press' Preseason Poll.
The Fighting Irish have also failed in developing their quarterbacks well, which is why Notre Dame has struggled the past few seasons. Just last year, Rees had 20 touchdowns but 14 picks. Former five-star recruit Dayne Crist didn't pan out, electing to transfer to Kansas.
As for Kiel's reputation, he is shooting himself more in the foot with each time he decommits. While it wasn't surprising he left the Indiana Hoosiers on October 21. That was earlier in the process. 
He then picked LSU over both Vanderbilt and Notre Dame in late December, saying the media:
"All of the players were great to me on my visit. I enjoyed talking with Coach Miles and everyone down there. Baton Rouge is a special place and can't wait to be a part of it."
During the U.S. Army All-American game on January 7, Kiel told reporters that he was happy with his choice to attend LSU and was going to enroll at LSU this January.
This was mere days ago.
Earlier this week, multiple news sources have reported that Kiel is now enrolling in classes at Notre Dame, which will lock him up for Notre Dame before the National Signing Day on February 1.
However, will his teammates and coaches believe he will stick with the Fighting Irish through thick and thin?
The five-star recruit has changed his mind twice and who knows if he will stick with Notre Dame.
He could change his mind after the spring semester and go for Vanderbilt, or any other school he wants. Kiel also might transfer after his freshman or sophomore year if things aren't going well.
Kiel would have to redshirt if he wanted to do that, but Notre Dame can't even count on that as a deterrent. 
While Kiel is extremely talented, he made a mistake in snubbing the Tigers. LSU provided Kiel with a better opportunity to succeed while still keeping his reputation intact.
What happened is Kiel will probably be on Notre Dame's bench two to three years, while Brian Kelly and teammates alike won't trust he will stay all four years at South Bend.
Bob Bajek is a Featured Columnist for the Chicago Bulls. He is also a freelance reporter, and can be followed on Patch.com and Twitter.