Big Ten Football: Indiana Hitches Its Wagon to Inexperienced Quarterback
January 18, 2012
Andy Lyons/Getty Images
Kevin Wilson just can't hang on to quarterbacks.
First Wilson secured what would be the recruiting coup of this still young decade, when he was able to get five-star quarterback Gunner Kiel to commit to the Hoosiers early in the fall. Once everyone stopped laughing long enough to realize Kiel was serious, things seemed to be looking up for the Hoosiers. 
Despite average quarterback play at the position in the beginning of the year, the injection of Kiel into the offense in 2012 seemed like an instant jump start. Here was a player with the physical tools to compete for the job right away—and quite possibly start four years for Indiana.
It didn't hurt that the other options were uninspiring. The original starter for the season was Edward Wright-Baker, who played well against the non-conference schedule, but still failed to lead the Hoosiers to a win over a FBS conference team. An injury would soon sideline the incremental progress Wright-Baker was able to make over his first few games.  
It was then time for Dusty Kiel, brother of Gunner, to step into the starting job and try to turn around the misfortunes of the Indiana offense. That went poorly. In four games of action, Kiel completed less than half of his passes (39/82) for 427 yards, three touchdowns, and an interception before succumbing to an injury
Neither would see meaningful playing time the rest of the way.
Both Dusty Kiel and Edward Wright-Baker left Indiana with two years of eligibility left—both were red shirt sophomores—but could only cash in on both years at an FCS program.
What that means for Indiana is that the team expecting to have four quarterbacks on the roster competing for a starting job in 2012 is now down to just one: Tre Roberson.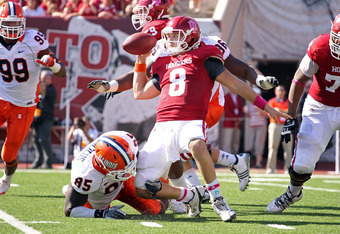 Andy Lyons/Getty Images
It was Roberson who stepped into the starting role vacated by the two older quarterbacks upon the injury of both. It was, perhaps, the play of Roberson that ultimately closed the door on the two quarterbacks' Hoosier career.
Roberson at first split time with Kiel in the Illinois game only to see a few snaps against Wisconsin the next week. By the Iowa game he was back in control of the starting spot. By the end of the season he was one of the few glimmers of hope Indiana had going forward.
Roberson had four games where he was able to rush for more than 70 yards, and was only held under 100 yards passing against Michigan State. While his decision making ability was still rough—six interceptions to three touchdowns—his ability to make plays with both his arm and his legs gave Indiana a more dangerous element than it previously had. 
Best of all, as a true freshman in Kevin Wilson's system there is presumably more room for improvement, than for that of two upperclassmen who spent their formative years in Bill Lynch's offense.
Even with Roberson, the presumed starter, there are still concerns. Namely depth.
With both experienced upperclassmen moving on from the program, Indiana is walking into a potential buzz saw. Roberson has potential, but also a bad habit of turning the ball over—as well as a penchant for running, which could expose him to injury.
Behind him will be no game experience at the FBS level, but thanks to the recruitment of Juco-transfer Cameron Coffman there will be some game experience. Coffman is coming off of a season where he was able to lead Arizona Western Community College to the National Junior College Athletic Association National Title Game (try saying that five times fast) with a stat line of 2,244 yards, 21 touchdowns, six interceptions and a completion rate of 61 percent.  
Coffman will enter Indiana with three remaining years of eligibility and should at least give the Hoosiers a backup plan, if Roberson doesn't work out or gets injured.
However, it will still be a bumpy ride over the next couple of years due to many things outside of just the quarterback situation. The Indiana program is in desperate need of a serious rebuild.
Thanks to the departures of Wright-Baker and Kiel, Kevin Wilson just lost a lot of his margin for error.