Purdue Boilmakers: With Robert Marve Back, Who Will Lead Purdue's Offense?
January 18, 2012

Jonathan Daniel/Getty Images
In West Lafayette there was good news that the NCAA granted quarterback Robert Marve a sixth year of eligibility. Marve had previously missed significant time in two seasons: His entire freshman year at the University of Miami and all, but four games of the 2010 season after an ACL injury.
Marve has been the presumed starter at some point before each of the last two seasons at Purdue. In 2010 he won the starting job and led the Boilermakers to a 2-1 record over the first three games before suffering his season ending injury early in a loss to Toledo. That injury kept him out in the beginning of fall camp in 2011—when many assumed he would reclaim the starting job.
Once Marve went down in 2010, it was up to Robert Henry to take over at quarterback. Over the final nine weeks he passed for nearly 1000 yards, eight touchdowns, and seven interceptions with a completion percentage just over 50 percent. Not spectacular by any means, but when combined with his 547 rushing yards and four touchdowns, it was enough to put him strongly in contention for the job in 2011—provided he develop as a passer over the offseason.
Unfortunately, an ACL injury in fall camp ended Henry's year and opened the door for quarterback number three: Caleb TerBush.
TerBush stepped into the starting job in a last ditch effort to field a starter with two intact knees.  In the process he turned out to be a pretty solid quarterback in the Purdue system. He finished the year completing 62 percent of his passes, while throwing for twice as many touchdowns (13) as interceptions (6) and a total of 1905 yards.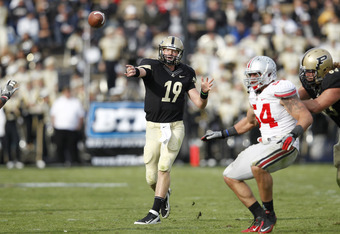 Joe Robbins/Getty Images
What this means for 2012 is that the Boilermakers will have three quarterbacks returning with starting experience and only one job.
Robert Marve is and always has been the most hyped of the three. Originally a Miami recruit, Marve switched to the Boilermakers after losing the starting job to Jacory Harris and seeing the writing on the wall. 
However, the sixth-year senior has spent nearly two full years on the sideline with an injury and a third off the field because of a mandatory year sitting out after transfer. Marve's name and reputation have always been a bit bigger than his on field production, but with nearly a full year of health—and the spot time that afforded him—he may be able to finally make a leap in his final year on campus.
TerBush isn't as flashy, but the senior held down the starting spot all year despite Marve seeing spot time as a change of pace quarterback. TerBush's track record is that of a solid quarterback that won't win you many games by himself, but probably won't lose many by himself either.  
TerBush put together a solid season that relied heavily on Purdue's myriad of skill position players. He isn't the kind of quarterback that can carry a team, but if the rest of the Boilermaker offense improves—he could be a steady hand.
Robert Henry is the wild card. While his passing left a lot to be desired in 2010, the fact that he was starting at quarterback for Purdue as a true freshman for an offense that was missing some of its best skill position players is as mitigating a circumstance as I have seen. 
One thing Henry has going for him is his athleticism. If nothing else, in 2012 he could very well provide the wildcat look that coach Danny Hope has gone to as a change of pace. Furthermore, being the only one of the three that will be around in 2013, one has to think Henry will have a good chance to eventually win the starting position back.
Purdue's offense in 2011 was a better than average running attack hampered by a below average passing attack that couldn't get off the ground against elite competition. It will be up to one of these three quarterbacks to improve Purdue's passing game—and by extension its offense. 
Which one will be called on is still anyone's guess.