Indiana Hoosiers Look to Stop Bleeding Against Nebraska
January 18, 2012

Jamie Sabau/Getty Images
Wednesday night, the Indiana Hoosiers (15-3, 3-3 Big Ten) travel to Lincoln to take on the Nebraska Cornhuskers (9-8, 1-5 Big Ten).
Hoosier fans are teetering on the edge of the cliff. The result of this game could push them in either direction.
Indiana is facing some adversity for the first time this season, suffering from back-to-back losses to Minnesota and Ohio State. One was expected and one was not, but that doesn't change the fact that the Hoosiers really didn't come with any kind of competitive edge in either outing.
I'm going to be completely upfront and honest: I can't give you much of a breakdown on Nebraska.
I've probably seen a combined 30 minutes of their basketball games this season. So much of this is going to be about what Indiana needs to take care of.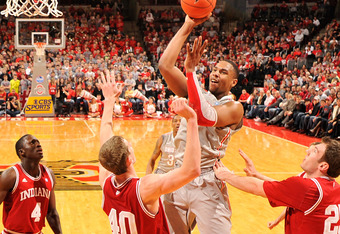 Jamie Sabau/Getty Images
Bo Spencer is Nebraska's leading scorer and most athletic player. The 6'2" guard is a transfer from LSU and averages 14.8 points per game. He is excellent at getting to the basket, but struggles from the outside. Indiana has had problems stopping dribble penetration for much of the year. So with Nebraska's four-guard rotation, it will need to be their main focus.
The Cornhuskers only start one player over 6'6", who is forward Brandon Ubel. So defending the paint shouldn't be an issue. My only request to Tom Crean: Stay out of the 2-3 zone.
Indiana's version of the "zone" on Sunday against Ohio State was as bad as I've seen. The problem is the Hoosiers think just standing in a zone formation is an effective form of defense. They were lethargic and lacked the awareness to understand where they needed to be and how they needed to rotate.
Simply put, they don't understand the concept of it, so they shouldn't be running it.
Indiana has also struggled immensely on the glass in the last two games. Giving up second and third chance points never allowed them to mount any kind of comeback against Minnesota. It was a big reason for the Buckeyes' huge start on Sunday as well.
Against a four-guard team like Nebraska, Indiana shouldn't have issues rebounding the basketball, which could lead to a lot of extra possessions on offense.
Because of their similarities, the Hoosiers need to attack Nebraska in the same manner they went after Penn State: Establish the ball early inside and it will open things up for the rest of the team.
On top of getting the ball to Cody Zeller in the paint, Christian Watford also needs to see a lot of looks inside—as he will have a nice height advantage over whoever gets the assignment on him.
Will Sheehey is primed for a breakout game because Nebraska doesn't have a good answer for him defensively. Sheehey should be able to attack them from the mid-range all night. I expect him to have quite a few second chance opportunities on offensive rebounds as well.
Nebraska is a team that Indiana has a distinct advantage over in just about every aspect of the game. And it's a team that they should beat.
Win this game and Indiana fans will back off the ledge—at least for another few days. Lose it, and it's panic time in Bloomington.
For more articles by Dan, go to Hoosier Cafe