Doug Collins and Philadelphia 76ers Have Become a Likeable Team: Like It or Not
January 18, 2012

Rob Carr/Getty Images
It's been said that the Philly fan is hard to please. Perhaps for good reason.
Heading into 2012, the local talk shows, websites and blogs in the Philadelphia area were inundated with banter centered upon its town's three underachieving professional teams:
First, there was the grossly mislabeled "Dream Team," AKA the Eagles, who instead turned out to be the Worst Team Money Could Buy. Now its players get to watch the NFC championship at home this weekend, featuring one team it dominated for three out of four quarters (the 49ers) facing another it dominated for seven out of eight quarters (the Giants) this season.
Across the street, the Phillies continue to figure out how to stop the disturbing trend of advancing one less round in the playoffs for the past three years.
Caddie corner to the ballpark, the Flyers deal with yet another year of a goalie merry-go-round which has been spinning since essentially the days of Ron Hextall and his porn star mustache.
But what's Philly sports without something to complain about?
Meanwhile, there is another occupant of the Wachovia Center who comes out when the ice gets covered, the one with the most storied pedigree of them all..
Yes, the Philadelphia 76ers still have a team. And, if you start paying attention, you may just forget about the other three long enough for your heartburn to go away.
It's a team in every sense of the word, starting with a employment turnover rate which would make President Obama proud, as it returned its top 12 players; albeit the same 12—none of them All-Stars—who contributed to a pedestrian 41-41 record last season.
It added nothing except two draft picks, yet has quietly found itself sitting atop a division which includes such marquee names as Garnett, Pierce, Allen, Rondo and a couple guys named Carmelo and Amar'e.
I say "quietly" because if you've attended any home game this season outside of the opener, you could mention this fact from your seat and realistically receive an acknowledgment from the players on the court.
Which is a damn shame. Because this is Philly's type of team: an unselfish, blue-collar bunch who left their egos at the locker room door. An ensemble which looks peculiarly familiar to a squad 11 years earlier that was embraced throughout the Delaware Valley like few teams ever were—minus, of course, one particular star who never really left his ego anywhere.
And having the wrong AI could, in fact, be the X-factor, and the reason why a 10-3 team that is undefeated at home still can't sell out its ridiculously cheap tickets: They're too likeable!
Think about it: Go through the lineup, top to bottom, and find a polarizing figure (especially after the departure of chronic loafer Marreese Speights).
Its longest tenured player (Andre Iguadala) was the topic of daily trade rumors during the extended offseason yet never uttered a word of contempt, while its highest paid player (Elton Brand) and last year's lottery pick, both former NCAA legends (Elton Brand and Evan Turner, respectively) have willingly assumed lesser roles for the good of the team.
And I dare you to say a disparaging word about their coach, Doug Collins, who, like Brand, was a college icon who got derailed by injuries.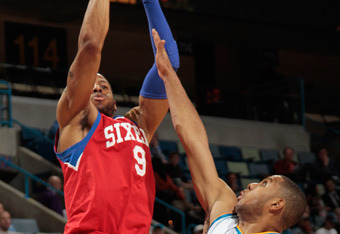 Chris Graythen/Getty Images
Heck, even its leading scorer (Lou Williams) comes off the bench and recently treated a would-be carjacker to a meal at McDonald's.
I'm lovin' it!
Perhaps, though, to acquire more love, there first needs to be some loath. Maybe Iggy demands that trade to up his profile for the U.S. national team.
Maybe Brand realizes he gets his paycheck either way and decides to no longer play through his bumps and bruises, just like past pariahs like Chris Webber and Derrick Coleman used to do.
Maybe veterans like Tony Battie and Andres Nocioni figure it no longer matters how much they bust it on the court if they barely get to touch it during games.
Maybe next time, Lou joins the carjacker on a rampage throughout the city or, worse yet, treats him to Wendy's instead.  
Or maybe they simply continue to entertain a far-too-gradually increasing fanbase night in and night out without adding the far-too-familiar NBA personality trait of "diva" or "ingrate" to their repertoire and remain likeable, all while they continue to exceed expectations in a town far-too-used to being let down lately.
Like it or not.