Winner Take All: Bisping Replaces Munoz in UFC Top Contender Bout vs. Sonnen
January 17, 2012
Ethan Miller/Getty Images
Dana White announced Michael "The Count" Bisping will replace Mark Munoz in the number one contender fight against Chael Sonnen at UFC on FOX 2, January 28, 2012.
Mark Munoz has injured his elbow, forcing a change to be made to the UFC contender bout.
Bisping was originally supposed to fight Demian Maia at the same event.
Earlier today, Dana White tweeted,
"Munoz is injured and out of the FOX fight! Now it's Chael Sonnen vs Mike Bisping jan 28th and the winner will fight Anderson for the title."
Michael Bisping is riding a 4-match win streak, the latest coming on December 3, against Jason "Mayhem" Miller. He went to the third round with Miller before Mayhem simply couldn't take anymore abuse. 
Bisping will look to do the same to Sonnen when they meet with a title shot on the line. 
Bisping's last loss came in Febuary 2010 when he lost by decision to Wanderlei Silva.
Sonnen and Bisping have a combined 48 professional wins.
Sonnen, 26-11-1, has compiled his wins with seven KO or TKOs, 4 submissions, and 15 decisions.
Bisping, 22-3, has won 14 matches by KO or TKO, four submissions, and four decisions.
This should be an interesting matchup between two experienced fighters with a lot on the line.
Chael Sonnen, who is never at a loss for words, was interviewed by USA Today shortly after hearing of the news. He was respectful with his comments and even praised Bisping.
USA Today asked Sonnen if he thought Bisping earned the right to fight for the title shot. His response follows:
"I'm a Bisping supporter. I think he has. I think he's fought a lot of important matches.

I don't know how tough the guys he fought were, how many ranked guys he had -- I'm not terribly familiar with his record. But at the end of the day, you can say what you want about his opponents, he doesn't pick his opponents. They pick his opponents and he goes in and he wins over and over again.

I think it's really relevant, especially for the Bisping naysayers, to realize he's fighting main-event fights. He's carrying cards. He's selling out arenas. In this industry, that's huge. He's done his part.

So I'm not on the anti-Bisping bandwagon. I never have been."
The outspoken Sonnen, always seems to have something entertaining to say. His response to his thoughts on Bisping were nothing but respectful.
As it gets closer, it will be interesting to see what Sonnen and Bisping have to say.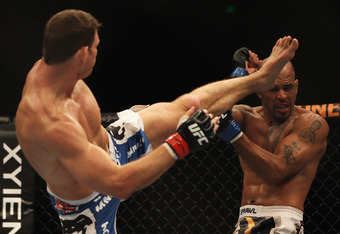 Mark Kolbe/Getty Images
Bisping, who always seems to stir up fans, will now showcase his skills in front of millions of people who will be viewing on FOX.
This card has four fights, which should draw more of an audience than the first FOX fight which was a lot of hype and only one fight.
This fight will have it all, including two experienced fighters who are not afraid to have their voices heard.
Sonnen was suspended when he tested positive for elevated levels of testosterone. He has fought once since returning to the UFC and submitted Brian Stann.
He finds himself one win away from a rematch with Anderson Silva.
Demian Maia awaits a replacement for his fight.