NHL Trade Rumors: Top 10 Players the Blackhawks Should Target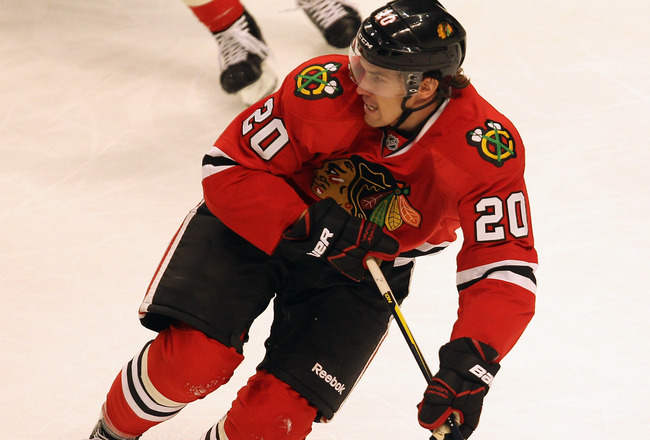 This. This is why Chicago gives up so many goals.
Jonathan Daniel/Getty Images
The NHL trade rumor mill is going at full blast, with talks of superstars on the verge of being moved. The struggles of teams such as the Anaheim Ducks and Columbus Blue Jackets have franchise players such as Ryan Getzlaf and Rick Nash seeing their names tossed around. The NHL trade deadline is a month and a half away, and the contenders are sure to try to stock up on players for their playoff and Stanley Cup runs.
The Blackhawks, despite being considered a top team, have two glaring holes: the second line center job, and giving up too many goals. With a stockpile of prospects, the Hawks are poised to make a splash before the deadline passes to make a run at the 2012 Stanley Cup.
The criteria for players to be included in this list was that their team have fewer than 40 standings points on the morning of January 17, 2012. The players also had to fill a potential need for the Blackhawks, and have a cap hit that can fit the Hawks.
All salary and salary cap data is courtesy of capgeek.com.
Francois Beauchemin: D, Anaheim Ducks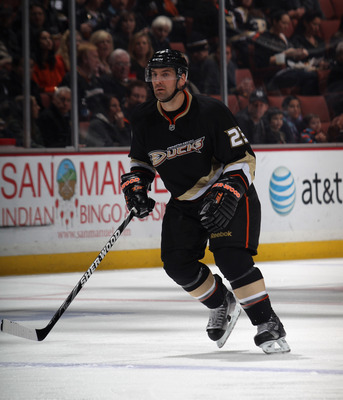 Bruce Bennett/Getty Images
The Anaheim Ducks are having a bad season. Really bad. At 15-22-7, the only team making the Ducks look not so bad are the simply atrocious Columbus Blue Jackets.
With that in mind, the Ducks are looking to wheel-and-deal most of their players to stock up for the future. Beauchemin is considered Anaheim's de facto #1 defenseman, according to The Hockey News' online depth chart.
As an expiring contract, and not a true top tier defenseman, Beauchemin should only cost the Hawks Sami Lepisto (get out the tissues) and a mid-round draft pick.
Remaining cap hit: $1,663,784
Saku Koivu: C, Anaheim Ducks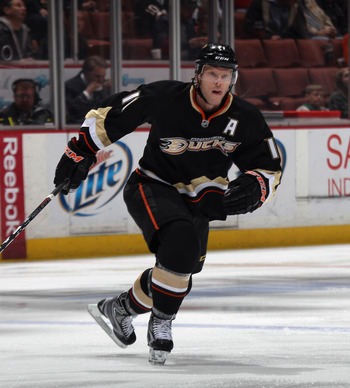 Bruce Bennett/Getty Images
Another entry from the scuffling Ducks, aging center Saku Koivu could be the rental answer for the #2 center job. A natural leader and playmaker, Koivu could come over and finally fill the second line center job for the Hawks well into April, May, and maybe even early June.
Currently an alternate captain for Anaheim, Koivu likely wouldn't come without giving up something of decent value. While management is seemingly in love with him, the Hawks may have to send Marcus Kruger out for Koivu. The Hawks have great young depth at center, and Kruger should be seen as expendable for the chance at a second ring in three years. Kruger could also net the Hawks a draft pick in a higher round than he was taken.
While trading Kruger seems like a hard pill to swallow, the future play of Brandon Pirri and Mark McNeill will make it easier to take.
Remaining cap hit: $1,094,595
Ladislav Smid: D, Edmonton Oilers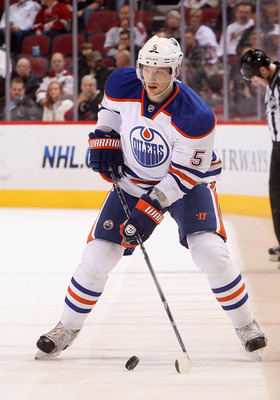 Christian Petersen/Getty Images
The only entry here not on an expiring contract, Smid has been linked to the Blackhawks before. Last season, Bowman wanted Smid from the Edmonton Oilers badly, especially when it seemed like extension talks with Brent Seabrook were falling apart. The Oilers asked for Nick Leddy, and that was that.

However, with a stockpile of prospects and draft picks, the Hawks could be able to lure Smid to Chicago and add him to the core. While Edmonton may have wanted Leddy then, it's become obvious he's off the table. However, a first or second round draft pick, coupled with Brandon Pirri and Shawn Lalonde might just be enough to get Smid to the Hawks.
Remaining cap hit: $985,135
2012/13 cap hit: $2,250,000
Sami Pahlsson: C, Columbus Blue Jackets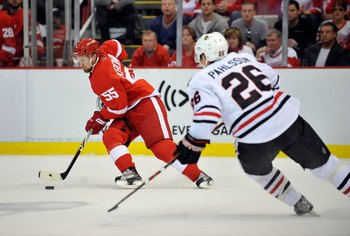 Jamie Sabau/Getty Images
The first of two former Blackhawks, and the first of three current Blue Jackets, Sami Pahlsson could be an outside-the-box answer for the #2 center job. While Pahlsson is considered to be more of a checking center, his physicality and face off wins could be all the Hawks need out of someone lining up with the likes of Marian Hossa, Patrick Sharp, and Viktor Stahlberg.
Pahlsson joined the 08/09 Hawks at the trade deadline for a couple of prospects that went nowhere. That year, the Hawks made it to the Western Conference Finals before the Red Wings finally derailed them. Pahlsson signed with the Blue Jackets, where he is currently in the final year of his contract.
Remaining cap hit: $1,160,270
Vaclav "Vinny" Prospal: C/LW, Columbus Blue Jackets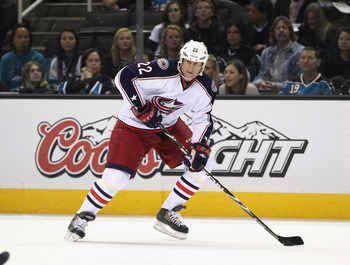 Ezra Shaw/Getty Images
Prospal is the second Blue Jacket on this list. The 36 year old Czech center/winger is one of the top scorers on the NHL's worst team. At 36, on a one-year deal, it only makes sense for the Blue Jackets to move Prospal for whatever they can get.
His agitator style and inconsistency may not be a perfect fit for the Hawks, but he's a better fit than the likes of Marcus Kruger and Brandon Pirri right now. It shouldn't cost any more than a 4th round pick to acquire Prospal.
Remaining cap hit: $1,094,595
Kristian Huselius: LW/RW, Columbus Blue Jackets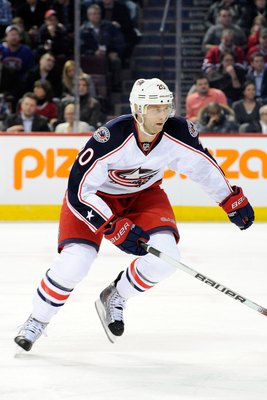 Richard Wolowicz/Getty Images
Before sustaining a groin injury in early December, Kristian Huselius was skating on Columbus' top line with Jeff Carter and Rick Nash. His injury should heal up in plenty of time to be dealt by the deadline.
Huselius fits the Hawks more as a complimentary move. If the Hawks pick up a physical center, Huselius could slide in on wing with them and either Hossa or Sharp.
Huselius would cost a bit more that Prospal, but still, not a king's ransom. Maybe Brandon Bollig, Shawn Lalonde, and a 6th rounder could be too much for Columbus to say no to.
Remaining cap hit: $2,079,730
Bryan Allen: D, Carolina Hurricanes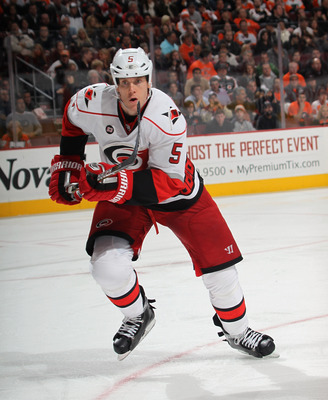 Bruce Bennett/Getty Images
The Carolina Hurricanes have already fired their head coach and hired another in an effort to change the culture. With massive contracts to Eric Stall and Cam Ward already in place (and Tomas Kaberle to a lesser extent), the 'Canes will likely look to dump expiring contracts for draft picks and prospects.
One of those expiring contracts is defenseman Bryan Allen. Allen was acquired in a salary dump with Florida in 2011 for Sergei Samsonov to bolster Carolina's bottom defensive pairings. A physical, defense-minded defenseman, Allen would provide something the Hawks haven't had since Brent Sopel regularly manned the blue line. With all due respect to Sean O'Donnell, he's just simply too old to do the job anymore.
Allen would likely cost a mid-to-late draft pick, and perhaps O'Donnell if the Hawks feel they need to move salary around.
Remaining cap hit: $1,269,730
Tim Gleason: D, Carolina Hurricanes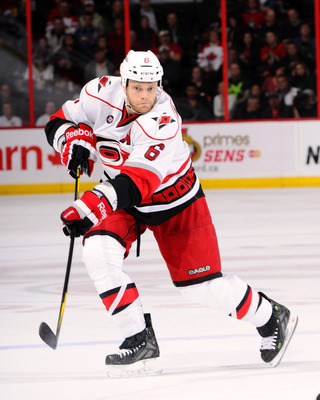 Phillip MacCallum/Getty Images
In Tim Gleason, the Hawks will essentially get another Steve Montador. A shutdown defenseman with a little offensive upside, Gleason would bolster the defensive game of the Blackhawks. For a team that gives up goals left and right, they could use Gleason.
Odds are, the Hawks could acquire Gleason and a 3rd round pick for Niklas Hjalmarsson.
Remaining cap hit: 1,204,054
Tuomo Ruutu: C/W, Carolina Hurricanes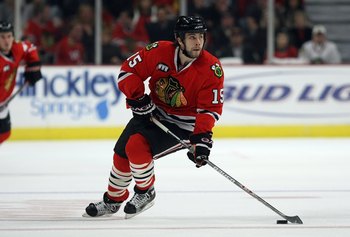 Jonathan Daniel/Getty Images
The second former Blackhawk and final current Hurricane, Tuomo Ruutu could fill a lot of needs for the Hawks right now. The former Hawk first rounder was sent to Carolina for current Jets captain Andrew Ladd.
A return to Chicago could see Ruutu lining up as Jonathan Toews and Patrick Kane's second winger, or as the second line center for Marian Hossa. His blend of physicality and skill would be a welcome addition to the Hawks. Add in his familiarity with Keith, Seabrook, Toews, Kane, and Sharp; and Ruutu could be a perfect fit.
Carolina would presumably want a fair return for someone off their first line, even if he is in a contract year. A second round draft pick, IceHogs defenseman Brian Connelly, and the rights to prospect Mirko Hoefflin might just be enough to get Ruutu from the Canes.
Remaining cap hit: $1,663,784
Mark Eaton: D, New York Islanders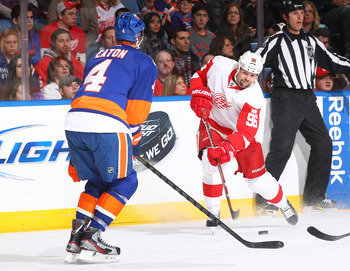 Al Bello/Getty Images
The final entry to this list, Mark Eaton could come over to the Hawks from the Islanders to bolster the blue line. While not an overwhelming physical or offensive presence, Eaton is a smart player who blocks shots and makes good decisions.
The Islanders are a team desperately needing help on the blue line. Eaton could be had with a high-to-mid round pick for Nik Hjalmarsson.
Remaining cap hit: $1,094,595
Keep Reading

Chicago Blackhawks: Like this team?