MLB Trade Rumors: How Is the Gavin Floyd Market for Chicago White Sox?
January 19, 2012

Brian Kersey/Getty Images
While Gavin Floyd has been on the block for a couple of months, the Chicago White Sox are still open to trading their middle-of-the-rotation starter. Fox Sports reporter Jon Paul Morosi reported via Twitter that the White Sox are still taking offers for Floyd. Inquiring minds want to know what teams are interested and what the White Sox should look for at this point.
Gavin Floyd is a pretty valuable player despite not being a terrific starter. Floyd went 12-13 with a 4.37 earned run average in 2011. 2008 was his only season with an earned run average below 4.00.
Meanwhile, Floyd has good control. He allowed 2.1 walks per nine innings and had a 3.36 strikeout-to-walk ratio in 2011.
Also, Floyd puts up a good amount of innings. Floyd pitched more than 185 innings in each of the last four seasons.
Floyd had a 2.8 wins above replacement in 2011 for $5 million. In 2009, he had a 4.0 wins above replacement for only $750,000.
Possible Suitors for Gavin Floyd
Originally, the Boston Red Sox and Baltimore Orioles looked to be the seriously interested parties. Red Sox general manager Ben Cherington inquired about Floyd, according to the Boston Globe. The Orioles had looked at a few players from the White Sox, according to the Baltimore Sun.
The Red Sox have been active making deals. Among pitching acquisitions are Andrew Bailey, Mark Melancon, Vicente Padilla and Aaron Cook. The Red Sox gave up big prospects in Josh Redick and Miles Head to get Bailey.
The Red Sox already have a stocked rotation with Jon Lester, John Lackey, Daisuke Matsuzaka, Josh Beckett, Tim Wakefield and Daniel Bard. Bard rises from the bullpen to join the rotation. Matsuzaka and Lackey seem to be bagged goods, which make the Red Sox more hungry for a new starter.
One can easily expect them to be among the biggest spenders. The Red Sox spent more than $160 million each of the last two years.
The Red Sox are still be interested in Floyd. Morosi tweeted on Wednesday that Cherington is still interested in Floyd.
The Orioles have been on the move, too. They added Wei-Yin Chen and Tsuyoshi Wada. Those signings likely have the Orioles rotation set. Baltimore will most rely upon young starters like Jake Arrieta, Brian Matusz and Zach Britton.
One wonders if new suitors may have emerged. Otherwise, the White Sox would be primarily be dealing with the Red Sox in Gavin Floyd trade talks.
Talking with the Red Sox isn't bad. The Red Sox are as stocked with talent as just about anyone.
What Should Kenny Williams Try to Acquire for Floyd?
Williams has done a decent job acquiring pitching in rebuilding trades. Nestor Molina was a good starting prospect to grab in return for Sergio Santos. Getting Simon Castro and Pedro Hernandez in the Carlos Quentin trade was nice. Castro was ranked No. 58 among all prospects by Baseball America. Daniel Webb and Myles Jaye were nice grabs in the Jason Frasor trade.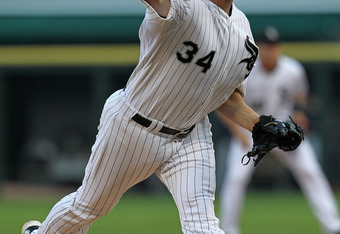 Jonathan Daniel/Getty Images
Having acquired five pitching prospects in three trades, the White Sox may want to go for a power hitter in a trade involving Floyd. The White Sox were 11th in the American League in on-base-plus-slugging in 2011. Adam Dunn and Alex Rios were underwhelming.
The Red Sox have a couple of very nice power hitting prospects. Catcher Ryan Lavarnway hit 32 home runs in Double-A and Triple-A in 2011. Lavarnway had a .738 on-base-plus-slugging figure in 43 plate appearances for the Red Sox. Third baseman Gabe Cecchini had a .398 on-base percentage and a .500 slugging percentage low Single-A in 2011 after having knee surgery in 2010.
Third baseman Will Middlebrooks hit 23 home runs across all minor-league levels in 2011.
Conclusion: Williams Could Be Improving a Potential Grab By Waiting
Kenny Williams has been waiting for a while as teams have inquired about Floyd. This is a good decision. Williams might not have received decent prospects if he went for one of the first deals.
Whether the White Sox trade Floyd, they'll have a young starting rotation. A rotation with Floyd in it would be better. With him in the rotation, the White Sox would be closer to a division title. Williams should take care in entertaining offers for him.