Vernon Davis and the San Francisco 49ers Are One Step Closer to Super Bowl XLVI
January 20, 2012

Ezra Shaw/Getty Images
It's not too often you hear about a person more intent on traveling to Indianapolis instead of Hawaii. 
Vernon Davis is doing exactly that. 
Absent from this year's Pro Bowl roster, Davis could care less. He's more focused on helping the team get to Indianapolis, site of Super Bowl XLVI. 
"I'm not worried about the Pro Bowl. I'm not worried about the individual accolades. What I'm here for is to help this team win, make it to the playoffs, make it to the Super Bowl," Davis said after Saturday's 36-32 victory over the Saints.
His actions back that up, speaking much louder than mere words. 
As the majority of modern athletes chase individual honors, the 49ers tight end has been the consummate teammate. Asked to block more this season, Davis never murmured. Thrown to less, he never complained. It's been the season of sacrifice, but the rewards have been wins in bunches—something Davis has yet to experience in his six-year career.
Don't forget though, the dude can still ball.
The New Orleans Saints learned that lesson the hard way on Saturday. Davis torched their secondary with six receptions, 180 yards (an NFL playoff record for tight ends) and two touchdowns, including the game-winner with nine seconds left in regulation.  
Leading up to Saturday's game, much of the media attention revolved around the Saints prolific offense and their Pro Bowl tight end. Jimmy Graham did cause headaches (5 catches, 103 yards and 2 scores), but it was Vernon Davis who provided the knockout punch.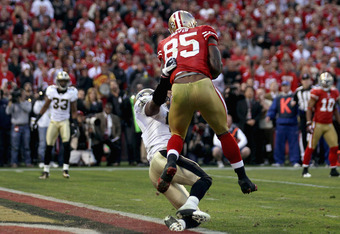 Jed Jacobsohn/Getty Images
The "forgotten" man gave a performance to be remembered for a very long time. 
More importantly, the win eliminates the Saints and advances the 49ers into the NFC Championship Game for the first time since 1998.
And one step closer to Indianapolis.
The Pro Bowl rosters may be headed to the blue waves of Hawaii, but the San Francisco 49ers are looking forward to the fan-made waves of Lucas Oil Stadium.  
"I just wait for my opportunities. It's not how you start, it's how you finish. Jimmy Graham can get all the praise he wants. That's fine. That's not my deal, it's not my responsibility," Davis said after questions about his exclusion from this year's Pro Bowl. 
Translation: 
"Jimmy Graham can finish his season getting lei'd. I'll finish mine by getting Lombardi'd."