What's New and Now: The Hottest Viral Sports Videos of the Week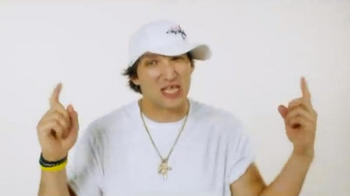 It's a new week in the sports world, and the videos keep rolling in. I thought it would be impossible to beat last week's "Moves Like Badger" video, but then Alex Ovechkin started rapping and we immediately had a new champion.
Check out the Capital's star doing his "thang," along with the craziest volleyball rally you've ever seen and a hysterically sad Packers fan who is very upset that she wore sparkly nails.
Alexander Ovechkin: Rap Star
There are no words.
You have to wait til the 3:00 mark to hear Ovechkin start to flow, but for the first three minutes, his awkward dancing while some Russian Jersey Shore guy and an abnormally skinny woman do their thing is enough to hook me in for the whole thing.
This just proves the point that if you're rich and famous enough, people will let you do just about anything.
Sad Packers Fan Is Sad
The scary thing about this video is that, with my wife's penchant for the dramatic and my insane belief that things like what I wear actually affect the outcome of a game, this could be my daughter some day.
Hopefully more sober, of course.
If only her friend hadn't made her go with the sparkly nails, this never would have happened.
Bama Fans Pour Salt in the Wound
I can't express enough how much I love this.
Clever fans are the best kind of fans. After LSU had such trouble crossing the 50-yard line against Alabama in the BCS National Championship game, when the two teams met a week later on the basketball court, Tide fans cheered wildly the first time LSU got it across halfcourt.
Touche Bama. Touche.
Craziest Rally Ever
I count at least a dozen times that this rally should have ended. It's incredible.
If anybody out there thinks that women's sports aren't exciting after this, I'd like to have a word with you.
In all honesty, I was cheering for the team on the right about midway through. They had the most amazing saves, so it would have been more heartbreaking if they had lost the point.
Warriors Owner Freaks Out
Hey, even if you're a billionaire, you still get excited when your team is doing well and a camera gets shoved in your face. I'd have done the same thing.
Only it's way funnier when Joe Lacob does it, just because it's Joe Lacob. I could watch a GIF of this all day long.
Shaq Says a Bad Word
So maybe Shaquille O'Neal hasn't quite gotten the hang of this "television thing" yet.
You have to remember to save your cursing for when that big red light goes off, Shaq. Otherwise the FCC is going to come after you, and you don't want that.
World Record Climbing Is a Thing
I don't really know what this is from or what's happening, but I know that I want to see more of it now.
Watching these two guys scale a wall this fast is intoxicating. It's like a real-life Spiderman, if, instead of fighting crime, Spiderman just basically ran up walls all day. Which is exciting in its own right.
This is just crazy.
Vince Wilfork Hawks Chicken
I'd make a joke here, but I'm sure Wilfork could tear me apart limb from limb without breaking a sweat.
So instead I'll just say that he's surprisingly affable in this ad and, even though I have no idea where the closest Big Y is to me, I'm really craving some chicken right now.
Job well done, Vince!
Keep Reading