Derek Fisher: The Other Guy in Los Angeles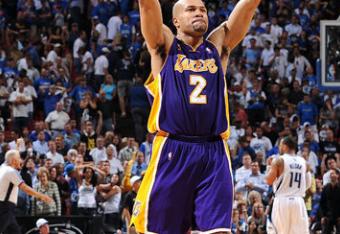 The Other Guy in LA

How often do you find someone writing an article about a 37-year-old who is averaging five points per game on 39% shooting?

Not very often, you say?

Wrong. The answer is never. Go through Bleacher Report and you will not find such an article until you come back to this one.

Therefore, there has to be something behind the stats don't you think?

Forget that Derek Fisher is a five-time champion. Forget that he's been Kobe Bryant's back-court partner since their rookie year. Forget that Bryant himself admitted that Fisher was the one who used to push him to his limit day-in-and-day-out when they practiced together alone.

Just remember the little moments.

Remember his steadying hand on the original Laker juggernaut of Bryant and Shaq.

Remember that fairytale 2001 postseason in which the Lakers romped to a 15-1 record upon Fisher's return after struggling in the regular season. Fisher shot 49% from three in that run, averaging 13 PPG.

Remember that incredible series against the Spurs in that same year in which he went 15-20 on threes, setting a record for a four-game series, finishing with 28 points on 6-7 three point shooting to close them out.

Remember the single greatest buzzer beater in NBA history in 2004, again against San Antonio. It was Game 5 of the Western Conference Semi-Finals. Fisher caught the ball a few feet inside the arc with 0.4 seconds left and let go of a prayer that splashed through the net just as the buzzer sounded.

Remember other players who'd have the courage to TAKE that shot, leave alone make it. I can guarantee that after Jordan, Bird, Miller and Bryant, you begin fumbling.

Remember Game 2 of the 2007 Western Conference Semi-Finals. Fisher was playing for the Utah Jazz, who were up against his former team, the Golden State Warriors. He did not turn up for the game, citing an unspecified family emergency. Starting point guard Deron Williams was sitting out with foul trouble, forcing Andrei Kirilenko to run point.
Fisher entered the arena and the game in the 4th quarter. He made a key overtime stop on Baron Davis and then hit a three for good measure which basically won the Jazz the game.

For what its worth, Fisher arrived late because his one-year-old daughter had been diagnosed with a rare form of eye cancer that required emergency surgery. Fisher admitted this tearfully in the post-game press conference. I'm not ashamed to say it didn't tug on my heart-strings, and I'm not the only one.

Remember his superfluous season upon returning to the Lakers. He scored 12 PPG on 40% shooting from behind the arc, and helped Bryant guide a team of young and inexperienced players to the NBA Finals.

Remember those daggers in Game 4 of the 2009 NBA Finals against the Magic. With LA down 84-87 and 4.6 seconds on the clock, Pau Gasol passed out of the double team to a wide open Fisher who was 0-5 on threes until then. Fisher cocked and unloaded. Tie game.
In overtime, with the game at 91-91, Bryant found Fisher on the right wing again. Once more, the then 35-year-old sank a three, this time to put the eventual champion in five games ahead for good.

What's more impressive than the fact that he made those shots is that his teammates trusted him to do so even though he was ice-cold all game long.

Remember Game 3 of the 2010 NBA Finals. With Bryant having a difficult time against the Celtics' stifling team defense, Fisher turned back the clock and scored eleven fourth quarter points to put the Celtics away, with no less than All-Defensive First Teamer Rajon Rondo guarding him.

Remember last night against the Mavericks? I'm sure you do.

Bryant ice-cold again, 7-22 from the field after a stretch of four straight 40 point games. Three seconds left. The Black Mamba swung it to an open Fisher on the right wing. The game was tied at 70. Then the game wasn't tied anymore.

If the Mavericks are foolish enough to leave Derek Fisher open in the waning seconds of a close-game, it is safe to say they will not repeat as champions.

Again and again, Fisher has come through when his team needed him most.

This cannot be forgotten. The most memorable, if not the greatest players always show their true colors when the cards are on the table.

When you open the history books decades from now, his name may be forgotten.

As a true Laker fan, however, I remember that without Fisher, the Kobe Bryant Era might have turned out very differently.

If the Lakers do not retire his jersey, I will myself break into Staples Center and hang it from the rafters.
This article is
What is the duplicate article?
Why is this article offensive?
Where is this article plagiarized from?
Why is this article poorly edited?

Los Angeles Lakers: Like this team?