NHL Trade Rumors: Which Contenders Need to Trade for Zach Parise?
January 17, 2012

Paul Bereswill/Getty Images
The New Jersey Devils are reportedly looking at what they could acquire in return for star winger Zach Parise, who is an unrestricted free agent in the summer.
Given the Devils' terrible financial situation, plus the fact the team is not a Stanley Cup contender and won't be for at least a few more seasons, trading Parise makes sense.
It's hard to trade a player of his caliber when the team still has a shot at the playoffs, but if the Devils let Parise hit free agency and he signs with another team, the franchise would be set back tremendously.
There's no way Parise signs a new long-term deal with the Devils when contending teams can give him a better chance to win and just as much money.
It will be interesting to see which teams are willing to part with top prospects and draft picks for Parise when they can sign him as a free agent in the summer and not give up any young talent.
Let's look at three contending teams who should trade for Parise before the trading deadline.
Minnesota Wild
After starting the season so well, the Minnesota Wild have fallen from first place in the Western Conference to eighth place.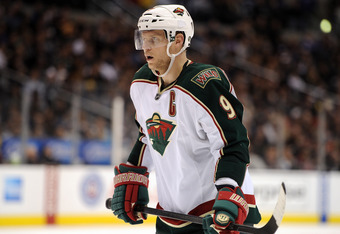 Harry How/Getty Images
Injuries to captain Mikko Koivu and Devin Setoguchi have hurt the team's goal-scoring abilities. The Wild are second to last in goals scored per game, and must find more offense consistently or their chances of making the playoffs will severely diminish.
Zach Parise is a Minnesota native and his dad used to be a captain on the old Minnesota North Stars franchise. It's likely that Parise would not mind signing long-term in Minnesota, especially since they are a team on the rise in the West.
The Wild have many prospects that the Devils would love to acquire, such as Finnish forward Mikael Granlund, who projects to be an NHL superstar.
Minnesota should be buyers at the trading deadline, and Parise is certainly a player they must look at acquiring for a playoff push.
St. Louis Blues
The St. Louis Blues have exceeded expectations this season and have a strong chance to beat out the Chicago Blackhawks and Detroit Red Wings for the Central division title. They currently lead the Western Conference with 60 points.
The spectacular goaltending of Brian Elliott and Jaroslav Halak has made them a playoff-caliber team, but they still need to acquire more scoring before the trading deadline to become legitimate Stanley Cup contenders.
The Blues score 2.56 goals per game, which ranks 19th in the league, and still lack a reliable goal-scorer that opposing team's fear.
Veteran head coach Ken Hitchcock has gotten his Blues team to play to their potential since taking over in November, and he would do wonders with Parise's talent.
The Blues have top prospects Vladimir Tarasenko and Jaden Schwartz who are both young players that the Devils would be interested in acquiring to help their team going forward.
St. Louis is an underrated team, and acquiring Parise would make them one of the most dangerous teams as the playoffs approach.
Toronto Maple Leafs
The No. 1 need for the Toronto Maple Leafs may be a top line center who can be a fantastic playmaker, but centers such as Eric Staal and Ryan Getzlaf aren't worth the talent needed to acquire them or the salary cap hit their contracts include.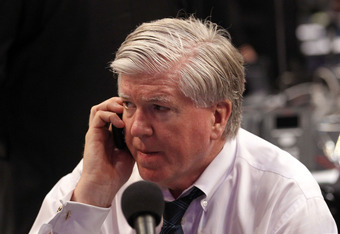 Bruce Bennett/Getty Images
Parise would give the team another top-tier scorer to take some of the offensive pressure off Phil Kessel as the season progresses.
Maple Leafs general manager Brian Burke is fond of American players and Parise is no exception. In a real hockey market with an insanely passionate fanbase, Parise would thrive in Toronto and become a megastar.
Toronto's top prospects including Joe Colborne, Jake Gardiner, Nazem Kadri and Matt Frattin are all young players the Devils would likely have interest in.
The Maple Leafs need to make the playoffs this season, and are currently one point behind the Pittsburgh Penguins for the final playoff spot in the Eastern Conference. Parise would make them a lock to reach the playoffs.
Follow Nicholas Goss on Twitter. Follow @NicholasGoss35.
Nicholas Goss is a Boston Bruins featured columnist for Bleacher Report and was the organization's on-site reporter for the 2011 Stanley Cup Finals in Boston.