LA Lakers, Derek Fisher: Courtesy, Professionalism & Respect
January 17, 2012

Stephen Dunn/Getty Images
Our Finest Officer.
By TIM DAVID HARVEY
Last night he did it again, when no one thought he could.
Proving that it isn't just Kobe who isn't ready for father time yet. Derek Fisher downed the Mavericks, avenging the playoff sweep and dethroning by the reigning champs. Old man Rivers Derek Fisher made clutch king Reggie Miller scream and made Dallas his son's last night with yet another clutch three that surely takes him beyond Robert Horry. The Lakers and their number 2 still have plenty of bullets left in their gun. It ain't over.
True sportsmen are hard to find in today's game of basketball. This is especially true when coverage is dominated by heavily rotated highlight reels. OK, there's not much that beats alley-oops and baseline reverse slams but what about the fundamentals of the true warriors of the game? Those who don't make the top ten plays of the week but instead possess something deeper. Derek Fisher shows us how much he embodies all the aspects of being true to the definition of sportsmanship.
sportsmanship, n : fairness in following the rules of the game.
You can't call yourself a basketball fan if the figure "0.4" doesn't register in your mental encyclopedia of historic NBA Playoff moments. There are not a lot of things you can do in 0.4 seconds (you can barely even bounce a basketball), but that was all Lakers guard Derek Fisher needed in the postseason of 2004.
Just four-tenths of a second to break the playoff run and hearts of the San Antonio Spurs. Less than half a second to lift his written-off Los Angeles team to the NBA finals. He did all this with a beautiful turnaround, fade-away J off an inbounds pass from Hall of Fame candidate Gary Payton. This was Derek's Hall-worthy moment, as he went all "big game" like James. Catch, turn, shoot, BANG! With that swish, Derek went from respected role player to among other things, "The Fish that saved L.A.". Bet he's glad that name didn't stick. From now on just call him 'Mr. 0.4'.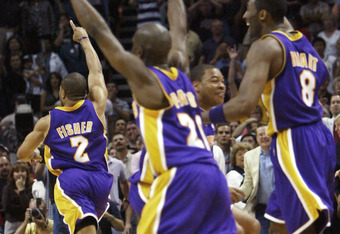 Stephen Dunn/Getty Images
Just one heroic moment for a little-known role player, right?
Wrong!
This is the same guy who's been a playoff hero year after year. The same guy who in the early 2000's averaged double digits in points in three consecutive seasons whilst having to share the ball with two guys who had enough trouble sharing the limelight. The same guy taken with the 24th pick out of Little Rock, Arkansas. The same guy who's practice coupled with his workout regime keeps him as fresh and strong as he was when he first entered the L with Kobe 15 unbelievable years back.
The same guy who maintains this high level of play even after suffering two stress fractures to his foot. The same guy who in playoff runs was a killer in the clutch like the Lakers' Horry, keeping his team's hopes alive shot after shot, charge after charge, big play after big play. The same guy who has done what countless other NBA star players haven't, decorate an entire hand full of rings. 
Spurs purists will also be heartbroken every time they remember Fisher taking over quarters, wetting so many three pointers with marksman like precision. Shooting the lights out to an NBA record 15 three pointers in Game 4 of the 2001 Western Conference semi-finals sweep.
Philadelphia 76er fans wish they could forget D-Fish's Game 5 deep dagger three from the 2001 Finals, which sank into the net along with their hearts and hopes of championship glory. The normally reserved Derek, with an assassins look on his face put his finger on his lips signalling the home crowd to be silent after that shot. The city of brotherly love had nothing more to say. Respect paid.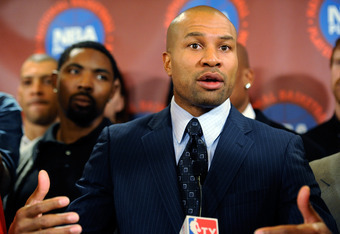 Patrick McDermott/Getty Images
Fast forward a couple of years and Derek was still that reliable point guard. Fisher was part of the end of a dynasty in L.A.; Kobe remained, but his reported on-and-off relationship with Shaquille O'Neal ran its course when the Diesel fueled up and took a trip back down to Florida.
This was the biggest news story, but all good Hollywood stories have subplots, and Shaq wasn't the only one who said goodbye to Hollywood. The Zen departed for a few years, Karl Malone retired along with Rick Fox and Gary Payton was traded.
Throughout this mess, things were said and stories emerged. Shaq and others were quick to let their feelings about Kobe and the management be known. Even the mailman delivered some barbs Bryant's way.
Still, amongst all these dramatic exits and gossip column worthy quotes, one guy whose loss would affect the Lakers just as much as many of the others remained quiet. Derek Fisher just went on his way. Fisher showed something the other players didn't…
Courtesy. 
Fisher went north to Golden State. The Oakland team put $22 million on the table so they could pride themselves on having a real Golden State Warrior.
Although he struggled at first, Fisher improved when Baron Davis took the reigns of the Warriors. This freed up Fish to be the player he is, always having his star man's back. This resulted in Derek's best offensive season averaging 13 points per game. He was still making those trademark spot up jumpers, he was still drawing fouls, the huge plays that win ball games.
Then it was off to Salt Lake City, where like with any good Jazz piece—Fish knew his role well—and with perfect harmony bought his own unique style to an already-established ensemble. Again Derek the consummate professional gave 100 percent of his duty in Utah every night.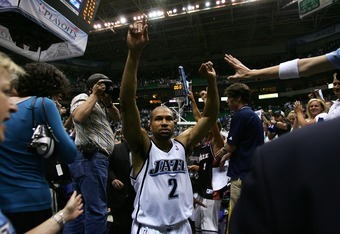 Harry How/Getty Images
A man who does this deserves to be recognized, and when Derek was elected president of the NBA Players Association in 2007 it was because of his embodiment of sportsmanship, and as we've seen recently, for the league's best interest.
This man should be a shining example for the rest of the league. There's not much that keeps this man from the court, but even true sportsmen know that as important as their responsibility to their team is, some responsibilities are simply just more important.
Like family.
Derek Fisher's 10-month-old daughter Tatum suffered something nobody should have to endure, let alone a child: retinoblastoma, a rare, degenerative cancer of the eye.
Emergency surgery was required, and like any true father, Fisher was right by his daughter's side every step of the way. These are the times when conference semi-finals don't matter and duty can be put aside.
Derek was with his family, but then he did something nobody expected even a renowned true sportsmen like him to do.
With the doctors blessing he flew back to Utah. The Jazz were almost three quarters deep in trouble against Fisher's former team, Golden State. They needed a hero, and Fisher answered the call.
Fans will remember him walking into the arena. Instead of warming up, he suited up and was on court late in the 3rd.
For all the all-stars on the floor for Utah (Deron Williams, Andrei Kirlienko), Derek knew it was time to show this ball club how a seasoned playoff hero plays this type of game. He high-fived his teammates on the Jazz bench, entered the game to a standing ovation and embraces from current and former team-mates, held his hands up high and looked to the heavens—and then it was down to business.
To win games first you have to take care on the defensive end. Derek did just that with a critical stop against Baron Davis, taking his team to overtime.
In overtime and up 120-117, the Jazz were finally on top but the W wasn't sealed yet. They needed a sharp-shooter to put the Warriors down for good. Utah's go-to guy, Deron Williams, found Fisher open in the corner: catch, shoot, swish, W.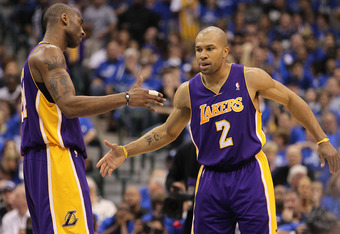 Ronald Martinez/Getty Images
That was deeper than just simple sportsmanship. This is the magic of players like Derek Fisher. This is the magic of the NBA.
'Where Amazing Happens,' right?
This moment arguably was just as brilliant as his 0.4 second shot, and definitely more heroic. Coming in for his team in their time of need, when it was his time of need displayed courage and something really special. Something that was deeper than, but still true to the definition of sportsmanship...
Professionalism.
When you are truly dedicated to your work, when times get hard, eventually you just have to walk away. Derek Fisher told the Jazz he had to go to a city that had the medical means to take care of his daughter. At the point he walked away from the game he devoted all his time to his daughters care.
If this man's career was called at this point on July 2nd, 2007, nobody could have doubted this man's dedication, selflessness and level of sportsmanship. However Derek's basketball diaries are now in the process of having a storybook ending; just read 'Character Driven' for reference. 
A city that had the medical needs to look after Tatum and a team to take care of Derek's career came calling. As if it was meant to be, the familiar city of angels beckoned the Fisher family back home. Kobe was putting Los Angeles back together but Batman needs Robin. So Number Two of the Lakers once again belongs to Derek Fisher, and it's like he never left.
The headband may have gone, but the hard work and dedication still remains. And the clutch three-pointers, the Orlando Magic, Boston Celtics, years, tears and two more rings can attest to that. Derek still gets his and gives his team the energy and the heart they need. Even in this years three-peat fail, Fish was still there shooting rainbow jumpers and taking charges, making big plays at 36.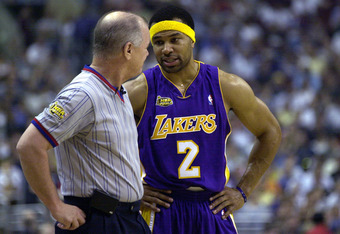 Ezra Shaw/Getty Images
This was all whilst trying to help prevent David Stern from putting a Coach Carter style lock and chain on the NBA's gym. Now that's dedication, from the labour courts to the hardwood ones. The Lakers may have been a mess when Fisher left after his first tenure, but if you look at this team now its a different story. It's a story for for kings and champions, minus a few chapters and a last season from Phil Jackson. 
Mike Brown and the Buss family still have a lot of talent at their disposal, save the wrecking ball. This includes a strong, deep bench mob, star player Pau Gasol and defensive master Ron Artest the ever developing Andrew Bynum and of course the leagues best Kobe Bryant. With this great unit its easy to forget the hard workers who don't always get their shine. Believe me though if you don't think Derek Fishers just as important as any of these pieces then you don't know basketball.
This man's great legacy may yet include a few more championship rings to join the five his cabinet already contains. If this happens do not think this of it as mere coincidence. Derek may be heading to his contract year and his skills and age may be getting away from him, as the prime-time will soon make way for pine time but know this, he's still got more game-winners in him then most franchise players will ever possess.
Still how do you honour a man who gives his all to not just his cities team but its community too? How do you honour a man who's heart and spirit is immeasurable? Well the city of Los Angeles made a big start a few years back declaring March 5th 'Derek Fisher Day'. City Councilman Bernard Parks words speak volumes of Derek's heroic moments, "He made sports history when he missed the first championship game (For the Utah Jazz in 2007) due to the illness of his daughter, but then he arrived in the fourth quarter of the second game and just in time to score the winning three-point basket, which proves not only his commitment to his family but also the commitment to his team".
Bottom Line we need to recognise this man as a lot of times the wrong sportsman are being idolised. The city of Los Angeles showed Derek Fisher the same thing he in his career has shown every city, team, coach and player he's ever played for or against and the league of the NBA as a whole…
Respect.