10 Reasons Steelers Fans Will Root for the Ravens This Weekend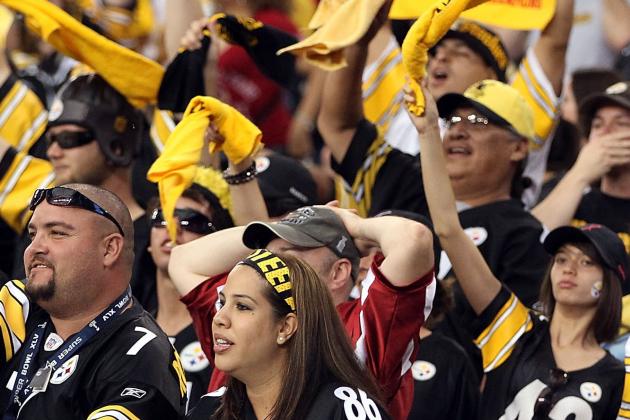 Christian Petersen/Getty Images

Sunday was the first time many Steelers fans turned on their flat screens since the ignominious defeat in the Mile High city. Viewership of ESPN and the NFL Network had been down in Western Pennsylvania since last Sunday and will slowly trickle back to normal by Super Bowl Sunday.
Watching the Houston Texans suffer a tough loss to the Baltimore Ravens took any sweetness out of a rapprochement with football Steelers fan might have. The Ravens had won and thus extended their season, while the Steelers would be getting much needed, but unwanted rest.
After all the emotional dust settled on Sunday night, and Steelers fans were presented with the fact that the Baltimore Ravens and New England Patriots would square off in battle to represent the AFC in this year's Super Bowl, one revelation became clear. Steelers fans must root for someone.
There's myriad reasons to hold in contempt everything the Ravens stand for, but the Baltimore's body of work is dwarfed by the colossal douchebag-ery of the New England Patriots. Next Sunday, if a side must be taken, and one would argue that in American football there is no Switzerland, Pittsburgh fans from across the globe will be cheering for, however faintly and painfully, the Baltimore Ravens. And here are the top 10 reasons why.
Begin Slideshow

»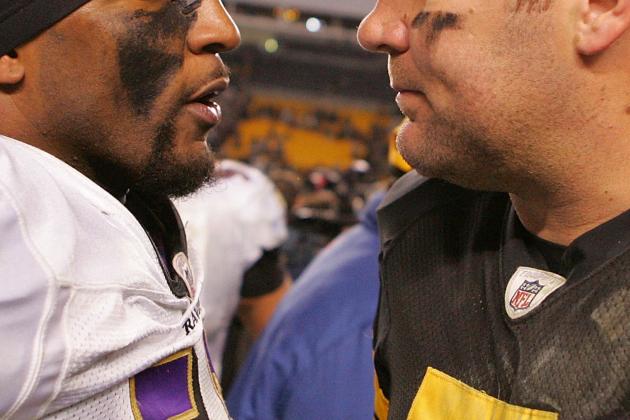 Jared Wickerham/Getty Images

These two teams, who epitomize rivalry in sports, have a love-hate relationship, which is to say that both teams and attendant fanbases love to hate each other. Even in this truth though, there's tiny grain of respect between the Steelers and the Ravens.
Call it honor between Samurai. A warrior's code. They're cut from the same cloth. Well, to be exact, the Steelers are cut from finest of textiles known to man, and the Ravens from a cheaply made Chinatown knock off, but it's the same general look and feel, so there's a familiarity between the two.
Though the Ravens are softer and weaker in every conceivable area, both AFC North teams fight in the same spirit, where a stellar defense has been the foundational principle of the entire organization. Over the past 11 years the two units have combined to lord over the league in total defense seven times, including this year, and scoring defense six times. Where offense is glamorous, hard-hitting defense is the foundation of the sport where it's less about talent and more about hard work. Every day. Every play.
As the Steelers reflect the make-up and sensibilities of a humble, blue-collar and hard-working region of Pennsylvania, so do the Ravens.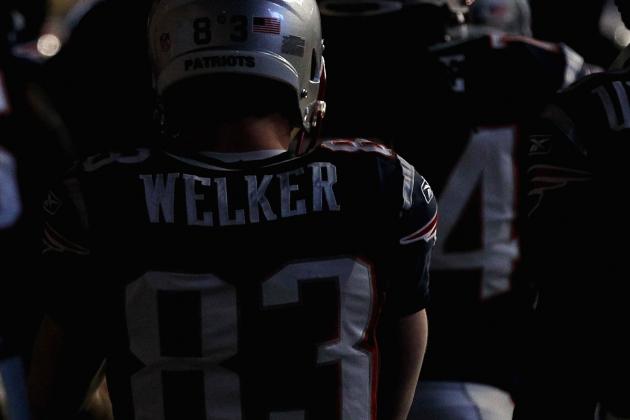 Al Bello/Getty Images

Then there's the the New England Patriots. The arugula-eating, super-model dating, Prius-driving elitists. They're the the Winklevii of the NFL. Private school, Polo shirt-and-khaki wearing snobs. They sip expensive French wine, while Steelers' fans pound cheap Iron City swill.
Sure Bob Kraft's Patriots are a perennial winners, much like the Steelers, but they have an air of effete blue-bloodedness that couldn't be further from the blue-collar streets of Steel Town. They're rapiers, in a broad sword battle, slashing and pricking people to death.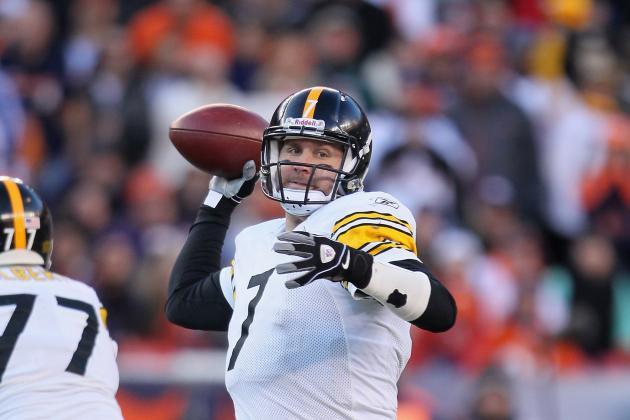 Jeff Gross/Getty Images

The AFC North is the toughest division in football, with its's terrible weather and hardened turf. Every other team in football enjoys at least one divisional game in warn weather. The Patriots travel to Miami yearly. Indianapolis not only plays in a dome, but makes its way to balmy Houston and Jacksonville. Denver rolls into breezy San Diego at least once a season.
The NFC North has two domes. The NFC West has Arizona and St. Louis' dome. The NFC East teams spend some time in Dallas, and the NFC South is downright resorty in it's weekly forecasts. Contrast this with the AFC North playing in Baltimore, Cincinnati, Pittsburgh and Cleveland, and see if you don't shiver just reading the words.
The division is all about the run. The weather-proofed offenses are traditionally built around said run, and its defenses are constructed to stop it.
It's in this respect that you'll find the Steelers fans ever-so-slight affinity for their rivals.
Additionally, a Ravens win will, in some small way, validate their own toughness, which might be in question in some small way after New England dismantled the Broncos on Saturday.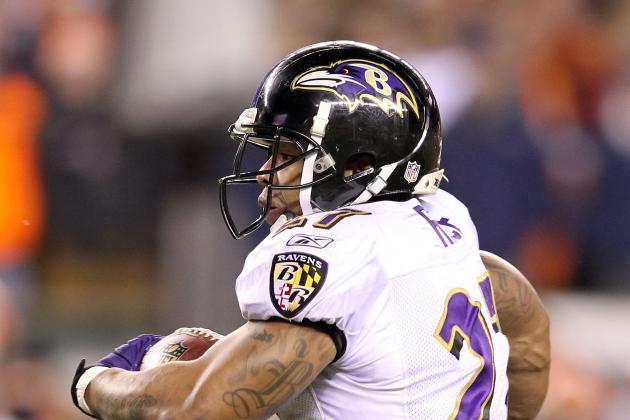 Andy Lyons/Getty Images

In a sport that trades in hulking frames, Ray Rice is the undersized underdog that's tough to root against, unless, of course, he's playing the Steelers. As Rice goes, so goes the Ravens and so the structure of success is similar to that of Steelers teams throughout history.
But you can't help but respect Rice. His personal story is extraordinary, and he takes a weekly pounding and just keeps giving it back. In their first meeting of the year, Rice ran for 107 yards against a Steelers defense that prides itself on holding players under 100 for their careers.
With backs like Franco Harris, Rocky Bleier and Jerome Bettis, the Steelers prioritize the ground game and have idolized the runners who have made it great. All one needs to do is land in Pittsburgh International Airport and observe the bust of Harris' Immaculate Reception to know how the citizens of western Pennsylvania value the running game.
The Patriots have never had a star running back. They've gotten by with a tag-team group of situational runners who have done the job adequately. This season's iteration in the Kevin Faulk and BenJarvus Green-Ellis combined for 41 yards in their 25-17 loss to the Steelers in October. It's tough to root for a team so disparate in values.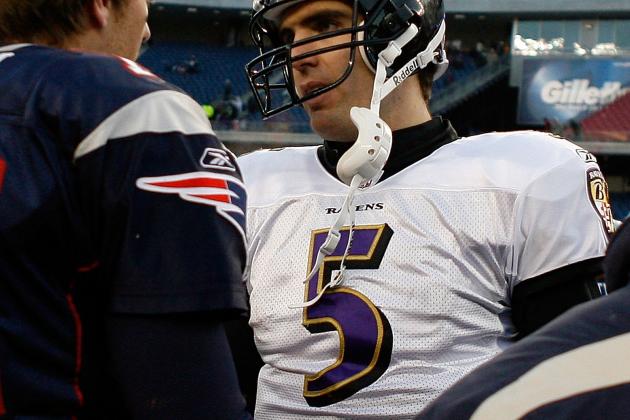 Elsa/Getty Images

This has less to do with win-loss records and more to do with style points. Tom Brady is clearly a better quarterback than Joe Flacco. Brady owns three Super Bowl rings and is having an incredible season. He's thrown for an amazing 5,235 yards and owns a 105.6 passer rating, both in the regular season.
During the games and post-game interviews, he looks like he's shooting a Nike ad with his perfectly adorned uniform and shampoo-commercial hair.
The Ravens' quarterback looks like he should be serving Pig's Head beer in a dive bar on the wharf, not modeling clothes next to his girlfriend with whom he seems to share hair mousse. He's erratic and above average at best.
Sure, when he's lining up against the Steelers, Flacco is chided and derided for his goofy biker look , but on the banks of the Monongahela River, you always side with the guy who looks like a dock worker, not dock owner.
"The Steelers are pretty tough to beat at home," Brady, told the Enterprise News in October. "We've been fortunate to do it a few times, but I tell you the times that we've beat them, we've had to play very, very good games and we have.
"That's what I'm probably most proud of," said Brady. "Some of our greatest games that we've ever played have been against them and that's just the level of execution."
It's that Flacco can never say that about the Steelers that endears him to the Pittsburgh faithful over Brady.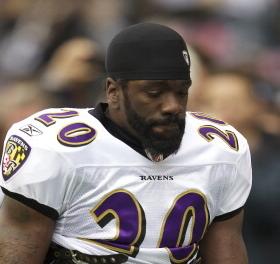 Stephen Brashear/Getty Images

Ray Lewis has a stupid, childish, silly and utterly annoying pre-game "dance," but he usually brings the house during the game. He seems like he's been playing for the last 85 years without losing a step. Between Lewis and Terrell Suggs, the Ravens have the league's big, bad and scary look all sewn up.
Their run defense is, at times, a carbon copy of Pittsburgh's in toughness and caliber of personnel. A super-elite safety, air-tight pass coverage, and intimidating and hard hitting linebackers that opposing teams absolutely despise.
Not only do Steelers fans not engage in schadenfreude, most were downright disappointed to see Ed Reed, the second best defensive player in the league tweak his leg on the final play of the game Sunday. He's in an exclusive club of two and will be needed at full strength to help stop a Patriots pass offense that's playing out of this world.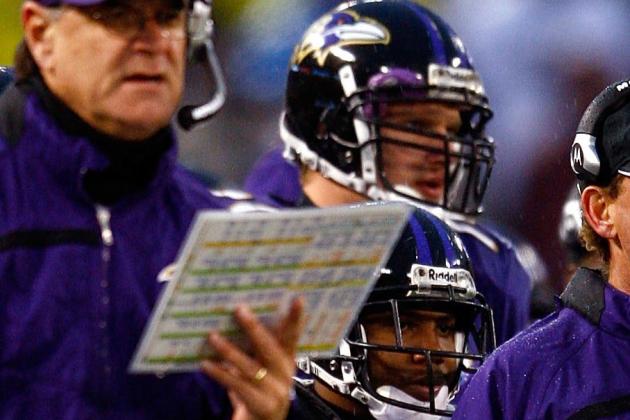 Jamie Squire/Getty Images

The Ravens have a history of jackwad leaders. World class tool Brian Billick was real treat. This "offensive genius" was truly offensive. He's the coach who's eventual Super Bowl-winning team had a six-game touchdown-less streak during their dream season.
He stumbled into one of the greatest defenses off all time in 2000 and had just enough with Trent Dilfer and an average opponent to win a ring. That one year of greatness was enough to land the Ravens' first and only Lombardi trophy and Billick a career in being a talking head.
Once he was deposed, super jerk John Harbaugh came to town. He's as annoying as he is wide-eyed. There's not enough digital space to innumerate his flaws. Compare him to Coach Belichick and there is no comparison.
It's been proven that Coach Belichick oversaw an organization that did more to undermine the sanctity of the game than any individual steroid user when he knowingly and consistently cheated on games by video taping opposing teams.
He's almost become a caricature of himself in how tight-lipped and Napolean-esque he is in revealing anything about his team. He does have a trio of Super Bowl rings and boasts an incredible knack for situational football, scheming custom-tailored game plans that are the stuff of legend.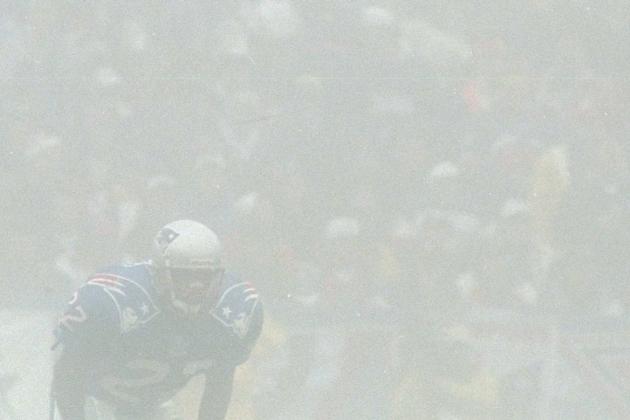 Al Bello/Getty Images

The Steelers were playing in Foxboro for the first time since 1979 and came into the game as favorites. Kordell Stewart, who was playing for an injured Mike Tomzack, was forced to carry the team as Jerome Bettis played hurt.
Fog surrounding the field got so bad in the second half that wide shot cameras could hardly pick out the players or the action. It was a downer all around, and Steeler great Rod Woodson played his final game in Black and Gold.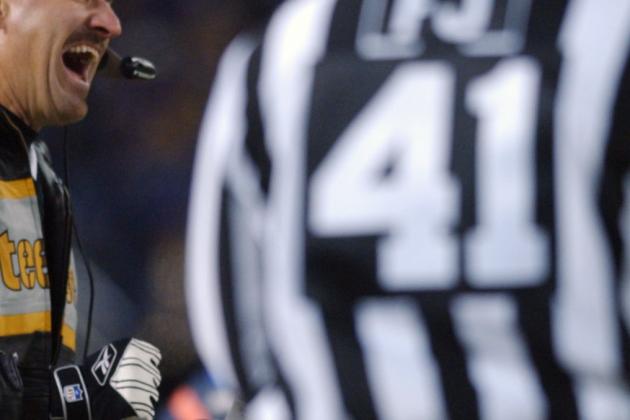 Doug Pensinger/Getty Images

The rivalry between the Steelers and the New England Patriots officially took shape when the Steelers were upset by the Patriots in the 2001 AFC Championship game at Heinz Field.
These were the George Lazenby's of the world with Drew Bledsoe's backup effort besting the Steelers 24-17 that saw the Lamar Hunt Trophy handed out to the Patriots on Pittsburgh soil.
Jerome Bettis, returning from a groin injury ran for eight times for nine yards and put pressure on quarterback Kordell Stewart to produce much of the offense for the day. Stewart threw two interceptions in the final three minutes, after the Steelers were on the march to overcome an 18-point deficit.
That win was another stinging reminder that Coach Bill Cowher hadn't won the game that really mattered in a tenure that would be coming to a close.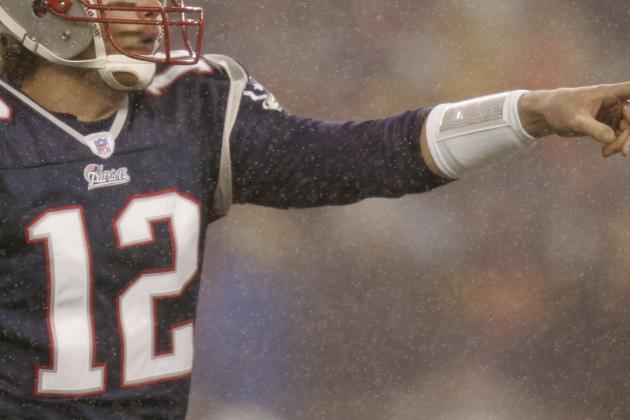 Mike Ehrmann/Getty Images

In 2004 the Steelers halted the Patriots record-setting 21-game winning streak in Week 6, but fell to the eventual Super Bowl Champion Patriots in the playoffs after their 15-1 season that had young QB Ben Roethlisberger looking dazed and confused most of the game. Big Ben threw three interceptions and Tom Brady, finishing with a 130.5 passer rating, lit the Steelers defense up.
The Patriots beat the Steelers 41-27 in a cold night game that didn't look as close as the final score. The Patriots went in 24-3 at half and had the home team Steelers booed by their own fans in the nationally televised title game.
The loss was so bad that home fans were chanting for Tommy Maddox to replace the rookie Roethlisberger. That outing which gave Rodney Harrison an 87 yard pick-six, is the reason why many Steelers fans can't watch Sunday Night Football.