Cleveland Cavaliers Should Stay Focused in the Present
January 17, 2012

Mike Lawrie/Getty Images
One week into the 2011-2012 NBA season, I wrote an article debating whether the then 3-2 Cleveland Cavaliers should be focused on winning this season or losing games to ensure a lottery pick in the 2012 NBA draft.
In the article poll, 69 percent of voters—myself included—opted for the draft. As fans, we should be ashamed of ourselves.
Despite two losses to the under-performing Toronto Raptors, the Cavs have been one of the early season's biggest surprises. Just don't tell anyone. The media wouldn't have you believe it, but the Cavs are a competitive team.
Kyrie Irving, "the best player in a weak draft," is exceeding expectations and surpassing the rookie season performances of Derrick Rose and John Wall. Maybe I'm drinking too much of the Kyrie Kool-Aid, but if "draft experts" Chad Ford and Jay Bilas have watched any of the Cavs' games this season, they'll likely have put their foot in their mouth by now.
I'm not rushing to call the young Cavaliers title contenders.
Indeed, there are many holes on an utterly underwhelming roster. Shooting guard and center are both areas of concern. Until very recently, it didn't look like Cleveland had an NBA caliber player starting at small forward.
Anthony Parker continues to eke out a living on an NBA roster as a "seasoned vet" who occasionally hits the 18-footer off a screen or spots up for the corner three.
Phoenix Suns color commentator—and shameless Michael Jordan freeloader—Scott Williams was bold enough to say that "when he's [Parker] got it going, no one can shoot it any better." They don't pay color commentators to say insightful things.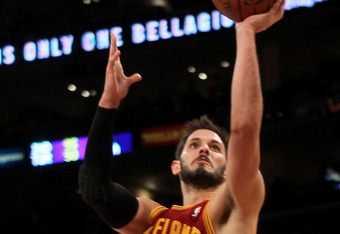 Stephen Dunn/Getty Images
Daniel Gibson is shooting lights out coming off the bench, but never has, nor ever will have a true position. He's too small and one-dimensional to play shooting guard, and either unwilling or unable to distribute the ball at the point.
Anderson Varejao is having a career year, but there's very little behind him at center. While the rest of the players can get nights with limited minutes, Varejao needs to consistently play 30-35 minutes for the Cavs to have a chance.
Furthermore, Omri Casspi looked completely lost on both ends of the floor except for two respectable performances to close out the Cavs' seven game road trip.
Twelve games into the season, the upstart Cavalier bunch is a respectable 6-6. Despite playing the fewest games of any NBA team at home (where the Cavs have always played considerably better), they're hanging tough in the East.
Although their schedule hasn't been nightmarish, no team will have it easy with the condensed season.
Cleveland has outscored their opponents by 76 points in their six wins and has been outscored by 63 points in its six losses. This shows the sluggish nature of the modified schedule, as teams will show up to play on some nights and be clearly fatigued on others.
At the conclusion of a seven-game road trip, the Cavaliers came away with a 3-4 showing. Despite an apparently lopsided defeat in Portland, the Cavs hung tough with the Blazers for most of the game and pushed Utah and the Lakers to the end.
Cleveland looked very impressive in road wins against Minnesota and Phoenix, and capped their trip with a comeback win against Charlotte. While last season's Cavaliers would have rolled over in L.A. to get stomped by 50, this season's squad has a hunger and competitiveness that compensates for its lack of talent.
A team with no expectations is playing competitive basketball on the shoulders of a 19-year-old rookie (Irving), a sometimes crafty-sometimes woefully aging power forward (Antawn Jamison) and a hustle player whose made a career of running his fingernails over opposing teams' chalkboards (Varejao).
Throw in an underrated backup point guard (Ramon Sessions), an unknown but effective reserve wing (Alonzo Gee) and "Ben Wallace 2.0" (Tristan Thompson), and you have a rag-tag Cavaliers team that's proven both its fans and the experts wrong.
Would it be great to add another young stud at a position of need? Of course. Does anything really beat watching competitive basketball right now? It's what the fans pay to see.
The 2012 draft is considered very deep, and with the current face of the franchise a humble teenager with tremendous upside and a lot of cap space, it's quite possible that for once in history the Cavaliers could lure an impact free agent or two.
The first of the Cavaliers' two tough tests has come to pass, and the team gave a strong showing with their 3-4 record on the longest roadie of the season. Now, Cleveland will embark on an extremely difficult sixteen-game stretch over the next month.
If they can find a way to win six of those games, there's no reason to discredit this team's shot at the playoffs in 2012.