WWE: Why Are Wrestling Punishments so Ridiculously Petty?
January 19, 2012

Kofi Kingston, Drew McIntyre, Sheamus: What do these three names have in common?
They are all current WWE superstars who saw their stock significantly drop due to one simple, petty situation.
Kingston, now a four-year veteran in the company, saw his stock astronomically rising in 2009. He was put into a main event feud with Randy Orton. The buildup between the two was hot with Kingston getting decisive victories over the top-tier heel on Raw.
Then in one moment, Kofi, during a triple-threat match against Randy Orton and John Cena, went off script, getting up at the wrong moment. Orton lost it, and he ended the match with a vicious RKO followed by repeated shouting at Kofi.
From that moment on, Kofi has been stuck in the mid-card of the company. There have been absolutely no attempts to move the notably over mid-card face up the roster.
Drew McIntyre was on a rise of a lifetime. He came into the WWE with a vengeance. He went on a long undefeated streak, including winning the Intercontinental Championship, and he was given ringing endorsements by Shawn Michaels and Triple H.
He would be forced to pay his dues by playing lower on the card, but he seemed to be back on his way up the roster when he won a qualifier to wrestle for the World Heavyweight Championship in the Elimination Chamber at the so named pay-per-view in 2010.
His performance was praised by many as possibly the most impressive of any in the chamber in his losing effort. Then something happened. McIntyre moved to the Raw brand and disappeared. He would become a WWE Superstars frequenter and never show up on the main shows, playing a low card role.
What had happened? Well, McIntyre's wife Taryn Terrell—who was named Tiffany in WWE and played the role of general manager and diva during her time in the company—allegedly openly assaulted her husband, causing her to be taken into custody and released by WWE.
While nothing was ever confirmed, with some reports by Wrestling Observer Newsletter (via SEScoops.com) saying that officials were simply unhappy with his inability to get over after they basically overpushed him, the timing was too perfect.
WWE certainly decided that it was best to bury McIntyre after the incident because he had gotten into trouble with his ex-wife Tiffany. That would lead to an endless burial that has only now finally (seemingly) been let up.
Sheamus sounds like an odd person to talk about here with his current lead role on SmackDown, but he too was buried. After getting the push of a lifetime being given two WWE Title reigns, Sheamus would fall out of favor fairly quickly.
He would job out for most of the 2010-2011 year with very little emphasis and complete lack of credibility. What caused this? Reportedly (Wrestling Observer (via Wrestling Inc), Kevin Dunn, the current Vice President of Television Productions, didn't like Sheamus.
He even came up with the outfit that Sheamus would parade to the ring as King Sheamus, which was absolutely ridiculous.
Of course, as we all know, WWE wised up and allowed Sheamus finally back into the fold by moving to SmackDown, so at least that was eventually settled.
These are only a few lesser examples of what WWE can do when they have a reason to dislike a talent. We all have seen far too many ridiculous releases over the years, and we have seen many great talents buried for no reason besides a higher authority in the company having some small grudge with them.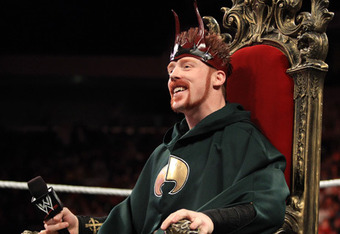 Why, in this day and age with WWE so sparse on talent, does the company still act so petty? Why does it bury talent that could easily be its saving grace? It is a conundrum that is so far set that it could simply be a hubris within the company that allows it to feel impervious.
It is simply insane that we can see this today. If a talent is openly rude and overly proud, then forcing them to pay their dues and face burials makes sense for a time, but when it happens in even minor cases, the company as a whole threatens to destroy itself under the weight of its own ego.
This is something that must be addressed now. I don't see it changing because of a mere change in power as Triple H takes power. He has shown time and again that he has his own favorites and those he dislikes.
Something needs to happen at a fundamental level that forces the company to realize they don't have time to be so shallow and self-absorbed. It is detrimental to any company to allow emotions to supersede business.
Thanks for reading!
Comment!
Follow me at Twitter because it's cool: Follow @Draco711