Nick Montana: Washington Announces Joe Montana's Son Will Transfer
January 16, 2012

Stephen Dunn/Getty Images
Nick Montana's brief run as a Washington Husky is reportedly coming to an end. The son of NFL legend Joe Montana is apparently seeking a change of scenery. 
College Football Talk tweeted out the news.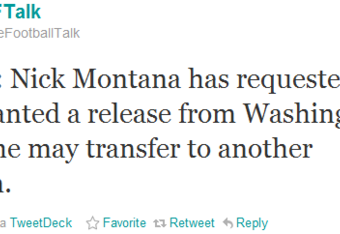 Montana will be a redshirt sophomore next season.
His decision to transfer shouldn't come as a shock given that he is firmly behind starting Husky QB Keith Price on the depth chart, and Price will only be a junior next season. 
Bob Condotta of the Seattle Times released this press release from the school. 
Quarterback Nick Montana has requested and been granted a release from the University of Washington so that he may transfer to another program, UW football coach Steve Sarkisian confirmed today.
What it Means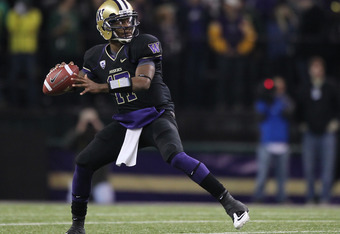 Otto Greule Jr/Getty Images
This transfer will not be a big blow to the Huskies program. Price is ready to come back as one of the college football's best QBs, and he has two years of eligibility left.
Meanwhile, Montana did not seem to be a good fit in the UW offense. He got some playing time this year as Price battled injuries and he was completely unimpressive. For the season, he was 24/42 passing with 226 yards, three touchdowns and two interceptions. 
He looked overwhelmed and the offense was obviously scaled down when he was under center. 
This does open up the backup job at Washington, which is especially important given Price's injury history, but the Huskies will be just fine in this regard. Montana would have had a hard time hanging onto this job anyway.
The UW has the talented Derrick Brown who redshirted this season, and they also have commitments from two top QB prospects Jeff Lindquist and Cyler Miles.
What's Next
If Montana was going to get his career on track this move was necessary. He needs to play to improve, and he was clearly not good enough to play for the UW. 
Condotta mentions that there are rumors that "Montana will transfer to a junior college in Brenham, Texas, Blinn College."
This would give Montana a year of playing time and refine his skills. He would then be eligible to switch to a four year school and have two years of eligibility.