Thierry Henry Right in Chiding Flaky Fans in the Wake of the Swansea Loss
January 17, 2012

Michael Steele/Getty Images
Anger and frustration accompanied Arsenal's loss at Swansea. A number of fans promptly polished and oiled their guns before squaring them at Arsene Wenger. They want him sacked...again.
A few said the team was rubbish and showed no commitment in the match. Andrei Arshavin, Theo Walcott and Aaron Ramsey were ready scapegoats, quickly sacrificed on the altar of blame.
Even Arsene Wenger, usually measured in his reaction to his players' performance, broke with tradition and blamed the defense for the goals Arsenal gave away. 
Our defensive performance was not good enough and that's why we lost the game. We cannot panic every time they [the opposition] have the ball in the final third of the pitch. We have to show more composure and ambition.

I think we panicked a bit too quickly today [Sunday].

It is always a concern but on the other hand there is a good spirit in the side and a desire to do well. But we have dropped six points in a row now that we should not have.
By the way, I don't think the goals were the fault of the defense. The defense played well under the circumstance.
Thierry Henry was involved with events that followed the disappointing loss. Here is The Guardian's account of the event.
Thierry Henry became involved in a row with one of the travelling supporters...Henry's set-to with an Arsenal fan came after the final whistle, when the players went across to applaud their followers. It is understood the striker, who had replaced Andrey Arshavin in the 63rd minute, clashed with the supporter after taking unkindly to his criticism of the players, the Frenchman telling him that he should support rather than berate the side.

According to a club spokesperson Henry had said: "No matter what, you should support the team." The 34-year-old, making the second appearance of his loan from New York Red Bulls, also appeared to make a 'yapping' gesture at the fan with his left hand and pointed as if to invite the individual to address him on the pitch.
When I read what Henry allegedly said, I uttered a loud amen. I am tired of fans who gush with praise and adulation when Arsenal win, but quickly change their tune to something—shall we say—less than edifying.
In the wake of Manchester City's financial hegemony in more ways than one, I have been constrained to see the point of this argument by some of the fans, which, by and large, goes like this:
"We stood by our team in thick and thin, even when we got relegated. We stayed with the team because we love it. Now is our moment in the sunshine, please, allow us to enjoy it."
These kinds of fans are the true fans. They don't support the team merely for the euphoria that accompanies victory; they do so even in dark times. Such fans are measured in their reaction to their team's setbacks.
These kinds of fans can't be the ones Henry spatted with.
It has to have been a reaction against the sort of fans who boo the team at the slightest perceived error.
They shout the loudest at matches such as the one against Leeds United, but are ready to crucify the same players they just now were praising if the team dares to lose.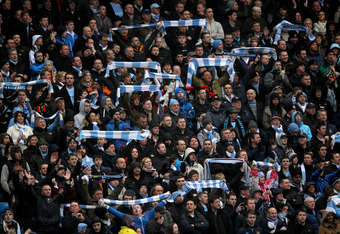 Alex Livesey/Getty Images
It's pathetic; it's annoying.
This is not to say fans are not entitled to complain now and then, or to criticize players or the coach from time to time. No, that's a normal part of being a fan.
We are speaking of fans who want to burn down the house when the team experiences setback.
Where is your loyalty?
Loyalty, I believe, is the crux of Henry's point, which is why I have to disagree strongly with Martin Samuel, a writer for Daily Mail. Here's what he says about Henry's reaction to the said fan or fans.
Arsenal icon or not, he has no right to demand a devotion from the fans that he would not match. They didn't quit after two seasons without a trophy, he did, and while his temporary return to our game is very welcome, that is all he is, a visitor, passing through on the way to his full-time job in America. He will be gone before the first blossoms of spring, unlike those he berated, who will be here through this bleak mid-winter, and the next, and the one after that.
While Mr. Samuel's piece may get him some quick reads, its point is mistaken and misplaced.
Here's what he, himself, says earlier in the article.
Henry quit the club in 2007 because he fancied Barcelona more. Maybe it was the challenge, maybe it was the opportunity, maybe it was just the money; or a bit of all three. Whatever his reasons, he found a club that he preferred to Arsenal and he left: that is what separates him from the steadfast souls who made the journey to Wales in red and white on Sunday.
What I should like the reader to note is the second part of culled passage. If a fan is truly steadfast, he or she wouldn't be too quick to rain abuse on a team that just gave its all in a difficult match. 
Yes, the players gave it their all, they were simply out-maneuvered.
Witness the battle-beaten Ramsey, his jersey and shorts all soiled. Witness the number of knocks he received, how he toiled from one end of the field to other, performing two roles where he should have performed one. If you do, from whence, then, comes your vitriol? 
No player on that team in the Swansea game gave less than a committed performance. They lost, not from lack of commitment or trying, they did because they were tactically inferior on the day. On another day, they could have come out on top.
The key, then, is "steadfast." Clearly, Mr. Samuel isn't implying that sunshine fans are steadfast, is he?
As for his first point, it's totally misplaced. Thierry Henry didn't claim to be a fan of the club when he played for Arsenal before leaving for Barcelona. Here's what he, himself, says:
I became a fan when I left the club so now I know exactly how it feels to score for the club that you support.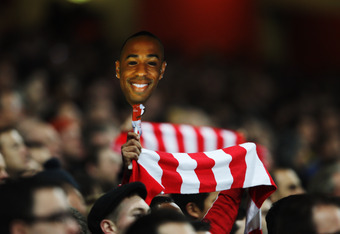 Clive Mason/Getty Images
If Mr. Samuel means that a player must be a fan of the club he plays for, then he's absolutely right. The reality, however, is not so.
Players are professionals, who are out there to make money just like everyone else. While it may be nice if they add to their professionalism life-long loyalty to a club, they don't have to—neither should they be required to.
The clubs themselves are only too ready to discard a player if the player produces anything less than his ostensible best.
Henry, therefore, didn't have to be a fan of Arsenal to play for Arsenal.
It is, thus, a wrong standard by which to judge him. While you can judge him on the basis of his productivity and professionalism while at Arsenal, what you can't do is use the yardstick Mr. Samuel employs here. It's simply misplaced.
Henry became a fan after he left the club and he has demonstrated in many ways that he's a true fan, the least of which is not his return to help out in this difficult time for Arsenal. To try to demean that as Mr. Samuel tries to do here borders on the unconscionable.
It is therefore Mr. Samuel who should lay off Henry.  
Is he even a fan of Arsenal (not that he has to be to write about the club)? If he is, then I don't understand how he can defend fans as fickle as the ones who abuse and boo the team any time it "dares" to lose.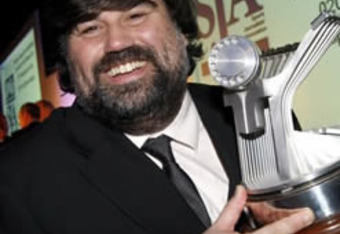 If these were loyal fans, then they wouldn't be booing the team.
They'd be demonstrating their loyalty by standing firm by the team in the face of its adversity. Better, they could employ their energy offering constructive suggestions to the team on how, for example, it can best move forward.
It's better than booing and raining abuse on the players and calling for the head of the manager when setbacks obstructs the sunshine.
Indeed, fans' journey from London to Wales appears to be a sign of loyalty, but it's not so necessarily. I suspect that fans as fickle as the ones that Henry spatted with only support the team for the adrenaline factor.
They are addicts who lose control once the adrenaline of victory is denied them by the team's failure to win. Such fans are not worth defending.
They should be called out for what they are: addicts. It's exactly what Henry did. So again, Mr. Samuel, lay off.
Are you a true Gooner, reader? Then "no matter what, you should support the team."
That's sanity; that's sense.
To fault it says more about the person who does so than it does Thierry Henry.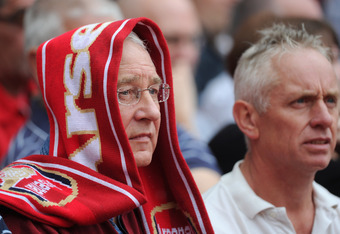 Michael Regan/Getty Images
+++
Please leave your comment and opinion. Thank to those who have done so already.
But, please, do distinguish between normal complaining and anger, which are part of being a fan, from abuse and foul language, which are what this article is against. If you read the article closely you'd see that it's not saying that fans should not complain at all. That'll be stupid and unrealistic.
A few of the respondents here have failed to distinguish the two. Note the difference first before posting your comment.
Thanks.