Georgia Bulldogs Football: Where Does Brandon Boykin Rank Among Georgia Greats?
January 16, 2012

Kevin C. Cox/Getty Images
Despite a disappointing end to an otherwise successful 10-4 season for the Georgia Bulldogs, hype for 2012 has already begun.
Much of the excitement surrounding the prospects of a title run in 2012 is thanks to commitments from big time recruits, including the nation's top tailback, Keith Marshall, another stud in tailback Todd Gurley and 5-star defensive end/linebacker Jordan Jenkins.
Another reason fans are so optimistic is because every junior and red-shirt sophomore from Georgia's vaunted defense has declared their return to Athens for their senior seasons.
Returners on defense will include All-Americans Jarvis Jones and Bacarri Rambo, as well as stud safety Shawn Williams, defensive backs Sanders Commings and Branden Smith, nose tackle John Jenkins and linebacker Cornelius Washington.
In a time where many draft eligible players look to get out as early as possible, it was actually quite a surprise to see so many NFL prospects elect to return to college. 
Fans can't expect that decision very often, and Georgia fans have seen the likes of Matthew Stafford, Knowshon Moreno, A.J. Green, Justin Houston and Asher Allen leave at times that might not have benefited the Georgia program very well.
If there was one player on this Georgia team that might have helped change the locker room culture, it very well could have been Brandon Boykin.
Boykin, an outgoing senior out of Fayetteville, GA, played his last game for the Red and Black in this year's Outback Bowl against Michigan State.
Boykin had, undoubtedly, his best game as a Bulldog. He managed to score in all three phases of the game, thanks to a 92-yard punt return, a 13-yard touchdown reception and a tackle for a safety.
Although Georgia lost the game, Boykin was still declared the game's most valuable player. It was fitting to see the senior receive the accolades.
Boykin had the chance to leave for the NFL last year, and many would not have blamed him. Georgia finished the 2010 campaign at 6-7, and the future wasn't looking very bright.
But, Boykin elected to return to school and help Georgia pursue a title. Although Georgia failed to win a conference title in 2011, there is no doubt he helped fuel a fire that will burn bright next fall.
In his senior year, Boykin finished fourth on the team with 55 tackles, nine pass breakups, three interceptions, two forced fumbles, a tackle for a safety, five carries for 95 yards and a touchdown, four passes for 58 yards and a touchdown, 850 kickoff return yards and 180 punt return yards and a touchdown.
His 2011 performance won him the Paul Hornung Award, which goes to the nation's most versatile player.
Boykin also finished his career with 2,593 kickoff return yards, which is a school record and ranks second in SEC history.
Boykin's most impressive statistic, however, was the fact he had four kickoff return touchdowns in his career. Three of them went for 100 yards.
Boykin's exploits as Georgia's do-it-all weapon helped fans coin the phrase "The Champ Position," which implies the player on the team who can do the most.
Mark Richt justified that standing when he told the media that if he had three Brandon Boykins, he would start one on offense, defense and special teams.
Boykin definitely earned himself a spot in Georgia lore during his career between the hedges. What probably made it more special was the fact he wasn't the most highly recruited player in his 2008 recruiting class.
If you look up most scouting service archives from 2008, you will see Boykin at the bottom of the barrel in the Bulldogs' class of commits.
Ranked above him were players like Bryce Ros, Makiri Pugh, Nick Williams, Marcus Dowtin and Xavier Avery.
Boykin came out of high school as mysterious prospect. He played quarterback for Fayetteville High School, and was more popular for his basketball highlight tape, where he showcased his amazing dunking ability.
Mind you, Boykin is 5'10". 
While other players in the class sputtered off to non-existence, Boykin slowly surfaced.
He was an unknown on Georgia's roster until the fall of 2009. Months before kickoff of the 2009 campaign, Asher Allen declared to leave Georgia early for the NFL Draft.
Allen, who also wore No. 2 as a Bulldog, arguably left prematurely. Fans felt he never really met his full potential, and were also complaining that too many players were leaving before their time in pursuit of NFL paychecks.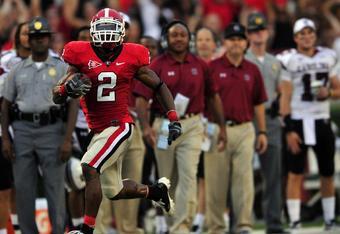 Boykin looked and played just like Allen in the spring G-Day game that year, and without nameplates on the jerseys, fans had to keep reminding themselves that it wasn't Allen out there making plays.
Boykin then submitted himself to the Georgia faithful in his first home game as a starter, against South Carolina.
After the Gamecocks scored a touchdown, Boykin electrified the crowd with his first-ever kickoff return for a touchdown. It was a 100-yard scamper that saw the youngster literally run over a tackler before turning on the afterburners and shooting towards the end zone.
Later in the game, Boykin showed how he managed to win a dunk contest in high school, leaping from the flat to intercept a Stephen Garcia pass that was intended for the deep corner.
Boykin's smarts and athleticism made him an immediate red-flag for offensive coordinators, and from that point on, quarterbacks rarely threw against him.
They kept avoiding him all the way up to this January. Boykin was the epitome of solid, and never missed playing time.
And, the reason he continued to surface from a nobody to a somebody was the fact he knew how to play the game. Not just the game on the field, but the game off.
Boykin claimed in interviews with the media that he was taught as a child by his mom on how to conduct interviews. He readied himself for the spotlight at an early age.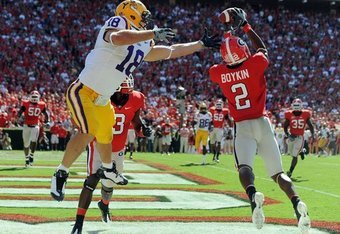 And, although he never was highly recruited, it was his maturation, media-friendly interview style and team-centered determination that made him the media's best friend, as well as the locker room's best friend.
As a senior, there was no doubt Boykin was the gel of a young and inexperienced secondary, and defense.
You could tell his persona rubbed off on his teammates. Take Bacarri Rambo, a player who has proclaimed his close friendship with Boykin.
Rambo was considered a cocky and lackluster player for his first few years as a safety, but he turned his attitude and play around this past year. He's now considered one of the more mature and competitive players on the roster, and it showed with his All-American season that saw him intercept eight passes.
Boykin also showcased a never-say-die mentality with his kickoff returns throughout his career. No matter the circumstance, you could always bet he would find a way to make any kickoff return remarkable.
Most Georgia fans would even tell you the most amazing plays Boykin made were never scoring plays. He made things happen within 10 yards that most players couldn't do in a full game.
Once just another name at the bottom of the barrel, Boykin is leaving Athens as one of the most decorated and NFL scout friendly prospects in recent memory.
His highlights show a player that didn't succeed because of pure talent, but rather because of an uncanny boost of energy and urgency.
It's hard to think of a player in the past 20 years, besides the great Champ Bailey, that did more for a single football team.
A few years ago I wrote an article on why Matthew Stafford and Knowshon Moreno wouldn't fit into the untouchable's of Georgia's history. The article argued that team commitment wasn't as apparent with the two superstars.
Even in Boykin's career, especially in his senior season, he wasn't the darling of national attention. But, all Georgia fans now can look back and see a player that put team success first. 
When Boykin received the MVP award in the Outback Bowl, he had to get pulled out of the locker room and taken back out to the field.
He wasn't even thinking about winning the award. And, in his interview, he claimed he'd rather his team won. 
You can look back at his incredible highlights now and see a guy that made just as many impact plays for the Bulldogs than any other superstar to skim in and out of Athens in the past.
It's almost as if he wouldn't have cared if he played every game without the nameplate on the back of his jersey. 
Georgia fans will always remember his play, though. It may be another 10 years before Mark Richt actually gets his hands on another Brandon Boykin, let alone three of them.