Toronto Maple Leaf Rumors: Dissecting the 7 Latest Players Rumored to Toronto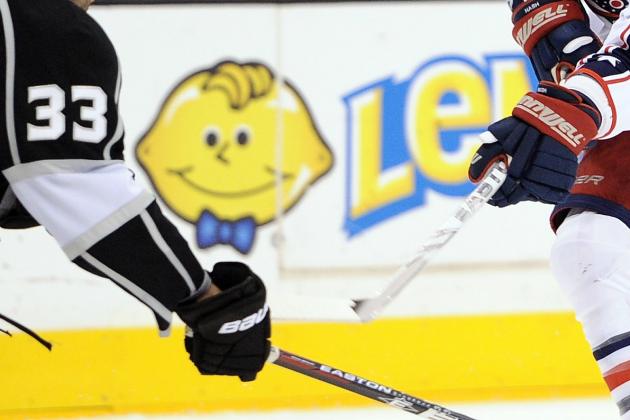 Harry How/Getty Images

As we hit the halfway point of January, the Leafs have still sat relatively pat with their current roster; however, rumors are beginning to spread like wildfire after the Leafs endured a losing weekend to the Sabres and Rangers.
In both games, massive holes were ever-apparent in the Leafs' attack. A real lack of secondary scoring in the Ranger game allowed the Rangers to expend all of their energy covering the Leafs' top line.
In the Sabres game you can point directly to bad luck, a bad break and a completely botched defensive zone coverage by Luke Schenn, who not only failed to recover the puck, he also gave it away and lost his cover Jason Pominville that resulted in the game-winning goal by Pominville seconds later.
Names have been mentioned throughout the hockey world, but these five players are the latest players are the latest rumors I could find.
Begin Slideshow

»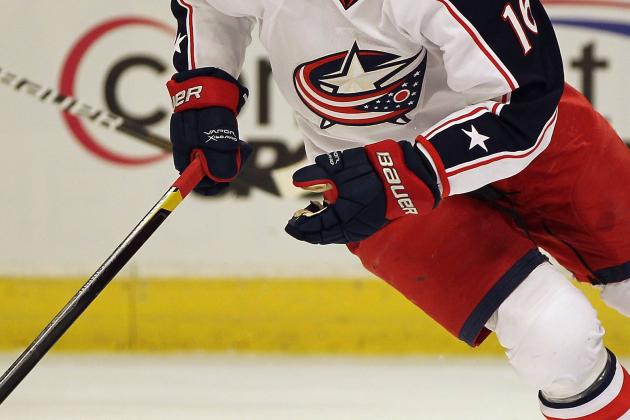 Jonathan Daniel/Getty Images

Brassard has struggled to find his game in the NHL since he arrived on the scene back in 2007-08.
His career-high 47 points last season were a stepping stone for him; however, this season, much like the Blue Jackets, Brassard has struggled massively.
With only 14 points in 36 games and a minus-17 rating, Brassard is far from a saviour for the Leafs should they consider trading for him.
Brassard is signed for three seasons, so the Jackets will likely be looking to move his contract.
Expected Asking Price: Salary Relief + Prospect
Expected Offer: Matthew Lombardi and Korbinian Holzer
Note 1: Jackets GM Scott Howson was spotted scouting the Toronto Marlies game looking at some of the Leafs prospects down on the farm.
Note 2: I highly doubt the Jackets trade Brassard in a one-for-one trade. I expect him to be part of a bigger package that could include forwards such as Jeff Carter, Rick Nash, RJ Umberger or Vaclav Prospal.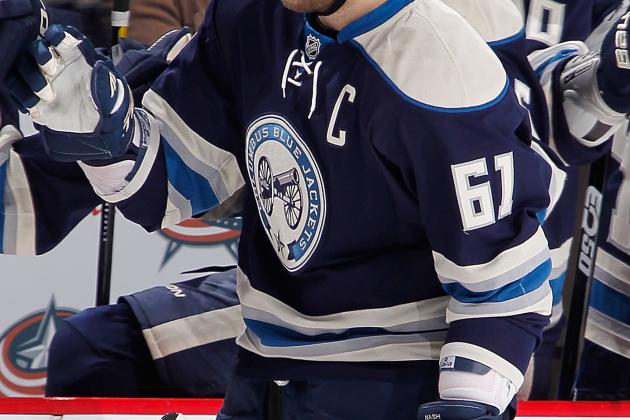 Gregory Shamus/Getty Images

Rick Nash is enduring one his worst seasons as a Blue Jacket . With only 31 points in 44 games and a minus-20 rating, Nash is often found on the ice for goals against.
However, his large 6'4" 220 pound frame would be a welcome addition to the Leafs' team, despite his struggles this season.
What his presence means is that the Leafs can spread out their offence so not all of their eggs would be in one basket with the high-scoring Kessel top line getting the majority of minutes against the other teams' best defensive forwards and defenseman.
Expected Asking Price: NHL Forward with upside+ Top Prospect + First Round Pick
Expected Offer: Nikolai Kulemin + Joe Colborne + 2012 First Round Pick
Note: Add in players from Brassard deal to get one massive blockbuster trade between the two teams.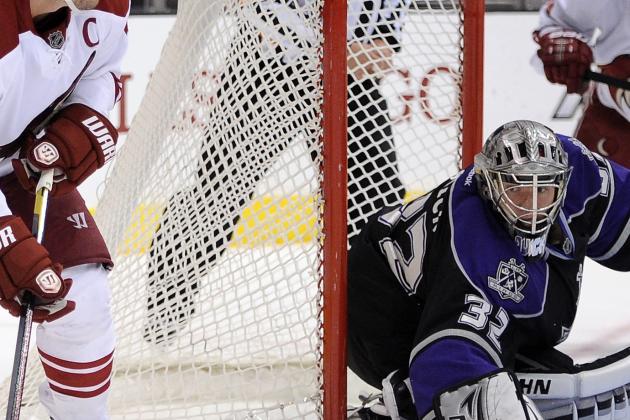 Harry How/Getty Images

Doan is the face of hockey in Phoenix. With a lot of questions regarding ownership, available funds and whether the team will remain there for years to come, the likelihood Doan gets dealt is high.
Doan is also struggling this season with only 25 points in 45 games, but again his 6'1" 230 pound frame, his veteran leadership and his skill would be a great addition to the Leafs' attack.
The Coyotes sit in 11th spot, two points back of eighth, sparking rumors of Doan's imminent departure. GM Don Maloney has denied that Doan is being shopped, but like I say, GM's have to say that. They call it a smokescreen in the media.
Doan is owed $4.5 million this season, so it would likely be a rental sort of pick up. He also has a no-movement clause, so that's another thing to take note of.
Rumors are swirling the Leafs are looking to add Doan, but don't count out the Winnipeg Jets, who remain the likely front-runners for Doan's services
Expected Asking Price: Roster Player With Reasonable Contract + Prospect
Expected Offer: Clarke MacArthur and Jussi Rynnas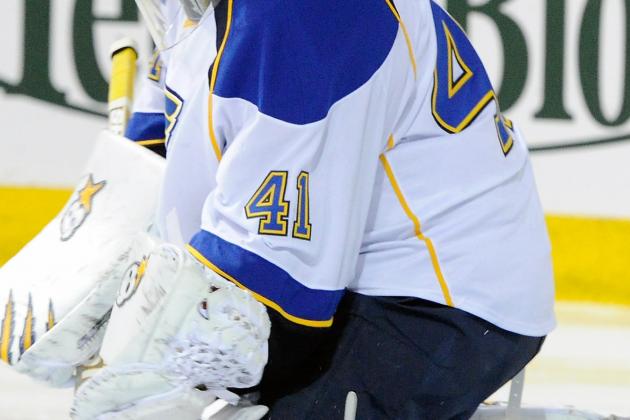 Richard Wolowicz/Getty Images

Halak is the one of the first unexpected names to be mentioned about heading to Toronto.
Halak lost his No. 1 job with the Blues to All-Star Brian Elliott—still sounds weird after watching the Leafs light him up while he was with the Avalanche and Senators.
Recently, though, Halak has outplayed Elliott, so this may just be a rumbling with no real sustenance.
The Blues right now are a very hot team, and under the guidance of Ken Hitchcock, they remain a top team in the Western Conference.
Expected Asking Price: Goaltender + High Level Prospect
Expected Offer: James Reimer and Tyler Biggs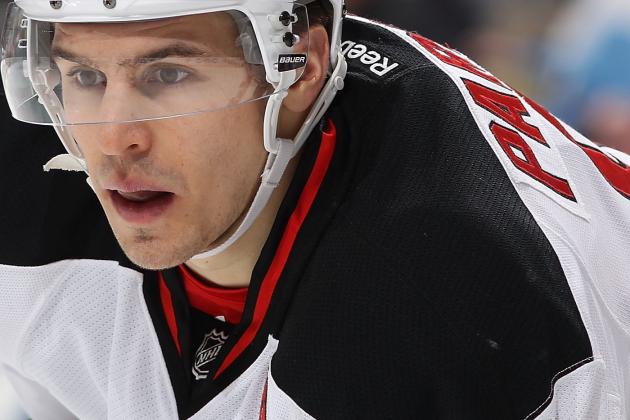 Christian Petersen/Getty Images

Parise has been a name long linked to the Maple Leafs. Brian Burke loves his game, and apparently the Devils are shopping him.
With 38 points in 44 games, Parise isn't at his normal point-per-game pace, but he has been extremely hot since the start of December, scoring 25 points in 22 games since December 1st, 2011.
The package to get Parise will likely be significant, but it might just get the Leafs into a position to win some playoff series down the road.
Expected Asking Price: NHL Defenceman, Goaltender, Top Prospect, First Round Pick
Expected Offer: Luke Schenn, James Reimer, Joe Colborne/Nazem Kadri, First Round Pick for Parise and Anton Volchenkov
Al Bello/Getty Images

Rumors were swirling earlier that JVR could be heading to the Leafs in a deal that included Leafs stay-at-home defender Luke Schenn.
It's not a deal I would do, since Schenn, despite his up-and-down play, has proved a lot more than van Riemsdyk ever has in the NHL.
Other than a hot playoffs last year, van Riemsdyk has been pretty invisible this season with the Flyers.
Having sustained a concussion, look for the rumors of JVR to Toronto to disappear as the Leafs look to add more healthy talent to their squad for a playoff push.
Expected Asking Price: Top Level Defenceman
Expected Offer: Luke Schenn for James van Riemsdyk + First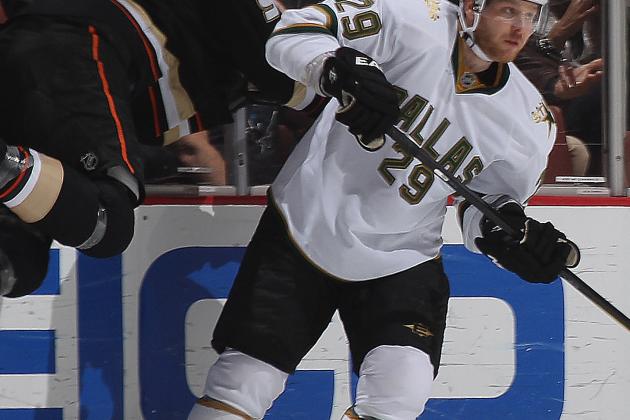 Bruce Bennett/Getty Images

The most likely Duck to be dealt remains Bobby Ryan. The former second overall selection, just after Sidney Crosby, by then-GM Brian Burke of the Ducks.
Since he left the Ducks, Burke has longed to get Ryan with the Leafs.
Out of the seven players listed, I truly feel he's the most likely to wind up in a Leafs jersey.
Expected Asking Price: Top Level Prospect + NHL Roster Player + First Round Pick
Expected Offer: Nazem Kadri, Luke Schenn, 2012 First Round Pick