NFL Playoff Picture: The Importance of a Consistent Run Game
January 16, 2012

Andy Lyons/Getty Images
I can never stress enough how important it is to establish a consistent run game in the playoffs.
Week in and week out, I see good teams that beat themselves up by turning the ball over, acquiring useless penalties and by poor coaching. But it is frequently lack of commitment to a running game that leads to a team's demise. Aside from a good defense, the key to playoff success, is establishing a powerful, consistent, running game early.
This may sound strange in a quarterback-driven league, where we witnessed three QBs throw for over 5,000 yards this year—and another come within 67 yards of that achievement—but two of the quarterbacks to throw for over 5,000 are both out of the playoffs. The third is going to go toe-to-toe with one of the best defenses he's faced all year in the AFC Championship game.
Well, what does this tell us? It tells us that a great quarterback will carry you far, and into the playoffs, but that can't and won't be the only reason for a team's success. A team needs a consistent running game and defense to be worth a lick in the playoffs.
The Patriots came into the playoffs with the AFC's No. 1 seed and the league's 31st ranked defense, but that 31st ranked defense only allowed Denver to score 10 points on Saturday, well below their season average of 19.3. Denver's defense on the other hand, imploded, to the tune of six Tom Brady touchdowns and a varied run game that featured six different Patriots carrying the ball.
It's time to look into the stats.
First of all, the team that has more rushing attempts in the first half has won every single playoff game so far, with the exception of the Patriots and the Ravens (who's defense kept them in a game the offense had no business winning).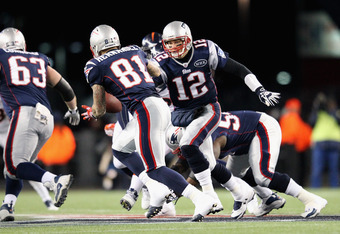 Jim Rogash/Getty Images
That's right. An early consistent running game has proven faithful 75% of the time this year. A lack of an early ground game has done in early Super Bowl favorites, such as the Packers, Saints and Steelers.
Committing to a run game can be difficult, especially if you find yourself behind early (see Denver vs. New England) or if your offense is built around spreading the ball around and quick passes (see New Orleans, Green Bay). But if a team with a potent passing game runs the ball consistently and effectively, they can be unstoppable (see New Orleans vs. Detroit).
Secondly, running the ball in certain passing situations (such as the shotgun formation) can pay huge dividends in the playoffs. For example, in arguably one of the most memorable plays of the playoffs, (and the career of) Alex Smith, the 49ers QB, ran a bootleg play 28 yards into the endzone on a 3rd-and-8.
At the time, they were down by one, and it seemed to be an obvious passing situation. But Jim Harbaugh dialled Smith's number, and the next thing you know, the 49ers are up on the Saints.
This isn't to say that one should always run the ball on 3rd-and-8, but more that teams should do so with the intention of keeping the defense honest. An effective running game is the most dangerous threat in the playoffs, because it wears defenses down.
No defense wants to be staring down Brandon Jacobs on 3rd-and-1 in the fourth quarter.
This isn't to take anything away from teams with great quarterbacks. Drew Brees, Tom Brady, Matt Stafford and Aaron Rodgers are all great players that have willed their teams to victory this season with outstanding individual performances.
But of those four, only one remains. Is the Pats' combination of a running game and defense strong enough to carry them into the Super Bowl? Is Tom Brady enough to carry them to the Super Bowl? Or will their lack of a consistent running game and below-average defense do them in against the Ravens?
Let me know what you think in the comments.