Denver Broncos: Tim Tebow Still a Long-Term Chump Despite Playoff Success
January 16, 2012

Jim Rogash/Getty Images
The Tim Tebow mania has finally come to a close. After a better quarterback and team in Tom Brady and the New England Patriots slaughtered the Denver Broncos, maybe "Tebow nation" can get in touch with reality again in the offseason.
Tebow was at the catalyst of an incredible run through the regular season. He guided a 1-4 team to the playoffs and helped the Broncos claw their way to an AFC West division title.
He even beat the Pittsburgh Steelers—who were the defending AFC champions—in the Wild Card Round at home. Tebow's 80-yard pass to Demaryius Thomas for the game-winning touchdown 11 seconds into overtime is an NFL Playoffs record.
The polarizing figure that is Tebow has accomplished some remarkable feats during his second season in the NFL. However, a majority of them are a bit misleading to those who refuse to take off their orange and blue blinders.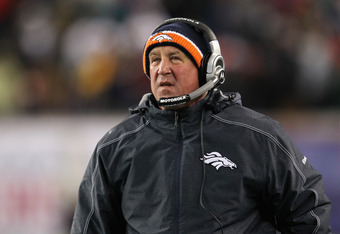 Jim Rogash/Getty Images
John Fox and his coaching staff went all in with Tebow. Fox changed his coaching style to fit around his aerially-challenged quarterback by switching to the quarterback-option system Tebow ran so successfully in college.
There's one question that must be asked about Tebow and the way the Broncos won games this year: Is it sustainable long-term?
The answer to that is a resounding no.
Operating an offense that most players and defensive coordinators haven't faced since high school provided Denver with a window of opportunity. Coordinators and defensive personnel alike simply could not figure things out completely within the first five to six weeks.
That, however, doesn't mean the Broncos enjoyed wild success during their run to the playoffs on offense. It's actually quite the contrary. Their defense held teams in check just long enough for "Tebow time" to work its magic.
With a whole offseason to prepare, opposing defensive coordinators will not make the same repeated mistakes that defenses in 2011 made in the final minutes of a game.
Denver's offense led the league in three and outs under Tebow. They were also ranked 30th in third down conversion percentage. The Broncos only converted on third down 31.41 percent of the time, yet why did Tebow repeatedly lead his team to incredible fourth-quarter comebacks time and time again?
It's pretty simple. Defenses changed their scheme from attacking the Denver offense to a prevent-style defense. Tebow—as any professional quarterback should—was able to exploit the defense's folly of going into prevent and pick out the right reads.
Give him an inch, and he took a mile. He had six different comebacks or game winning drives, four of which took place consecutively.
Then, you look ahead to the 2012 regular season schedule for the Denver Broncos, and you see a gauntlet containing some of the league's best quarterbacks.
Denver must face Drew Brees, Phillip Rivers, (a healthy) Ben Roethlisberger and Matt Schaub at home, then travel to the homes of Phillip Rivers, Joe Flacco, Andy Dalton, Tom Brady, Matt Ryan and Cam Newton.
All of who—by definition—are better quarterbacks than Tebow. After all, four of his seven wins were against other second-string quarterbacks.
Having to face seven of the top 12 offenses in the league from 2011, including the San Diego Chargers twice, will not be an easy task. They face seven of the 12 playoff teams from this year, and only three teams had a worse record than the Broncos during the 2011 regular season.
Basically, their schedule will be brutal.
Which brings us to the next point. Tebow must protect the ball better if he's going to last in the NFL.
The Denver Broncos turnover ratio was minus-12. That cannot happen going forward, especially if you want to keep pace with the several Pro Bowl-caliber quarterbacks on the schedule for 2012.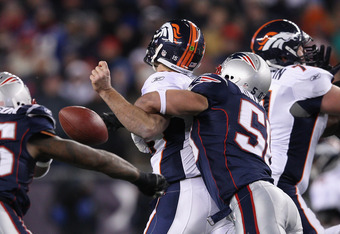 Elsa/Getty Images
Now, Tebow is not solely to blame for the horrendous turnover ratio, but he did contribute his more than his fair share with six interceptions and 14 fumbles.
The 14 fumbles include both recovered and lost, but only three fumbles were actually recovered by the Broncos.
A large part of that problem has to do with the nature of the option offense, but the other part is due to his elongated release. Tebow's roundabout, wind-up release provides defenders with an opportunity to swipe at an unprotected ball while he moves in the pocket.
Tebow has to work on his mechanics and shorten his release. The reason Brees, Brady, Rodgers and others are so difficult to sack is because of their incredibly quick release of the football.
All of this, however, will go in one ear and out the other for Tebow and Denver Broncos fans. Their argument remains that the guys just wins.
That point has been demonstrated and won't see any objection from me.
I witnessed his high school state title, SEC Championship game and BCS championship performances in person. He has an uncanny ability to raise the level of play for his entire team and convince grown men they can win despite the obstacles that stand in front of them.
He willed the Florida Gators to victory on multiple occasions.
But just because he won a playoff game against the depleted Pittsburgh Steelers at home does not justify Tebow. The 7-9 Seattle Seahawks beat the defending Super Bowl champion New Orleans Saints last season.
It happens. Home-field advantage is incredibly powerful.
The intangibles Tebow brings to a locker room are invaluable. Football is not all about on-the-field performances. Having a tight-knit locker room compared to a divided locker room—a la the New York Jets—can provide a team with confidence and a willingness to sacrifice for the better good of the team.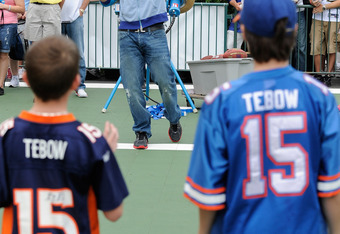 Handout/Getty Images
Tebow's an exceptional motivator, speaker and teammate. He's the type of player that you want your son, brother, nephew or little cousin to look up to. He's the type of wholesome individual that seemingly gets weeded out in the competitive world of professional sports.
All these things and more is why "Tebow mania" has such a polarizing effect. You want a guy like that—whose peers can be characterized as egocentric and narcissistic—to succeed.
He gets it. He knows that football is just a game and that there are more important things going on in the world around him than throwing a pig-skinned ball or making millions of dollars.
As much as people root for the player, they're more infatuated with the person.
Except there's one problem with that: the NFL is and will always be a bottom line business. That's why salaries are not guaranteed and the average player only lasts four years in the league.
Tebow will be entering his third season in 2012. His next two seasons will determine how long of a career he'll have.
The Broncos will bring in some weapons this offseason and try to cater their offense around Tebow. But the same question still remains: Can it be sustainable long-term?
The turnovers need to be fixed.
His passing numbers were horrific outside of the Wild Card victory over the Steelers. He only threw for over 200 yards during the regular season twice. He had 10 or fewer completions six different times, including one game with just two completions.
Making a habit out of fourth-quarter comebacks is not a recipe for success. In the new NFL era that has been skewed towards the pass, you must be able to beat teams with your arm.
Until Tim Tebow can consistently play like a true quarterback like he did against the Steelers, the Denver Broncos will continue to be an average team led by the most polarizing man in sports.
Until that happens, "Tebow mania" needs to take off their blinders and realize that reality will not be as kind in 2012.
Justin Sparks is an NFL Featured Columnist for Bleacher Report. Follow him on Twitter @JustinSparks22