Chelsea FC: 10 Reasons Blues Can Still Win the Premier League Title
Jamie McDonald/Getty Images
It has been a tough year for Chelsea fans, as the renaissance of West London has been at times optimistic, at others head-scratching and always controversial.
Mega-czar Roman Abramovic thought bringing in the hottest thing out Portugal, Andre Villas-Boas, since the first man to deliver him silverware, would have the same kind of instant gratification and philosophy-setting mentality.
Instead, he has a team that has been eliminated from the Carling Cup, struggled in the league like no time in recent memory, and whose best hope for silverware is an FA Cup.
However, Chelsea earned themselves a deserved 1-0 win over Sunderland this past Saturday to give them a full three points and keep their title hopes alive, while the likes of Arsenal, Liverpool and Tottenham all failed to capture the full amount.
Though it is a small victory overall, it was a poignant one to show that Villas-Boas' boys still mean business as they head into the second half of the schedule.
The league may be a long shot, but it is not something to be written off quite yet.
Here are 10 reasons why Chelsea can still win the Premier League.
Mathematically Still Alive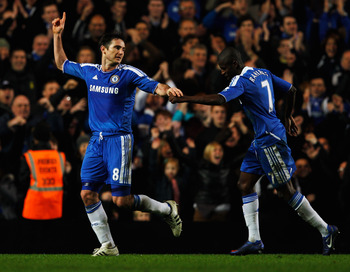 Paul Gilham/Getty Images
Let's get the obvious out of the way first: with 17 games remaining in the season and Chelsea 11 points back of league leaders Manchester City as of Tuesday January 17, they are yet to be mathematically eliminated from the trophy.
And while the gap is large relative to the competition of a Premier League season, it is one that is still technically attainable.
Chelsea were in a much more dire situation last season, sitting in fifth place with only 12 matches to go.
They were able to climb all the way back to second and make their late-season matchup away to Manchester United be as close to a playoff game as you could get.
Had they won that game, there is a very good chance they would have won the league, and all the turmoil this season would be much different.
It may seem a long shot, but as long as there is a chance for them to win the title, they will push toward it.
After all, what is better in sports than the ability to defy the odds and be victorious in the face of adversity?
Fernando Torres Is Improving
Jamie McDonald/Getty Images
It may have taken a full year and a dozen times (at least) that this statement has been made prematurely, but it looks like Fernando Torres is finding his niche.
The most disappointing thing that has occurred this season has been the continued ineptness of Torres' play.
There is little doubt that Villas-Boas' main purpose in being brought to Chelsea was to salvage the £50 million investment of its owner.
The quick counterattacking play of the Villas-Boas philosophy seemed to play right into Torres' ability to time runs, latch onto through-balls and slot them in the net.
Instead, it has been nothing but continued struggles for the Spaniard, who has seen a team built around making him better (i.e. signing Juan Mata and Raul Meireles and the benching of Frank Lampard) only for it to find better production out of the reliable veteran Didier Drogba.
Confidence was at an all-time low when even his good performances were marred by bad results (3-1 loss to United, 5-3 loss to Arsenal, a straight red against Swansea), and the question became whether it is better to win or continue let Torres work through his poor form.
However, this past Saturday, Torres played perhaps his best game of the season. Fortune more than anything was the reason he was not on the score sheet.
He hit a delectable overhead volley off the cross bar that resulted in a rebound goal for Frank Lampard, which ended up being the game winner. He delivered a handful a brilliant passes to keep pressure on the Sunderland net and wrongfully had two penalty calls disallowed.
That made it three straight matches in which Torres started and Chelsea got the win, his longest winning streak in a blue uniform without the help of Drogba.
Granted, we must keep this in perspective, as these three wins were over two bottom-half teams and a struggling Championship side, but it is still promising to see him playing at a decent level again.
With Drogba away at the Africa Cup of Nations until possibly mid-February, Torres may have another five games to prove he is not a bust without the added pressure of looking over his shoulder to see if a Chelsea legend is warming up.
Should he regain that confidence and form, he will add a new dimension to the Chelsea attack and give the title contenders all a scare.
New Blood Means New Energy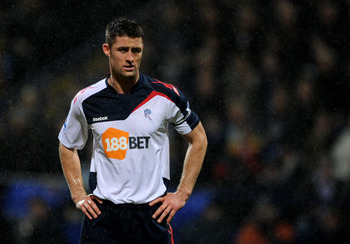 Chris Brunskill/Getty Images
Yesterday, Chelsea confirmed the completion of a transfer for Gary Cahill, the Bolton centre-back.
This has been met with skepticism from some Chelsea fans and praise by others.
Just another polarizing moment in the 2011/12 Chelsea season.
But in the end, it is one thing for certain—the introduction of new blood.
And for a team that is struggling, new blood can only be a good thing.
I am of the side that believes this to be a copout buy. Just Villas-Boas playing to the English fans' need for English blood to lead a backline, the pride of the Three Lions.
I don't see how a man who has been an integral part of the worst defense in the league is going to come in and make himself relevant on one that needs to be the best if they are to win anything.
In the end, none of this speculation among the fans is meaningful, as the signing is not to excite the likes of us, but rather to stir up the play and energy of the players on the team.
With Alex on his way out and Ivanovic currently injured, Villas-Boas is facing two crises in the middle of the backline: 1) should Terry or Luiz get injured, someone will have to fill in out of position, and 2) the threat of complacency among Luiz and Terry.
The second fear is much greater than the first for any coach, because it basically means whatever those two do, during a game or in practice, they will be assured the starting spot by simple virtue of the team's injuries.
You never want to have players at this level that believe they are untouchable, just like you don't want players to fold when they are beat out for a position.
Cahill coming in helps alleviate this matter. At €25 million, odds are Luiz is not going anywhere soon and Terry will probably be safe as long as Chelsea fans look at him the same way they look at Tebow in Denver.
But the added pressure to be sharp 100 percent of the time will keep them sharp 110 percent of the time, as they know a mistake could mean the loss of their spot.
This is not only meant to be for places where injuries are rife. Every single player can use this motivation. Sturridge needs someone to keep him honest, and even Mata has to be given a little competition.
This does not mean go out and break the bank on players who are just there as figural cheerleaders, but find young, hungry hard-workers who will take full advantage of any chance they are given.
If this January transfer window is going to give Chelsea any hope of winning the Premier league, it's not going to be signing one of the ridiculous names that has been thrown out there for £35 million.
It will be by getting more players like Cahill who will make the current squad better.
Michael Essien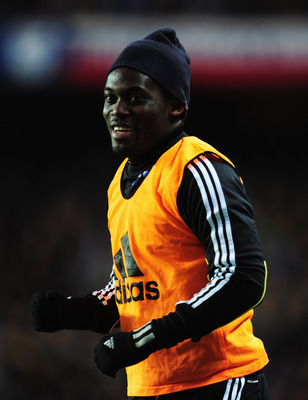 Mike Hewitt/Getty Images
What would Manchester City look like without Yaya Toure?
How about United without Michael Carrick? Spurs without Parker?
Would those teams be in the positions they are currently in?
Chelsea have played the entire first half of their season missing perhaps the best all-around player on the squad—Michael Essien.
It is well known that when the Ghanian is healthy, there are few if any midfielders who play the game better in its totality.
He has the perfect combination of speed, skill, vision and strength. He can unleash a shot from 25 yards to the upper 90 as easily as he can tap in a cross. He can muscle the strongest midfielders off the ball as well as play inch-perfect passes through traffic.
And Chelsea has gone an entire half a season without this in their midfield.
Essien finally returned from his six-month layoff (due to yet another knee injury) on Saturday, seeing 15 minutes of play against Sunderland. After a first few heavy touches and getting used to the pace of the game, he settled down and looked like he was getting back into the groove, which deserved a standing ovation for just his return alone.
No one really knows what to make of Chelsea's midfield this season. Some think it is too slow and the reason the forwards have struggled. Others believe you can't go three alone in the middle in the EPL.
Whatever the case, the midfield has constantly been called into question.
To this day, it is hard to say who are the starting midfielders, as Lampard, Meireles, Ramires, Mikel, Romeu and even at times Mata have all shown reasons why they should and why they should not be starters.
Essien will of course add to this confusion, but he also may become the only consistent starter.
Every single one of those players does something exceptionally and the rest not better than mediocre. Lampard can pass but not defend. Meireles can dribble but not really shoot. Ramires can tackle but not pass. Etc, etc, etc.
And while Essien may not do any one thing better than what each of those players does best, he can do everything they do poorly at a much greater level. So if Essien always remains in the lineup as a kind of "wild card," Villas-Boas can put the players around him to suit what the team needs (defense, scoring, passing, speed) to win the match.
Essien's return to the team does not mean a title or even that Essien will be an everyday starter.
But just remember the last time Chelsea won the league, back in '09-'10, when they were playing "PlayStation football," Essien was at the heart of that midfield, and it was only after his season-ending injury that United began to mount pressure.
The Spring Always Favors the Blues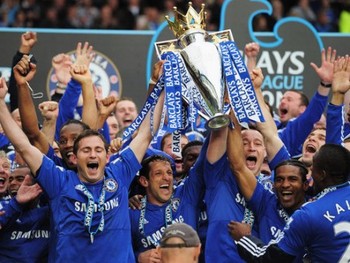 The winter is not Chelsea's time of the year.
The title was lost last season between November and February.
The season before that, they went 2-3-1 in December. The season before that, 4-4-2.
Even in Mourinho's amazing one-loss season, three of the eight draws came between November and February, and five of the 15 goals against, not to mention going out of the FA Cup and winning only one of four in Champions League.
For whatever reason, Chelsea is not a winter club.
You could blame it on the fact that Chelsea always have Africans that leave around this time for their own tournament or the fact that the brutish way they played the game in the past does not do well when you are more susceptible to injuries.
But it is a trend, and one that Villas-Boas is yet to break. He has seen the club go 8-4-4 in all competitions and drop to fourth place in the league during this winter window.
The good thing for Chelsea is that they are past the halfway mark for the cold months. Spring is less than 45 days away, and the final stretch of the Premier League campaign always favors the blues.
Last year, Chelsea went on a remarkable run from fifth place that saw them come within a goal of repeating as Premier League Champions. The season before that had them fight back from starting the spring in third to win the title.
Then of course, in '07-'08, after a tumultuous start under Scolari, they went on a 20-game unbeaten streak in the league and made it all the way to the Champions League finals for the first time in the club's history.
Like the perils of winter, the promise of spring is unexplainable.
But Chelsea fans should feel good knowing that if they can just get out of February not too far behind the leaders then the title should still be within striking distance.
A Complete Squad Will Finally Be Had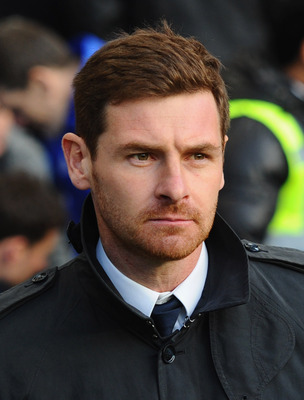 Mike Hewitt/Getty Images
Chelsea has yet to compete with their total team.
There has always been someone who has been injured (Essien, Luiz, Ivanovic).
There has always been someone who has been wanting out (Anelka and Alex).
And there has always been speculation about who will be the new face that will be brought in.
Chelsea as a club has yet to find out who they really are.
I am not blaming the shortcomings on the field to off-field grievances. These are professional athletes and should be able to separate the two. Just look at what Terry did a day after being indicted on accounts of racial abuse.
But at the same time, as a manager it is difficult to organize and design a game plan when you really don't know what players you are working with.
Of course, not much can be done about injuries, but the latter two instances are only subjected to inquiry because of the time of year. Once the January transfer window closes, Villas-Boas will know his team, and his players and will no longer have to answer to the naive mutterings of fans and pundits who think the only way to win is to break the bank on young foreign talent untested at this level in the English game.
Come February 1, Villas-Boas' roster will be locked in, and other than Kalou and Drogba, who will be away in Africa, his players will be before him, and he can strategize to their talents.
In some respects it may seem limiting (this inability to get the players you would like), but in fact it can be very relieving, as your focus as a manager can be wholly on the current crop of players and the foreseeable future games.
It will be interesting to see if the excess stress of who to buy being taken off such a young manager will free him up to put his tactical skills to better use as opposed to conflicting them with his ability to scout.
Sometimes a team that does not look strong on paper can be even stronger than the best names when all attention is put into getting the best out of them.
With a team locked in, Villas-Boas can only worry about winning now and not for the future.
Villas-Boas Is Not Going Anywhere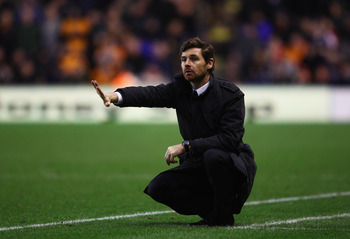 Richard Heathcote/Getty Images
I have been a believer in this for as long as I have actively been watching sports—consistency is the key to greatness.
Whether it be on the field, during practice or even in tactics, you must be consistent so every player on the team is on the same page.
Consistency is not something Chelsea understands.
With seven managers over the past decade and most being sacked after having a single season that can most harshly be described as good, it is no wonder they are unable to win repeat titles or even give the new manager anything to work with so it must be done from scratch again.
United's success is in the fact that for 25 years they have been doing things one way. City is finally seeing promise after sticking with Roberto Mancini for three winless seasons.
Even the currently hapless Arsenal have been with Arsene Wenger for 15 years, which doesn't seem too shabby when you consider (other than United) no other English team has spent more seasons in Champions League than the Gunners.
It has been argued many times, on this site and others, that Villas-Boas should be sacked or at the very least be placed on the hot seat.
He has been given a team that is nearly unchanged from the one that finished second last season only because of a litany of injuries and won the double two years ago. If anything, this side is indeed better with current signings.
Though I have been an outspoken critic of Villas-Boas, it is more out of my preference for a different style than the idea of him being the manager. Overall, I would prefer winning more than anything, and winning needs that philosophical and managerial continuity.
Yes, changes will come slowly, and as much as I don't really like to hear that Villas-Boas is safe, the words must be refreshing for someone in a position that has had his predecessors keeping one eye on his team and the other over his shoulder.
You could see the stress in Ancelotti's face in postgame conferences as his team slid further and further down the table. Even as they progressed back up, he was always on edge, as he knew anything less than a title sealed his fate.
A relief in the fact that Villas-Boas is safe will allow him to maintain focus on the team and the game, giving them the best opportunity to win.
Think about how much we discuss the importance of having the pressure to score lifted from Torres' back and how that pressure can overcome ability. You think this is not the same feeling managers have to win?
Even though it may rile some fans, Villas-Boas' position being assured only improves the chances for Chelsea to make a late title surge.
Chelsea Can Beat All the Teams Ahead of Them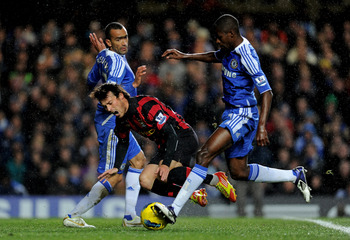 Michael Regan/Getty Images
The easiest way to move up the ladder is to beat the teams ahead of you.
Theoretically, a win over a team above you is worth six points in terms of positioning, as you take three and cost your opponent three.
If Chelsea want to close the relatively large gap between them and City, they will need to continue to get positive results against the lower seeds while ensuring victories over those above them—and this is not too far-fetched of an idea.
Currently, Chelsea sit in fourth place behind Manchester City, Manchester United and Tottenham, in that order.
Chelsea have already played Tottenham in a one-all tie at White Hart Lane. It was a poor performance by the blues, but they were able to escape a hostile stadium with equal points.
This was also at a point when they would find themselves in their worst run of form of the season, tying Wigan five days earlier and tying the following match against Fulham, ending December with a horrible loss to Aston Villa.
Conversely Tottenham was on a bit of a streak that had moved them all the way to the top four of the table.
Roles are now reversed, as Chelsea is playing much better and will be hosting the return leg. With Drogba and Kalou back by the time they meet in March, Chelsea could should be strong favorites to win if for no more than the fact they will be at home.
Chelsea lost to Manchester United 3-1 in the fifth game of the season away at Old Trafford. In what was a breakout game for Torres, things could have gone much differently if the striker was on point, with some misses (including perhaps the worst of the season, missing a wide-open net).
It was a back-and-forth affair that United deservedly won, giving the blues their first loss of the season.
United travel down to Stamford Bridge in less than three weeks for what can only be called a must-win game should the blues want to keep their title hopes alive. History favors Chelsea, as United have not won in league play in London in eight straight years and have only drawn three.
As usual, this will probably mount to being the match of the year as the two contemporary heavyweights of the English game battle it out for the chance to go on and win the league.
Oddly enough, City is the only team Chelsea has beaten that is currently above them. This is the most promising part of their rematch, as Chelsea will be the visiting side.
What is encouraging is that Etihad stadium is not the cauldron that Old Trafford or even White Hart Lane could be. The fanbase is passionate, but it is more out of trend than anything.
Nerves should not be too present, as City are the ones who actually will have something to prove to Chelsea.
Of course, the matches are in the future, and things will change between then and now. But the way things stand, the teams that currently have an advantage in the table do not necessarily have an advantage on the field.
The Veterans Know How to Win
Shaun Botterill/Getty Images
One thing that has really grinds me beyond belief is the endless debate about the need to move on from the past, that the legends that built this club up to a level of the elite (John Terry, Frank Lampard, Didier Drogba) need to be let go in favour of youth and some delusional movement toward copycat style of tik-tak passing football.
I can understand where these arguments stem from.
The play of Barcelona is what is preferred by the fans for both entertainment and silverware, and there is no denying that in their 30s, these players are not who they once were.
But before we treat them like some kind of sporting Hester Prynne, let's not lose sight of something that is beyond value to any team, whether they are playing for now or building for the future—experience.
The aged veterans that many wish to rid from the club have won handfuls of trophies and many numerous awards. The current crop of young bloods who many want to replace them (Ramires, Mata, Meireles, Torres) have won nothing in England, and combined abroad not what a single Chelsea vet has in his trophy case.
Every single player at this level is talented and knows the game. They are the most competitive people on Earth, and that's why they are here.
But having the right mind to understand not only what it takes to win in the field, but how to manage the off-field stresses, the clubhouse troubles and the inherent anxiety of pressure is something that can only be gained over time.
Those young players will one day amount to greatness, but the greatness can come much earlier under the guidance of the veterans on the team. They can teach them how to manage these imposing variables so that they may concentrate on their performance in the game.
Not to mention that having veterans means that you have players who are never in unfamiliar terrain. These players have seen it all. They have been on top of the pile with fans wishing them praise and they have been in the slums where their heads have been called for.
How many times has Lampard already come through with a crucial goal this season? Did Drogba not step up in a huge must-win game against Valencia? Terry has already cleared a handful of goals off the line just out of pure instinct.
These players will not be around forever, as difficult as that is to understand, but for this season they may be the best hope Chelsea has of winning the title.
It Ain't over 'til It's over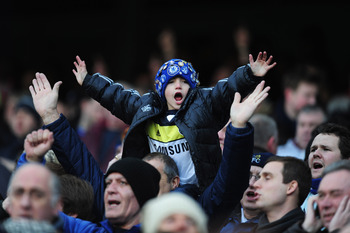 Jamie McDonald/Getty Images
There are 17 games left on the schedule, and anything can happen in that time.
Chelsea can catch a hot streak and ride it all the way to the title, while City and United find themselves writhing with injuries.
Or Chelsea could drop further down the table and City pull away to an unprecedented EPL title for the club.
Liverpool or Arsenal may rise from the ashes to recapture the glory days of a time gone past.
Tottenham could surprise everyone and win, which perhaps could be the only thing to break the droll disposition of Harry Redknapp.
No one has any idea what's going to happen, but that's the fun of sports, no? But as long as there is hope for Chelsea to capture the league, myself and every other optimistic fan out there will be watching with earnest desire for that glory.
Keep Reading

Chelsea: Like this team?