UFC on FOX 2: Why Chael Sonnen Must Fight Lyoto Machida Win or Lose
January 16, 2012

Ethan Miller/Getty Images
If Chael Sonnen wins his fight on January 28 he should immediately get a rematch with Anderson Silva, after which he should fight Lyoto Machida.
If he loses he should face Machida anyway.
If he does win on Saturday and does beat Silva, many fans would claim to want a rubber match so the two could have a proper trilogy, but a fight between Sonnen and Machida would be a little more fun to watch.
The fans have heard everything Sonnen has to say about Silva. He can't come up with any new material with the amount of insults he has thrown out since before their first fight happened.
On the other hand, Sonnen hasn't even scratched the surface of what he could say about Machida.
Machida, who is usually polite and quiet, even threw out some insults of his own.
The fight is fascinating enough on its own merits. Machida's elusive style that even gave Jon Jones issues would stack up well against Sonnen's relentless pressure style, which emphasizes takedowns.
Machida would try to keep the fight standing while Sonnen would try to put the karateka on his back.
The fight makes sense on a marketing level as well.
Machida is the polite martial arts expert, raised from birth in the ways of Shotokan Karate and proper etiquette. He is a symbol of the classic warrior who is untainted by today's social mores and attitudes.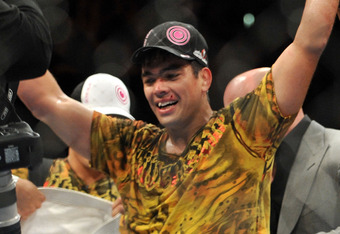 Jon Kopaloff/Getty Images
Sonnen is a pro wrestler in everything but name. He is a decent fighter, but most fans don't even notice that as it has taken a backseat to his trash talk.
One man lets his actions dictate how he is seen while the other uses his mouth to dictate how others view him. They are polar opposites that clash and the immediate contrast would easily sell pay-per-views and the fight without either man needing to talk much.
Of course it would be a fight with Sonnen, so that would be too much to ask for. Still, it would be a great balance between not just two different styles, but two different attitudes, cultures and ways of belief when it comes to the essence of martial arts.
It is the closest a fight might get to what the UFC was in spirit.
And sometimes that is enough.