2013 MLB Hall of Fame Class*: The Most Important Year for Cooperstown
January 16, 2012

Chip Somodevilla/Getty Images
Next years Hall of Fame ballot will feature some of the greatest players in our generation. Barry Bonds, Roger Clemens, Sammy Sosa, Mike Piazza, Curt Schilling and Craig Biggio will all appear on the ballot for the first time.
It also marks the first year when several players marked by PED suspicion will be up for admission into the Hall of Fame.
Baseball fans will watch closely as the next voting goes down. Will the voters dip-and-dodge their way through the candidates or will they take a stance that PED use does not belong in the Hall of Fame?
Some voters have already made up their mind. They will not vote for players suspected of using PEDs. Some, on the other hand, will look at it in a case-by-case basis. We would not be having this discussion right now if the players mentioned above did not post Hall of Fame worthy numbers.
They did.
They may not be first-ballot worthy but in the end they had Hall of Fame careers. But the voters are challenged year after year on who is voted in and who is left out, and if they start picking and choosing between PED-marked stars it could have huge ramifications on how people view the Hall of Fame.
Bonds, Clemens  and Sosa should never make it to Cooperstown. Both Bonds and Clemens have perjured themselves, and as a result have become the face of the steroid era. They do not belong next to the likes of Joe DiMaggio, Ted Williams  or Walter Johnson.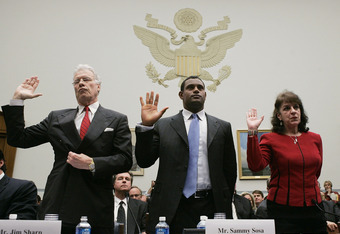 Mark Wilson/Getty Images
Sosa's image of talking through his attorney at the Congressional hearings will be etched in our minds forever.
So will the corked bat.
Sorry Sammy, I love ya, but accident or not that was too much. He's made no effort to make amends with his former organization and as the face of the franchise changes, Sammy will be pushed farther and farther from our memories.
For guys like Piazza, Schilling, and Biggio, time will tell.
The fact that Piazza admitted to using PEDs early in his career will definitely hurt his chances. However, his name never appeared on the Mitchell Report. He had one of the best careers of any catcher in history, but the PED connection may mean he will never receive a vote from some voters.
I believe both Schilling and Biggio have a better chance of reaching the Hall of Fame before any of the mentioned players. Biggio is one of the most impressive baseball players in history. He has played every position on the field, with great success.
He is a Gold Glove winner, an All-Star and has over 3,000 hits. He played his entire career with the Astros, which today is something you don't see from great ballplayers.
Schilling won two World Series on underdog teams, carrying the teams during some of the hardest games of the postseason. He had three 300-strikeout seasons, 216 career wins, and three 20-win seasons.
Schilling will be someone that is probably discussed for the next decade. Are his numbers worthy? He was so dominant in the postseason and he had a major role in each World Series run.
He does, however, fall under par in several categories compared to pitchers in his stat range who have already made it.
The PED conundrum we find ourselves in presents an interesting opportunity for Hall of Fame voters. You want to send a message to a player, you make it clear what makes a Hall of Fame player worthy.
They could look to players who have been on the cusp the past few years, and vote for them instead of these guys.
Will 2013 be the year for Jeff Bagwell? How about Jack Morris? Or Lee Smith?
If the voters make it clear that if you're marked with PED suspicion then you will not be voted for, it will push the steroid era aside and help baseball further move past it.
It will also give voters a chance to look at players from the previous era of baseball and award them for their incredible feats—that have been lost amidst the inflated numbers of the steroid era— and even more talented specimens who learned the craft from players before them.
I've made my case for Lee Smith. Jack Morris is right up there as well. 2013 should be the year that the PED-tainted class is sent a message and these old timers get their moment.
They earned it, fair and square.  
However, if someone like Barry Bonds stands up there holding his placard, shaking hands with the game's greatest players, won't Cooperstown be marked with shame just like the players who made those foolish decisions?
Baseball is slowly moving away from the PED era. Ryan Braun incidents should be rare, but they are reminders that these drugs are out there. And, unfortunately, it casts a brief eerie shadow over baseball all-too-familiar to lifelong baseball fans. 
But these aren't the only players marked by PED use who will be up for Hall of Fame consideration.
Alex Rodriguez, Miguel Tejada, and Ivan Rodriguez will have HOF careers worthy of consideration by the time they hang up their cleats for the last time. However, they have all been implicated for PED use and will have an unofficial asterisk next to their final stat line. 
Forever. 
Setting the standard now will make it easier to redefine Hall of Fame-worthy careers and separate players tainted by PEDs who were merely exciting players of the haunted era.
They do not belong in the Hall.