NHL Trade Rumors: 7 Potential Trades for Philadelphia Flyers' Ilya Bryzgalov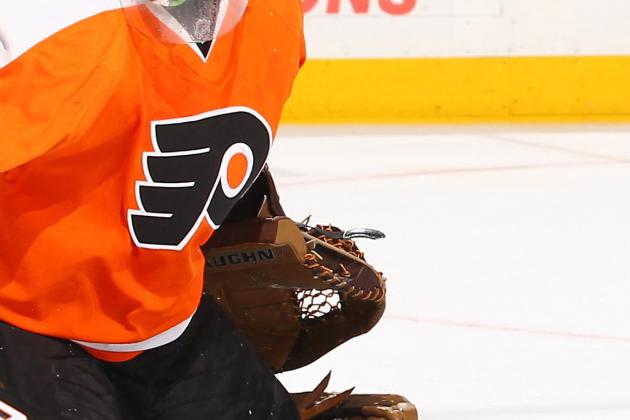 Al Bello/Getty Images

For those of you that follow me regularly, you know me to be a pro-Ilya Bryzgalov writer. However, with the highly touted net-minder's recent struggles and the rising talent level of Sergei Bobrovsky, Paul Holmgren may have to consider moving the universe.
Make no mistake, trading Bryzgalov is virtually impossible at this point, but to alleviate the anxiety of fickle fans desperately praying this humongous contract doesn't destroy their team, I have prepared this slideshow.
To make matters clear, Bryzgalov will need to improve his statistics better than 3.07 GAA and a .891 save percentage if a trade will happen. This can be achieved by replacing his starts against teams like Ottawa, Chicago and Boston with those his backup receives against teams out of playoff contention.
Furthermore, a trade may not be such a bad thing for Bryzgalov. For example, a trade helped revitalize Ed Belfour's career after his relocation to San Jose, which was a similar situation to Bryzgalov's stay in Philly.
Again, I have to reiterate this is pure speculation at this point. I understand Bryzgalov has a humongous contract with a No Movement clause.
Additionally, this is assuming he cannot revitalize his career with the Flyers, and that his backup suddenly becomes Pelle Lindbergh.
Begin Slideshow

»
Christian Petersen/Getty Images

This one is almost a no-brainer.
Ilya Bryzgalov's contract with the Coyotes levied a 4.2 million dollar cap hit while he was with them. With the Flyers, his hit isn't a galaxy away at 5.6 million dollars.
Right now the Coyotes are on the outside looking in at the playoff race. Yet Bryzgalov got them into the playoffs the last two seasons.
Mike Smith is having a career year, but is it just a matter of the bottom falling out? After all, it sure seems like it did for his replacement in Tampa Bay.
After a wild ride to the conference finals, Dwayne Roloson has yet to exhibit the magic he displayed last year. Perhaps the same could happen to Smith in Phoenix.
One thing is for sure, the Coyotes knew they could get to the postseason on Bryzgalov's back.
Mike Smith might be helping them save money on payroll, but losing the playoff dollars will hurt them even more.
The proposed trade with Phoenix sending Bryzgalov back to the desert should either be sending Mike Smith to Philly or whatever Philly sent them last June. Can someone remind me what that was?
Rick Stewart/Getty Images

Not that goaltending is an issue for the Oilers, but how much longer can they lean on 39-year-old Nikolai Khabibulin?
The Flyers have some defensive concerns too and might make a suitable trade partner for the Oilers.
If the Oilers would take Ilya Bryzgalov, they could send over Khabibulin and veteran defenseman Andy Sutton.
While many may scoff at this notion due to Bryzgalov's lacking statistics, they should go back and read the Khabibulin story. He himself has struggled to stay sub-3.0 in the goals-against department, while changing jerseys twice now.
Bryzgalov should be able to rediscover himself in Edmonton with a rebuilding team the way he did in Phoenix.
With Devan Dubnyk developing, Bryzgalov's lengthy contract would keep him around long enough for Edmonton to find out if their young goalie is a keeper.
In the meantime, the Flyers get help on the blueline they need and a serviceable backup to Sergei Bobrovsky.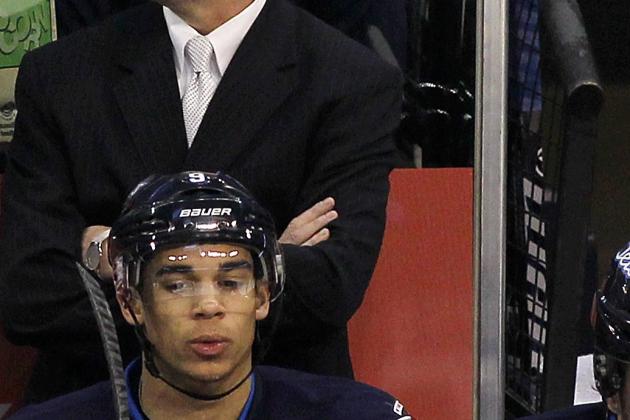 Marianne Helm/Getty Images

After being relocated from Atlanta, the Jets still haven't been able to cement themselves in the playoff picture.
Both their goaltenders are in the final years of their contracts. If Winnipeg doesn't feel they can resign Ondrej Pavelec and Chris Mason by free agency, acquiring the services of a veteran goalie like Bryzgalov could be the sensible move for them.
The Jets are also a team with 10 million in cap space, and if the same rules will apply after a new CBA is hammered out, they will have to increase their payroll just to hit the floor.
Furthermore, they may want to let another team tender an offer sheet to pending RFA Pavelec and receive the draft picks.
For the deal to happen, Winnipeg could send over Zach Bogosian, since the Flyers are in need of defensemen. In addition to Bryzgalov, the Flyers could send over Andreas Lilja with a first round pick.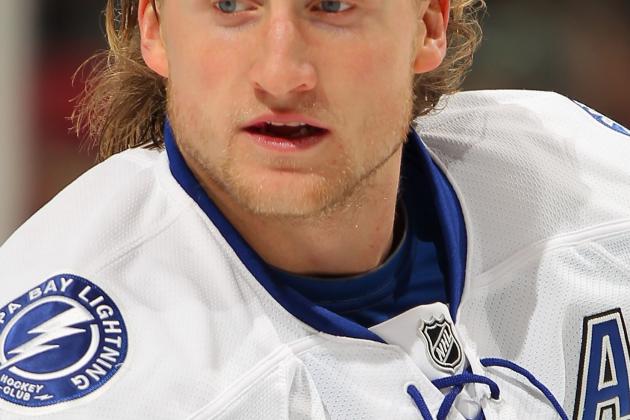 Doug Pensinger/Getty Images

I'm sure in some universe the Flyers would be able to get Stamkos for Bryzgalov straight up. However, it's not happening in ours.
A plausible deal between these two teams could see veteran defenseman Pavel Kubina sent to Philly in exchange for Bryzgalov.
While Mathieu Garon is doing a pretty good job for the Lightning, he has only played past the 50-game mark once in the NHL.
Everyone can remember how Tampa went on a tear once they acquired Dwayne Roloson at the deadline last year. Before that he was sharing time with the likes of Al Montoya and Rick Dipietro.
This year, Father Time has caught up to Roloson, and the pressure seems to be too much for Bryzgalov in Philly.
A trade to Tampa Bay might just be what the doctor ordered for him, and he might be able to mimic the performance Roloson put in.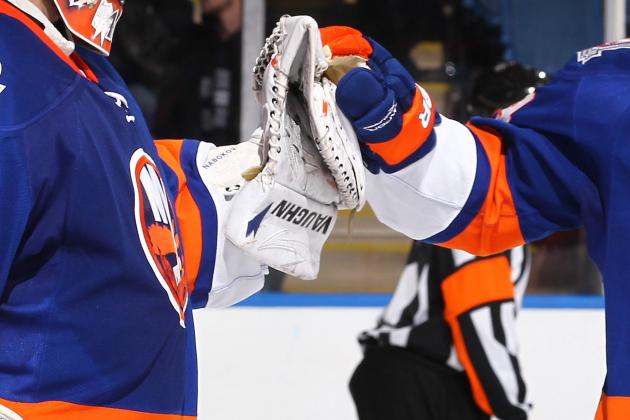 Al Bello/Getty Images

The Islanders thought their goaltender woes were done for with the arrival of Al Montoya, but he's been bitten by the concussion bug.
There is also Evgeni Nabokov, but he's in the last year of his contract with them. Considering he went over to the KHL for a year so he wouldn't have to play for them, I'd say it's a safe bet he won't sign an extension there.
Even if Montoya is going to resign with the Islanders, what value could he possibly get?
Since there are so many questions in net, a goalie like Bryzgalov, who is signed for almost a decade, will help shore up that position for the Islanders.
The Islanders should send over Rick Dipietrov—hey, since the Flyers need help, it is only fair they return the favor. Furthermore, the Flyers can park him in the AHL as there is not a No Movement clause on this contract.
In addition to Dipietro, the Isles could send Milan Jurcina to help out the Flyers' defensive woes. Jurcina is a pending free agent, and they could use the contract money from extending him to keep Montoya.
The Isles may also be interested in taking Michael Leighton as the Flyers cannot continue burying that much salary in the AHL.
Leighton would be a serviceable goalie for them. Furthermore, he's a sure shot to clear waivers any time the Islanders want to bring him up in the event of an emergency.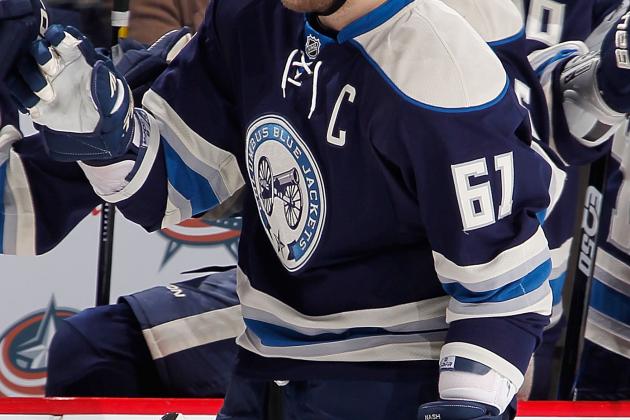 Gregory Shamus/Getty Images

Steve Mason has done nothing since his rookie season to show he is an NHL goalie.
Curtis Sanford puts up exceptional numbers, but he is a free agent after this season. Perhaps he won't resign.
The Blue Jackets cannot expect to be competitive with Mason.
After the robbery Paul Holmgren committed this past offseason against Columbus, perhaps he could take Steve Mason off their hands in exchange for Bryzgalov.
In addition to the goalie swap, Columbus could send Marc Methot while the Flyers send back a first and second round pick.
After all, the Blue Jackets have to feel sore about the Flyers turning the pick they coughed up into Sean Couturier.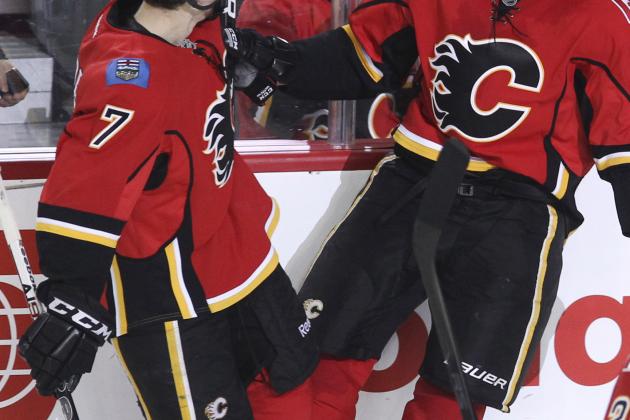 Mike Ridewood/Getty Images

With the second highest payroll in the league and finding themselves in 12th place of their conference, it's time for a major rebuild in Calgary.
To do that, they might have to consider moving Mikka Kipprusoff. Flames fans may want to kill me, considering how well Kipprusoff is playing behind that mess of a team.
However, to get better, you have to cough up something. I am not suggesting the Flames trade straight up for goalies with the Flyers, but if they move Kipprusoff they will need a replacement to man the net.
Bryzgalov, despite his struggles, is a serviceable goalie. I could see Kipprusoff going somewhere for a handful of picks to a team on the brink but in need of a goalie. Bryzgalov would be a goalie they can lean on while they develop a younger talent.
In return the Flyers would probably want Jay Bouwmeester, who, like Bryzgalov, could reignite his career in a new town.