Georgia Football 2012: The 5 Moments of the Past Week That Could Mold Season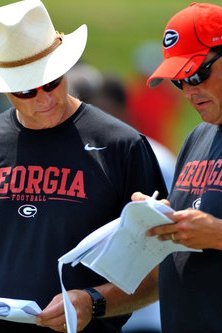 We look really good on paper...
This was a very good week to be a Bulldog fan.
It got off to an emphatic start when defensive end Jordan Jenkins committed to the Bulldogs, and it ended with another big commitment.
But no matter how good a team's recruiting class is, the team can only go as far as the "veterans" and coaches can take them. That's why Bulldog fans may look back at this week as a turning point in the 2012 football season without a game played.
This week was just that good...
Begin Slideshow

»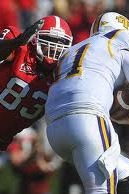 One More Year...
Another junior made the choice to remain in Athens for their senior year.
Cornelius Washington joins Bacarri Rambo, who announced that he was returning to school Wednesday, also..
Washington is key to the linebacker group for the Bulldogs. He had 16 tackles, six tackles for loss and five sacks in his 11-game appearances, of which he started five.
This is another positive for the defense, who didn't lose anyone prematurely to the draft. Their announcements came on the heels of Grantham issuing his statement.
Coincidence? I think not.
Georgia fans can only hope that this trend continues in the coming years...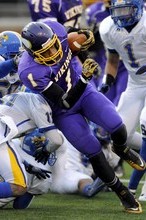 Gurley/Marshall/Crowell could be the best backfield in the nation in a year...
Todd Gurley, a running back recruit from Tarboro, North Carolina, gave the University of Georgia a commitment.
Gurley ran for more than 2,500 yards and 36 touchdowns as a senior, and he was the central figure in the state championship game as he accounted for four touchdowns and 242 yards.
His commitment gave Georgia two of the top players in North Carolina. Gurley will join Keith Marshall, who enrolled at Georgia this semester, and provide a young but talented backfield.
Gurley's commitment to Georgia puts a cap on the Bulldogs' best week of recruiting so far. Earlier in the week, linebacker Jordan Jenkins committed to the Bulldogs over national champion Alabama (more about that later)..
Gurley gave Georgia their 17th commitment for the class of 2012.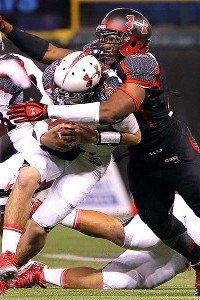 Jenkins commitment got the week off to an excellent start...
The edition of the highly-touted 5-star defensive end should be a welcomed.
Jordan Jenkins has the physical tools and body type to make the seamless transition to outside linebacker in Georgia's 3-4 defensive scheme.
Jenkins possession of power, quickness and speed makes him elite. Although he plays a different position than Alec Ogletree, they are similar in how they will be used (like Ogletree was as a freshman).
Jenkins has Cornelius Wahington and Jarvis Jones ahead of him so he probably won't get the playing time that he would like. By his sophomore year, he should be showing glimpses of stardom as Jones and Washington move on.
Transition from freshman to sophomore worked out very nicely for Ogletree.
Jenkins is in that class of athlete...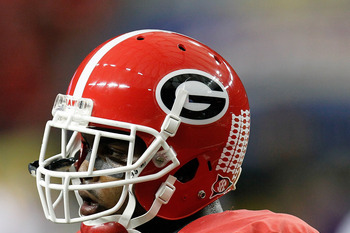 One More Year...
Hours after Orson Charles dealt a blow to Bulldog Nation, Georgia safety Bacarri Rambo decided that he would return to Georgia for his senior year.
With rumors swirling about defensive coordinator Todd Grantham being a top target for the vacant defensive coordinator position for the Atlanta Falcons, (a position that former Georgia defensive coordinator Brian VanGorder vacated for the same position at Auburn) Bulldog Nation was sweating a little bit, but the Rambo announce ment allowed at least a brief sigh of relief, with the Rambo news.
Rambo, in his three seasons as a Bulldog, is tied for third in the school record books with 13 interceptions and has recorded 162 career tackles. He helped anchor a defense that finished third in the SEC this season in total defense, pass defense and rushing defense.
Stability is the priority right now with the emergence of Ogletree and the return of Rambo.
Only Orson Charles didn't return for his senior year...I wish him the best of luck, but I have a feeling he's going to miss something very special.
Get ready Dawg fans and hop aboard this crazy train, as the ride is only beginning…
The Todd Grantham rumors ended up hitting a dead end because...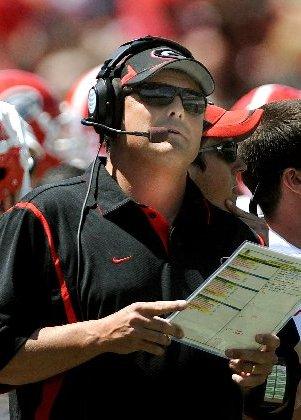 Wow, we are loaded, this should be fun...
It was announced that Georgia were working on an extension for Grantham. It turned out he wanted to stay at Georgia according to the statement that was released Wednesday:
"This time of year there are a lot of rumors involving coaching openings. Because of the terrific recruiting class we are assembling and the juniors that have communicated to me their desire to come back to Georgia I felt it important to address some of these current and any future rumors. I've had discussions with Coach Richt and (AD) Greg McGarity and we are on track to finalizing details on a contract extension. My family enjoys Athens very much. I love the passion and excitement of our fans. We have the program headed in the right direction and I want to be a part of bringing Georgia a championship. My desire is to be at UGA for a very long time. Go Dawgs!"
He wants to finish what he started, because he knows that he may not get talent like this ever again. No matter how many highly touted recruits you get, there must be someone to put it all together, like a puzzle. Grantham is that someone, and that's what makes his decision the biggest commitment of them all...
As a fan of the sport, I just want to see this unit work together for a year or two under the tutelage of Grantham. It's my opinion that the defensive players realize that they have a chance to be special.
SEC champions kind of special....