20 Most Outrageous Performances of Kobe Bryant's Career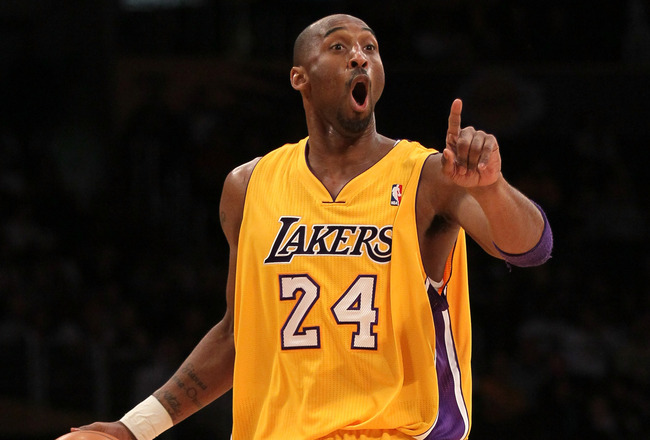 Stephen Dunn/Getty Images
Kobe Bryant has scored 40 or more points in his last four games. While it's certainly not shocking for Kobe to put up these types of gaudy numbers, it's definitely surprising given his age and the fact he is nursing a torn ligament in his shooting wrist.
Thanks to his recent string of consecutive of 40-point games, Bryant is currently leading the league in scoring (32.0 points per game) and has become the oldest player in league history to score at least 40 points in four consecutive games.
But his recent accomplishments are just a few of the many head-turning performances Kobe has accumulated throughout his career.
Here are the 20 most outrageous performances from Kobe Bryant's illustrious career in chronological order.
1997 Slam Dunk Contest
Jed Jacobsohn/Getty Images
In his rookie season, Kobe Bryant won the Slam Dunk Contest at All-Star weekend in Cleveland.
Kobe still remains the one and only Laker to have ever won the contest.
March 12th, 2000: Kobe Bryant's First 40-Point Game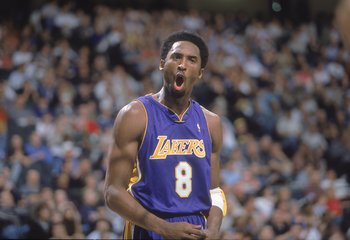 Ronald Martinez/Getty Images
In a late-season game against the Sacramento Kings in March of 2000, Kobe Bryant notched his first career 40-point game, helping lead the Lakers to victory.
Considering it took Kobe until his fourth season to score 40 in a game, it makes it all the more impressive he now only stands behind Wilt Chamberlain and Michael Jordan for most 40-point games.
Game 7, 2000 Western Conference Finals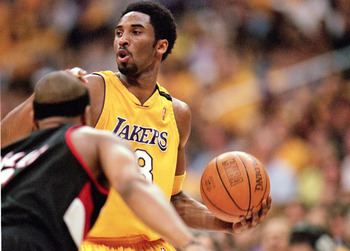 Tom Hauck/Getty Images
Leading by 15 points in the fourth quarter of Game 7, it looked as though the Portland Trail Blazers were going to end the Kobe Bryant/Shaquille O'Neal dynasty before it even started.
The Lakers eventually made a valiant comeback to win the deciding Game 7. But what often gets lost in the shuffle of the great comeback is the outstanding performance Kobe Bryant turned in.
The youngster scored 25 points, to go along with 11 rebounds, seven assists and four blocks.
Game 4, 2000 NBA Finals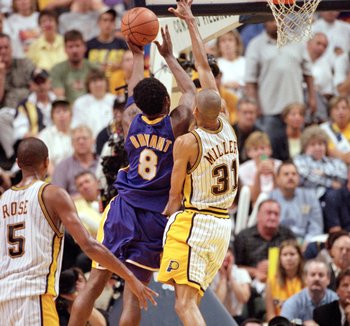 Ezra Shaw/Getty Images
After missing Game 3 of the 2000 NBA Finals with a sprained ankle suffered in Game 2, Kobe Bryant bounced back mightily in Game 4, scoring 28 points and handing out five assists.
Even more impressive, with Shaquille O'Neal fouling out in overtime, Kobe hit key, clutch shots down the stretch, giving the Lakers a commanding 3-1 series lead.
December 6th, 2000: Kobe Bryant's First 50-Point Game
Jeff Gross/Getty Images
Kobe Bryant scored 50 points for the first time in his career against the Golden State Warriors in December of 2000.
Kobe finished the game with 51 points, eight assists and seven rebounds.
Game 1, 2001 Western Conference Finals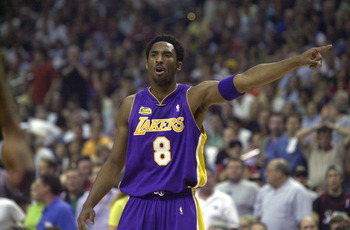 Ezra Shaw/Getty Images
Kobe Bryant scored 45 points and grabbed 10 rebounds against the San Antonio Spurs in Game 1 of the Western Conference finals, keeping the Los Angeles Lakers' perfect postseason record intact.
After the Game 1 romp of the Spurs, the Lakers improved to 8-0 in the 2001 playoffs. The team would only lose one game (15-1) the entire postseason, capturing their second consecutive championship.
Game 7, 2002 Western Conference Finals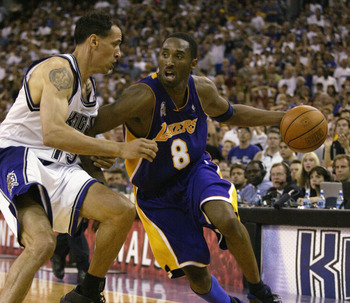 Jed Jacobsohn/Getty Images
In a Game 7 showdown against the Sacramento Kings, Kobe Bryant nearly notched a triple-double, scoring 30 points, grabbing 10 rebounds and dishing out seven assists.
The Lakers would eventually win their third consecutive championship that spring, defeating the New Jersey Nets in the NBA Finals.
January 7th, 2003: Most Three-Pointers in One Game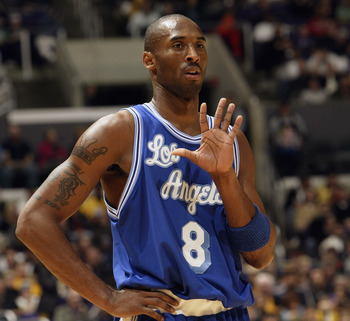 Stephen Dunn/Getty Images
Kobe Bryant hit 12 three-point field goals in a January 2003 game against the Seattle SuperSonics, giving him the record for most three-pointers in one game.
Kobe would finish the game with 45 points.
The record has recently been tied by Donyell Marshall, who also hit 12 three-pointers in one game while playing for the Toronto Raptors in 2005.
February 23rd, 2003: Nine in a Row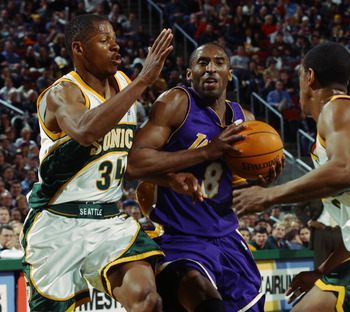 Otto Greule Jr/Getty Images
In a late February game against the Seattle SuperSonics in 2003, Kobe Bryant scored 41 points, the ninth game in a row he scored at least 40 points, which included two 50-point gems.
After the game in which the streak started, the Lakers had an average 23-23 record. During Kobe's famous tear, the Lakers went 7-2, prompting them to snap out of the slump they were in during the first half of the season.
The Lakers would finish the season with a 50-32 record.
March, 2003: Kobe Bryant Plays "Wizardly" Against Michael Jordan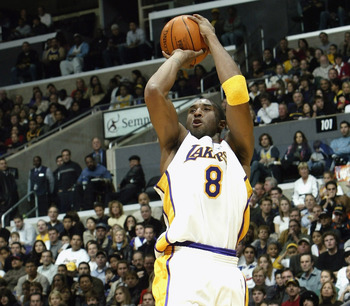 Stephen Dunn/Getty Images
In March of 2003, Michael Jordan and the Washington Wizards paid a visit to Staples Center. Kobe Bryant wowed the Laker faithful, scoring 42 in the first half alone, en route to finishing with 55 for the game.
Game 4, 2004 Western Conference Semifinals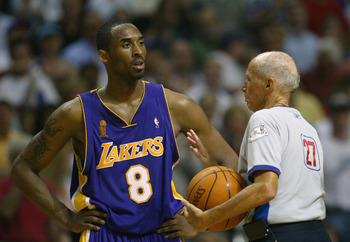 Jed Jacobsohn/Getty Images
With the Los Angeles Lakers trailing the San Antonio Spurs 2-1 in the teams' best-of-seven, semifinal playoff series, Kobe Bryant led the Lakers with 42 points in Game 4, helping even the series at two games apiece.
The Lakers would eventually win the series in six games, thanks in large part to Derek Fisher's ".04" shot at the end of Game 5.
December 20th, 2005: 62 Points in Three Quarters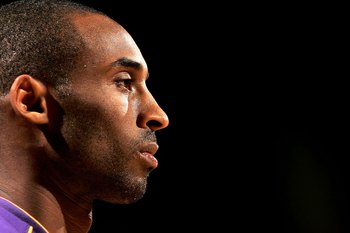 Jonathan Ferrey/Getty Images
A month before Kobe Bryant would score 81 points against the Toronto Raptors, he arguably had an even more impressive performance against the Dallas Mavericks.
Kobe scored 62 points in the first three quarters, sitting out the entire fourth quarter with the Lakers having a huge lead.
It's also important to note that the Mavericks didn't even have 62 points as a team through the first three quarters of the ballgame.
Would Kobe have reached 70? Without a doubt. Eighty? Quite possibly. Ninety? The world will never know…
January 22nd, 2006: 81 Points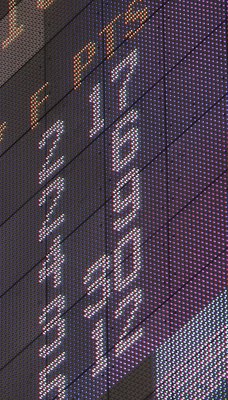 Stephen Dunn/Getty Images
In January of 2006, Kobe Bryant scored 81 points against the Toronto Raptors, 55 of which came in the second half alone.
Kobe's 81 points is the second-highest points total for one game in league history, second only to Wilt Chamberlain's 100-point game in March of 1962.
Game 6, 2006 First Round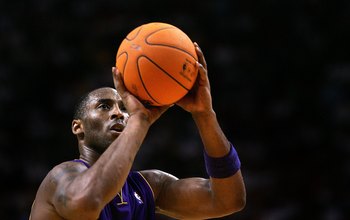 Marc Serota/Getty Images
Kobe Bryant's 50 points weren't enough to eliminate the Phoenix Suns from the first round of the 2006 playoffs, as the Lakers suffered a heartbreaking loss in overtime of Game 6 to Steve Nash and Co.
The Lakers would then lose Game 7 in Phoenix after previously holding a 3-1 series advantage.
March 23rd, 2007: Four Straight Games with 50 or More Points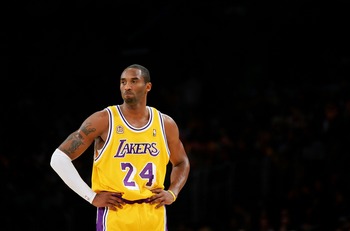 Lisa Blumenfeld/Getty Images
In a March 2007 game against the New Orleans Hornets, Kobe Bryant scored 50 points. It was the fourth straight game in which Kobe reached the 50-point plateau.
During his four-game tear, Kobe reached the 60-point mark two times.
61 Points in Madison Square Garden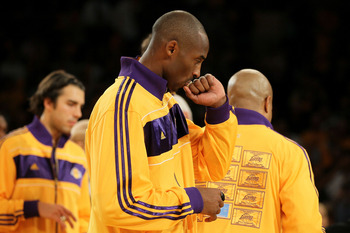 Jeff Gross/Getty Images
Kobe Bryant broke Bernard King's single-game, Madison Square Garden scoring record in February of 2009, pouring in 61 points in a victory over the New York Knicks.
King scored 60 on Christmas Day, 1984.
Game 1, 2009 NBA Finals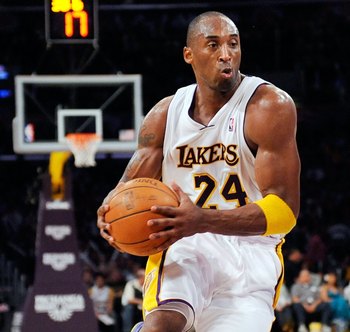 Kevork Djansezian/Getty Images
In Game 1 of the 2009 NBA Finals against the Orlando Magic, Kobe Bryant poured in 40 points, including eight rebounds and eight assists.
Kobe's performance in Game 1 set the tone for what would be a five-game series win for the Lakers, giving the franchise their 15th championship.
Game 5, 2010 NBA Finals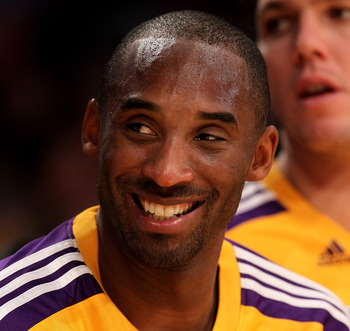 Stephen Dunn/Getty Images
Despite the Los Angeles Lakers coming up short in Game 5 of the 2010 Finals to the Boston Celtics, Kobe Bryant put on a spectacular performance, scoring 38 points, including 23 straight Lakers points between the 4:23 mark of the second quarter through the point when there was 2:16 remaining in the third.
The Lakers would eventually win the series in seven games.
2011 All-Star Game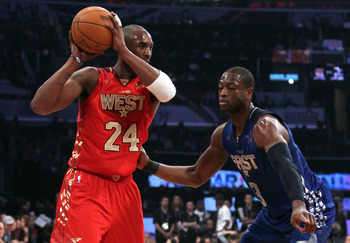 Jeff Gross/Getty Images
Kobe Bryant collected his fourth career All-Star Game MVP trophy at the 2011 All-Star Game in Los Angeles.
Kobe Bryant scored 37 points and grabbed 14 rebounds, as the Western Conference defeated the Eastern Conference, 148-143.
January 14th, 2012: Four Consecutive Games of Scoring 40 or More Points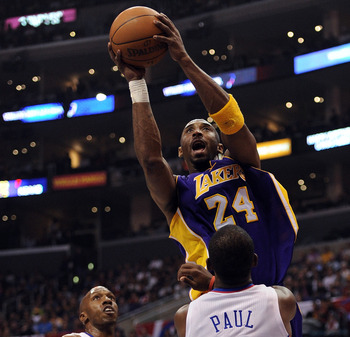 Harry How/Getty Images
Saturday night in a loss against the crosstown rival Los Angeles Clippers, Kobe Bryant scored 42 points, extending his streak of games of 40 points or more to four.
Given his age, Kobe being the oldest player in league history to achieve such a feat and the fact he is battling a torn ligament in his trigger wrist, his current streak is all the more outstanding.
Kobe will go for five in a row on Monday night against the defending champion Dallas Mavericks.
Keep Reading

Los Angeles Lakers: Like this team?