Cleveland Browns: Should Browns Sign Matt Flynn, Draft RGIII or Keep Colt McCoy?
January 16, 2012

Jared Wickerham/Getty Images
Gear up for yet another quarterback controversy, Browns fans. And just to keep things interesting, this one comes with a new twist: All but one of the candidates aren't actually even on the Browns roster. 
In the wake of a largely disappointing season for QB Colt McCoy, rumors are already swirling about who the Browns will replace him with in 2012. 
The flaw in the theory is, of course, that no one from the Browns camp has confirmed that they have any intention of replacing McCoy at all. 
Still, they also haven't denied it, so further examination is in order. 
We discussed this issue last week, touching on the possibilities of McCoy, backup Seneca Wallace, Green Bay backup Matt Flynn, Chiefs end-of-the-season starter Kyle Orton and 2012 draft entrant or Heisman Trophy winner Robert Griffin III possibly becoming the Browns 2012 starting quarterback. 
As if to further confuse things, Kevin Kolb entered the fold via the rumor mill late last week. 
Personally, I still believe McCoy will at least begin 2012 as the Browns starter, but there's enough room for doubt that the alternatives need to be discussed. 
Still, there are way too many names on the board at the moment, so today, I'll focus on three candidates in particular—McCoy, Flynn and Griffin—and discuss the arguments for and against each. 
Others may feel differently, but I would consider these three the strongest (or at least the most likely) candidates for the job. Orton and Kolb don't look like good fits, and we've seen firsthand that Wallace is not capable of handling the job.
The irony about the three remaining candidates—Flynn, Griffin and McCoy—is that none of them appear to be a perfect fit either. But since there doesn't appear to be anyone available who is, these are the best we have to work with. 
Following is the argument in favor of and against each of them. From there, I invite you to draw your own conclusions in the comments below as to which one makes the most sense as the Cleveland Browns 2012 starting quarterback. 
Colt McCoy
The Argument in Favor
Let's begin with the obvious: McCoy is already on the roster. It seems like such a simple "duh" kind of statement, but it's important considering where the Browns are in their development. 
Bringing in a new quarterback would, for all intents and purposes, necessitate yet another offensive overhaul, which the Browns' current timetable for contention—if it were to actually meet its deadline—cannot absorb.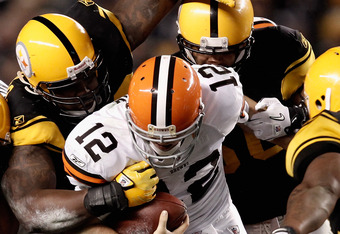 Jared Wickerham/Getty Images
While no matter who the quarterback is, the Browns have given no indication that they plan to throw out the whole West Coast offense and try something new, the system would still need to be tweaked and adapted to fit a new quarterback. 
That of course can be refuted with "the offense was so bad that it absolutely has to be tweaked and adapted," but for those of us who feel that the problem is much greater than the quarterback and is the product of poor play at other offensive positions as well as in play calling, there's a good argument that what needs tweaking and adapting isn't the quarterback. 
That brings me to the next argument in favor of McCoy, which is that given the shortcomings of those surrounding him, he may not be entirely (or even much at all) to blame for the Browns' offensive woes. With the way the offensive line played, the way the receivers played and the disappointing running game, there's not much to indicate that another quarterback thrown into the situation McCoy was in would fair any better. 
Sure, throw Drew Brees out there and things would probably improve tremendously regardless of the supporting cast, but if you look at who might actually be available to the Browns, I'm not certain any of them would perform any better under the same circumstances. 
Finally, while McCoy's physical abilities can certainly be questioned, there is no questioning his heart and competitiveness. A small upgrade in skill wouldn't be worth the swap if the incoming player couldn't take a beating, maintain a never-say-die attitude and keep soldiering on the way McCoy did until a head injury made it impossible for him to do so.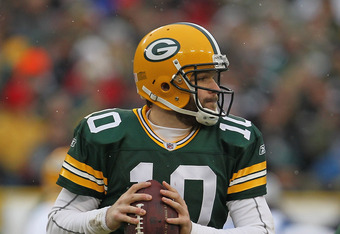 Jonathan Daniel/Getty Images
The Argument Against 

Just as there is no arguing McCoy's heart and competitiveness, the flip-side of that and an argument against his keeping the job is the fact that in terms of build, physical ability and talent, you can argue whether McCoy belongs in the starter's role. 
I take issue with complaints about McCoy's accuracy, as his problems there have a lot to do with terrible protection from his line that made him rush throws and receivers flubbing routes and not winding up where they were supposed to be. 
But unfortunately, there's no denying the issue of size (or a lack thereof) for McCoy. 
Many undersized quarterbacks have succeeded in the NFL, but they were all exceptional in other aspects of their game. So far, McCoy has not hit that mark in enough other areas to overcome the fact that he is small for the position. 
Finally, there is always the argument that any quarterback who isn't getting the job done doesn't deserve to keep his job, regardless of what is going on around him. 
Many argue that a truly good quarterback would have been able to create opportunities despite a bad situation around him that McCoy did not. While I find that argument over-simplistic in this case, I do understand why frustrated fans have begun making it.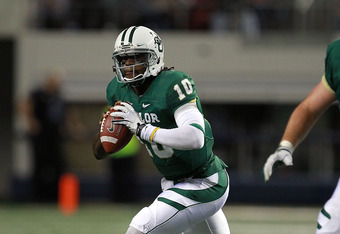 Ronald Martinez/Getty Images
Matt Flynn
The Argument in Favor 

The best argument in favor of the Browns bringing in Matt Flynn is that he has spent his entire NFL career to date watching and learning from the best quarterback in the NFL, Aaron Rodgers. 
And while observation is no substitute for experience, the coaching staff in Green Bay is indisputably among the best in the biz at molding and training quarterbacks and at identifying talent at the position in the first place. 
Talent-wise, it's more difficult to evaluate Flynn than McCoy because he has so much less in-game experience. 
Still, in what limited playing time we've seen from him, he has had more notably good performances than McCoy has. 
To be fair, the infamous six-touchdown game probably has to be thrown out as an outlier, but Flynn has had a number of other very solid performances in games (be they in the regular or the preseason) to which fans paid less attention to and have neglected to factor in at times. 
You can, of course, argue that a preseason performance isn't indicative of what would transpire in a regular season game, but consider how low our standards are now. 
We don't have much to go on for any of the available candidates. Can we really dismiss someone's talent because they happen to have displayed it in the preseason? Ideally, yes we could. But in the dire situation in which we as Browns fans find ourselves? No way. 
And regardless of whether Flynn is unproven, you can argue that he's really no more unproven than the rest of the lot (or at least he's screwed up less in the opportunities he's already been given), and he's also not a bad fit for the system the Browns have in place.  
The Argument Against
The issue of Flynn's lack of proven track record in NFL regular season games does have to be noted here as a potential strike against, but the biggest argument against Flynn is the exceptionally high cost the Browns would have to pay to get him. 
It's assumed that the Packers will franchise Flynn and then attempt to trade him rather than allow him to walk in free agency. It's a smart move by Green Bay and highly unfortunate for any team hoping to snap him up. By slapping a franchise tag on him, the Packers will send Flynn's price through the roof. 
Through free agency, it would likely have cost a multi-year deal and upwards of $40 million to get Flynn. Through a trade, it will cost that plus draft picks, rostered players or whatever Green Bay decides they want for him. And like the contract itself, the price will not be cheap. 
The Packers would likely ask for a second-round pick and at least one additional pick in 2012 as well as, most likely, a 2013 pick. It is also possible that they would want to work a deal that wasn't all about picks and instead cost the Browns a rostered player. 
So before deciding Flynn is the answer, the Browns would have to consider not only how much of their free agent budget they would be willing to throw at Flynn, but also who on the current roster and how many draft picks they would be willing to hand over to Green Bay for him. 
Whatever the cost on both fronts, it will likely be too high for this to be an option that makes sense for the Browns. With all the other problems they have at other positions, should they really be putting such a large chunk of their available funds into the quarterback position? 
And even worse, given their lack of depth, should they be burning multiple future draft picks on him? And worst of all, what good would it do to bring in a guy in an attempt to solve the quarterback issues if it costs them a player whose departure would simply create an issue at another position? 
You can argue that in theory, if Flynn worked out perfectly, it would be worth that risk with quarterback being the most important position on a roster, but really, what are the odds it works out perfectly? This is Cleveland, after all, so I'm sure I don't need to do the math for you on that. 
Robert Griffin III
The Argument in Favor
On paper, at least in terms of draft entrants, you can't do much better than Heisman winner Robert Griffin III. He is absolutely off the charts in nearly every criteria listed on a scouting report. 
He has no apparent issue of arm strength, an area in which McCoy frequently comes up short in many folks' assessments, and his character, athleticism and accuracy are all touted as exceptional. 
His skill set and football mind seem to indicate he would fit in the Browns current offensive system, and perhaps most importantly, we have to consider his cost. 
While obviously, as a first-round draft pick, he costs the Browns more than McCoy, who pretty much costs the Browns nothing seeing as he's already under contract, he costs infinitely less than Flynn.
If you think McCoy is a better option than Griffin, then that argument won't fly, but if you think it needs to be either Flynn or Griffin but not McCoy, then it's hugely, hugely important. 
The Argument Against  
The problem with fawning over Griffin due to all the high marks on his scouting report is that aside from the arm strength component, most scouts said nearly the exact same thing about McCoy when he was set to enter the NFL Draft out of college. 
So while Griffin looks very shiny, if you will, on paper, there seem to be a lot of short memories around town who have forgotten that McCoy did too. I'm not saying that Griffin doesn't ultimately profile as a better NFL quarterback over the long haul than McCoy; sadly for us, he does. But I am saying that the differences are simply not big enough to stake a first-round pick on it. Not when the Browns have so many other areas for which they desperately need that pick. 
Then there is the issue, again, of whether another quarterback would do any better than McCoy given the surrounding circumstances. Griffin is undoubtedly first-round pick material, not third-round pick material like McCoy, but the difference he could make in the Browns troubled offense might not be big enough. And the problems in the surrounding cast will be that much harder to fix if the Browns first pick is used on a quarterback rather than to repair some of them. 
Also, we have to be wary of the hype factor. Of all the highly-hyped quarterbacks to come out of the draft in the last 10 years, the majority have not lived up to the mythic expectations. A significant number have even been huge busts. 
That doesn't mean Griffin will be a bust or even won't live up to his hype, but it does mean we should be cautious about getting over-excited. Much of the hype stems from his Heisman win, and the Heisman has historically not been a terribly accurate predictor of exceptional success in the NFL. 
Finally, with the biggest knock on McCoy (at least when he was the one coming out of the draft) being his size, we all need to recognize that Griffin comes with the same black mark against him. Do we really want another quarterback about whom there are size concerns? 
Perhaps his talent level is enough higher than McCoy's that the answer to that is "yes, we most certainly do."
But perhaps the gap between the two in talent isn't big enough to ignore the very small gap between the two in size. 
Griffin could wind up being worth spending a first-round pick on , but as was the case with Flynn, the risk vs. the price is something the Browns would have to consider very carefully before abandoning McCoy and turning the reins over to a new candidate for the job.