BYU Football 2011 Offensive Report Card: Wide Receivers and Tight Ends
January 27, 2012

Sarah Glenn/Getty Images
Report cards are in and every significant contributor has received a performance grade (A, B, C, D or F, with +s and -s as necessary) and a citizenship grade (O, S, N and U, once again with +s or -s as required), as well as some brief comments on why they received the grade they did.
Grading Criteria
The problem with many "grades" handed out by writers and bloggers to sports teams and personnel, is that they lack a frame of reference for readers understand what the grades mean.
I don't intend to let that happen. In my class, an "A" means excellent, "B" means good, "C" means satisfactory, "D" means "needs improvement" and "F" obviously means fail.
Definitions
"Excellent" in this case means way above average, better than good, one of the best. Not just the best of the independents, not just the best of the mid-majors, but one of the best in the country.
Needless to say, there aren't any easy A's.
"Good" is not just better than average, it is good. Think of it in food terms.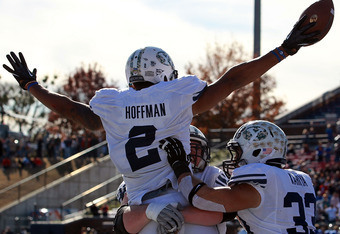 Ronald Martinez/Getty Images
What comes to mind when you think of "good food" or a "good, home-cooked meal?" Thanksgiving seems to be a common answer.
It may not have been prepared by professional chefs from the finest ingredients, but it still tastes really good and you are always excited to have it.
"Satisfactory" means they get the job done. Related back to the food analogy, satisfactory is how you feel after a warm and filling meal. It may not be Thanksgiving dinner, but you're content and have no substantial complaints.
"Needs improvement" means just that: it needs improvements. Think of it as a food that you don't like to eat, but if there is nothing else, you could probably force yourself to swallow it down.
"Fail." You've just been a victim of food poisoning.
For the citizenship grades, "O" means outstanding, "S" is satisfactory, "N" means needs improvement and "U" equals unsatisfactory.
These grades can be more difficult to determine. Typically, you only hear if a player is a troublemaker or a coach's dream—anything else tends not to be reported.
To give us a little more material with which to assign these grades, we will also include how well the player did compared to expectations/natural ability.
Definitions
"Outstanding" players are a coach's dream and often appear to play at a level above their natural ability.
"Satisfactory" players are those with whom the coach is satisfied with their effort. They are hard workers and by no means slackers, but do not distinguish themselves like "outstanding" players do.
"Needs Improvement" is reserved for those who have either earned minor disciplinary action, or have caused issues in practice or in the locker room.
"Unsatisfactory" players do not remain on the team.
Wide Receivers
Mckay Jacobsen
Grade: C
Notes: Jacobsen was a victim of improved recruiting. As a true freshman, he showed a lot of promise with 547 receiving yards and a 19.5 YPC average.
In 2009, despite missing one-third of the season to injury, he was still the Cougars' leading WR with 556 yards, but more importantly he became BYU's deep-threat receiver. He averaged 24.9 YPC and was a constant threat to go the distance, which he did multiple times that year, including one for 80 yards against Florida State, and a 79-yarder against Wyoming.
2010. Enter QB problems and Cody Hoffman. For much of the season, BYU QBs were incapable of (or at least not very good at) throwing the deep ball.
Once that capability came out in quarterback Jake Heaps toward the end of the season, the 5'11" Jacobsen found himself fighting a losing battle against the more athletic 6'4" Hoffman for the deep routes. Then, in 2011, it looked like we would see a reborn Jacobsen in the slot.
The problem was that his skill set was best suited for lining up wide and going deep. As a result, he eventually lost the starting slot position and ended up as the backup for all three receiver positions.
He was still valuable, giving all three receiver positions an experienced and talented backup, but his performance was at best satisfactory, due in part to his not being able to play to his strengths.
Citizenship: S
Notes: S+ for changing roles for the good of the team, S- for appearing to underachieve his potential.
JD Falslev
Grade: C
Notes: This grade is an average. For the first eight games of the season, JD averaged 13.4 yards per game. He averaged 44.6 over the last five.
Falslev was a functional slot receiver who showed glimpses of being more at times toward the end of the season, but not enough to make up for his relative quietness during the first two-thirds of the season.
Citizenship: O
This little (he's listed at 5'8") walk-on receiver worked hard enough to displace a four-year starter and earn a starting position and a scholarship in just his second year in the program.
It is hard to show more dedication and effort than what Falslev has had to put forth to get where he is today.
Ross Apo
Grade: B
Notes: 453 yards and nine TDs as a freshman is a pretty good start. Apo gets the "good" designation not because of his yards, which in and of themselves are not terribly impressive, but thanks to his effectiveness as a red zone threat.
During the regular season he led all Cougars in TDs. 22 percent of BYU's touchdowns in 2011 were scored by Apo.
Citizenship: S
Notes: I really don't have much to go on here. I haven't heard anything one way or another regarding his citizenship, and he produced more or less as expected.
Cody Hoffman
Grade: A-
Notes: Hoffman is an excellent receiver who could start at any school in the country.
He had 943 yards and 10 TDs with a QB who either, 1) Can't complete a deep pass (Heaps, who had only one completion of 30+ yards in 252 attempts), or 2) An undersized dual-threat QB who is almost as likely to take off running as he is to complete a pass (Riley Nelson—116 completions, 88 rushing attempts).
Why the "-" then? Because of the first two games.
During these two very important games, Hoffman had three receptions for 20 yards. BYU had 417 passing yards in those two games. Less than 5 percent of those went to Hoffman.
He just could not seem to get open. Whatever the problem was, he apparently fixed it.
Against TCU and Utah he had 205 combined receiving yards. However, this grade covers the entire season. His little disappearing act at the beginning of the season knocked him down to an A-.
Citizenship: O
Notes: You can see the effort he puts forth on the field. He learned from those first two games instead of letting them dictate the tone for the remainder of his season.
For the most, part he equaled or surpassed most people's expectations.
Wide Receivers As a Unit
Grade: B+
Notes: You have one excellent receiver, one good one and two satisfactory ones. How does that average out to a B+? It doesn't.
This isn't an average of the individual receivers; it is a grade for the receivers as a group.
The Cougars' top two receivers average a B+. Even though Jacobson and Falslev are C receivers on their own, but as a third or fourth option they are at least in the B to B+ range.
Citizenship: O-. Falslev and Hoffman bring this grade up to where it is.
Tight Ends
Marcus Matthews
Grade: C
Notes: Matthews was probably more of a slot receiver than a TE this year. His 299 yards put him on a similar level as Falslev and Jacobsen.
His last-second (well, I suppose there were 11 seconds left, technically) catch versus Utah State gives him enough extra credit to stay out of the C- range.
While Matthews definitely contributed, there really wasn't anything particularly special or memorable (minus his game-winning touchdown versus USU, of course) about his season. He was an off-the-bench role-player who fulfilled his role satisfactorily, but nothing more.
Citizenship: S
Notes: I've heard nothing either positive or negative that would make me change his citizenship grade away from "satisfactory."
Austin Holt
Grade: C-
Notes: The tight ends have it tough here. Cougar fans have had a tradition of great tight ends, as well as QBs and OCs who regularly threw to those tight ends. In light of this, a starting TE who was healthy for most of the season should have more than 11 catches and 180 yards.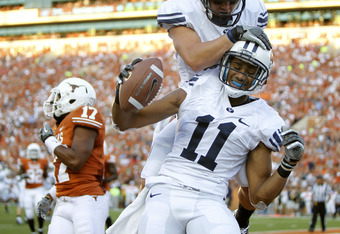 Erich Schlegel/Getty Images
Holt stays out of the "D" range for 3 reasons. 1) His blocking ability. This doesn't show up in the stat sheets, but is an important part of the job.
2) His best (receiving-wise) games came during BYU's toughest part of the schedule: at 'Ole Miss, at Texas and against Utah. 3) Riley Nelson. With Nelson at QB, the TE didn't see nearly as much action.
Nelson threw significantly fewer passes than Heaps, threw more frequently to his wideouts on deep routes, and would frequently take off running (usually quite effectively) rather than checkdown to his outlets (which were frequently the TEs).
Citizenship: S+
Notes: Over spring and fall practices, Holt worked his way from No. 3 TE into a starting role. That speaks to his hard work.
However, since that is the only indicator I have, I can't raise his citizenship grade above an S+.
Richard Wilson
Grade: D+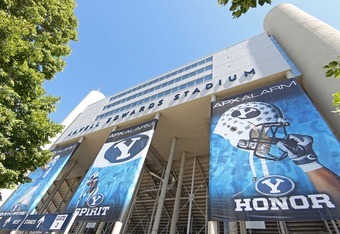 George Frey/Getty Images
Notes: Eleven catches and 130 yards in 8 games. From a BYU TE who saw significant playing time, this is not satisfactory.
The reasons Wilson gets a D+ instead of a C- like Holt are, 1) He doesn't block as well as Holt. 2) His best game (the only one in which he had more than 18 receiving yards) was against SJSU and not against AQ teams in key games.
I think Wilson is loaded with talent, and I expect him to at least double or triple his production next year. However, this year he was the No. 3 (No. 4 before Mahina went down) tight end on the depth chart behind some fairly pedestrian competition.
Citizenship: S
Notes: Lack of information forces me to assign an "S."
Kaneakua Friel
Grade: D+
Notes: For a guy who entered fall camp as the fifth-string TE, a D+ is not a bad grade. He took over when Holt went down and had five receptions in the final three games, and provided decent blocking.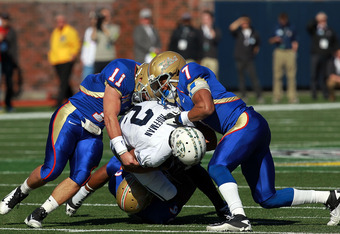 Ronald Martinez/Getty Images
Citizenship: S+
Notes: When Friel entered fall camp as the No. 5 TE, he could have slacked-off a little and not many would have noticed. Clearly he did not.
Friel averaged more receptions per game than any TE not named Marcus Matthews (who was more of a slot receiver anyway).
Tight Ends as a Unit
Grade: C-
Notes: 673 yards and four TDs from the TE (slot) position, but that it isn't particularly good either.
During the five years before this current group of TEs took over at BYU, the TEs had been averaging around 1200 yards and 11 TDs per year.
This TE corps receives a passing grade, but accumulating just half of the yards and a third of the TDs of previous years' averages, that is all they are going to get.
Citizenship: S
Notes: This has been a quiet group, both on and off the field.
Please check in on Monday for the report card for the running backs, quarterbacks and offensive linemen.