2012 NFL Playoffs: 5 Takeaways from Patriots' Win over Broncos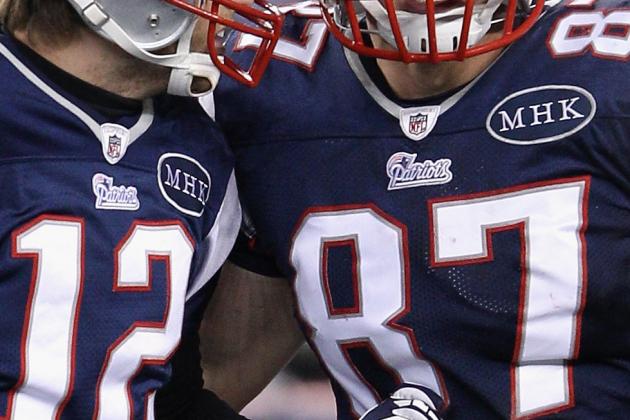 Elsa/Getty Images
Brady to Gronk: A Lethal Connection
How did the Patriots answer all the media attention and hype centered around Tim Tebow, a man they had beaten just a month prior by 18 points?
They answered with a resounding 45-10 thumping of the Broncos, that included record-setting performances all around and a defensive performance that was perhaps their most impressive in two years.
It was evident from the first snap that Tom Brady and company were on a mission. The fiery intent in their eyes belied the calm answers they gave when asked about their three-game playoff drought, including two embarrassing losses in Foxborough.
In what was their most complete game of the season, the Patriots showed why they're a force to be reckoned with in this NFL postseason. They have a terrific chance to take home the Lombardi Trophy for the fourth time in eleven years.
Here are five takeaways from the Pats' blowout victory.
Begin Slideshow

»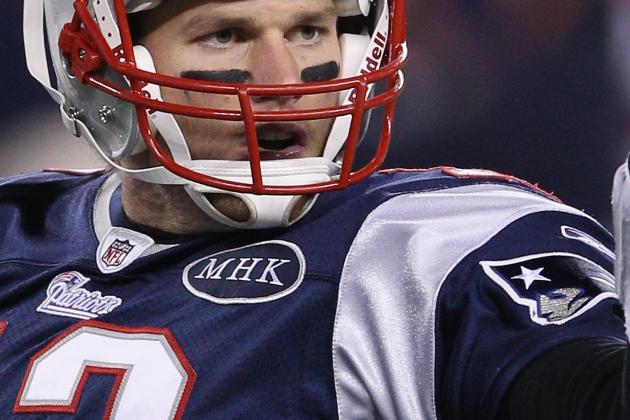 Elsa/Getty Images
Tom Brady will not be stopped
Make no mistake, Tom Brady came out against the Denver Broncos with no mercy in his heart. He was intent on only one thing, making sure there was no chance of a fourth straight playoff loss and a third straight at home.
There are no statistics to prove such a demeanor other than his stellar performance, 26/34 for 363 yards and 6 touchdowns. Those numbers could have been significantly higher had the game been competitive.
One only needed to see the look in his eyes as he walked after each of his first eight completed passes to the next huddle. There was no celebration until the game was well in hand.
When that happened, as the Patriots went up 35-7 on Tom Brady's record-breaking fifth first-half touchdown, he showed his emphatic approval with an emotional fist pump.
Any doubt about Tom Brady's intensity when it comes to football and winning another championship were put to rest with his play against Denver Saturday night.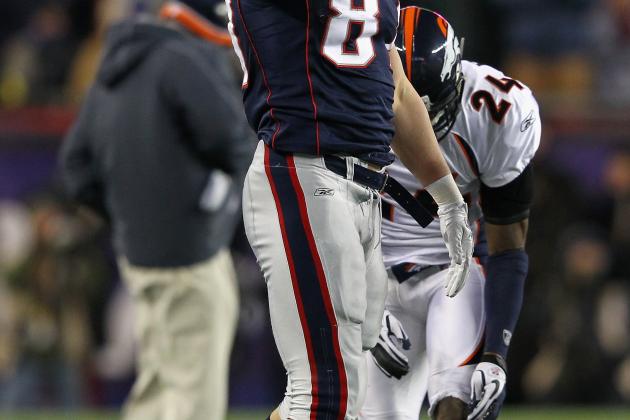 Al Bello/Getty Images
Pats Fans hope Gronk does this many times in the coming weeks
The Patriots offense has been the most consistent in the league all season, scoring at least 30 points a league-high 12 times and tying an NFL record (2007 Patriots, 1999 Rams).
However, they've been at their best late this season, scoring 40+ points in three of their last four games. They put together an attack that could have easily scored 60+ points against Denver had they not let up early in the second half.
After putting up an average of 460.5 yards and 41 points per game in their last four games, the Patriots offense is as hot, if not hotter, than any other team in the league right now. To make those marks even more impressive, they've played all those games outside in near-freezing temperatures.
The Patriots played perhaps their most impressive performance of the season offensively Saturday night, putting up 510 yards while allowing no sacks and gashing the Broncos' D for 145 yards on the ground.
It bodes extremely well for them going into their sixth AFC Championship appearance in 11 years.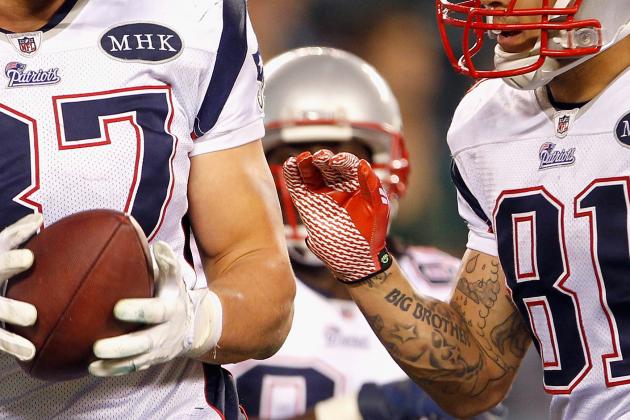 Rich Schultz/Getty Images
The best tight-end duo of all-time?
Let it be said that Rob Gronkowski and Aaron Hernandez might be the best receiving duo in the league, tight end or wide receiver. They play off each other so well, taking advantage of coverages the presence of the other dictates.
Gronkowski's historic season has been well documented as the best statistical season of all time for a tight end, setting NFL records for single-season tight end yardage (1,327) and receiving touchdowns for a tight end (17).
However, Aaron Hernandez's 2011 is not to be overlooked. He racked up 79 catches for 910 yards and seven touchdowns in only 14 games. Had he been healthy for the entire season, his numbers project to over 90 catches for over 1,000 yards and eight touchdowns. It is a spectacular year by any receiver's standards, let alone a tight end.
Against the Broncos Saturday night, the two combined to touch the ball 19 times for a total of 262 yards, accounting for over half of the Patriots' offensive output.
Aaron Hernandez was also utilized in a new offensive wrinkle concocted by Belichick, carrying the ball three times for 61 yards, including an early 43-yard scamper that sparked the Patriots' opening touchdown.
The Ravens should be very scared of this receiving combination.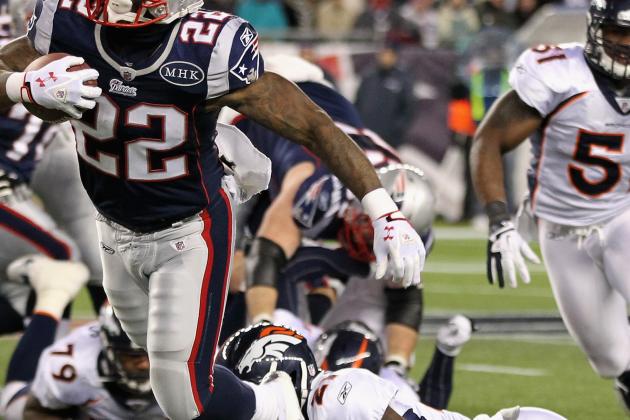 Jim Rogash/Getty Images
Rookie Stevan Ridley could be a huge factor in the upcoming AFC Title Game
All year long, any naysayer of the Patriots usually pointed to their porous defense or their lack of a productive running game as a reason why the Patriots wouldn't be able to advance deep into the postseason.
Well, for the last four games the Pats have put the ball on the ground often with stellar results, averaging 135.8 yards per game. Rookie Stevan Ridley provided a spark with 210 yards rushing in the last three regular season games of the year.
Against the Broncos, the Patriots showed that even when their conventional running game isn't firing on all cylinders, they can still manufacture yards. Belichick moved Aaron Hernandez into the backfield, allowing him to be a mismatch in all facets of the offense. He produced, with a team-leading 61 yards on the ground.
For four months, the Patriots have exploited secondaries with their talented receivers. But their recent play shows that they are not a one-dimensional offense doomed to falter in the playoffs, as many predicted.
Should the Patriots maintain this semblance of offensive balance and produce results, their attack will be that much more unstoppable in the coming weeks.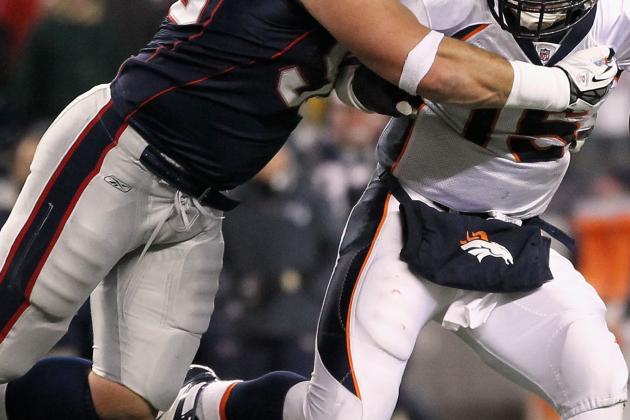 Jim Rogash/Getty Images
Tim Tebow had nowhere to go against the Patriots' D
The Patriots' defense absolutely smothered the Broncos' zone-read option scheme. They dedicated men to the edges that helped stifle any kind of effectiveness the strategy might have had against other opponents.
The Patriots much-maligned D held the Broncos to 252 total yards and 10 points, including disrupting Tebow so much that he only completed three passes in the first half for an anemic 28 yards.
Tom Brady completed more touchdowns in the first half than Tebow did passes.
The Patriots sacked Tebow five times and forced the Broncos into 15 negative plays, the most in the league all year by any team.
If the Patriots continue to play this well on defense, it's hard to foresee anyone stopping them on their roll to a championship.