Patriot's Chad Ochocinco Shows His Generosity, Treats Twitter Fan Right
January 16, 2012

Elsa/Getty Images
It's been a rough season for New England Patriots receiver Chad Ochocinco, who caught only one touchdown in the regular season. But this past week, the diva wide receiver scored a touchdown off the field.
College student Victor Gonzalez was a fan of Ochocinco's, tweeting him for two years. The problem? He had never gotten a single response, because Ochocinco had over three million fans on Twitter.
"Been tweeting you for two years and have not ever gotten a response," tweeted Gonzalez to Ochocinco a week before the Patriots' playoff showdown against Denver.
But that's when pumpkins turned into carriages, frogs became princes and dreams became reality.
The infamous wide receiver saw the tweet and, replying back for the first time ever, apologized for ignoring his fan: "Damn.. 2 years.. My bad want to come to the game on Saturday?"
And Ochocinco followed through on his promise, turning Gonzalez's next week into a memory he won't soon forget. Flying Gonzalez out to Foxboro from Florida, he showered the disbelieving fan with Patriots gear and treated him to dinner at Red Robin and the game.
Ochocinco may as well have joined Gonzalez in the stands as he played just one snap the entire game, but that's beside the point.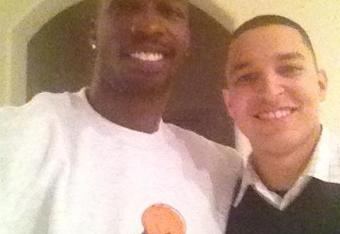 As sports fans, we like making fun of Ochocinco for his attention-seeking antics and less-than-stellar performance on Sundays.
But as a professional athlete, in a way Ochocinco represents what celebrities should be. He uses his fame to make the lives of fans a little better and never looks down on regular people. Like him, hate him, or despise his egotistical guts, but he knows how to treat fans right.
I've heard stories of Ochocinco buying dinner for fans of the opposing team, regularly taking fans to the movies and going out of his way to brighten the day of a child. You really couldn't say the same for 95 percent of pro athletes.
As a guy who goes to Mariners games regularly, I always make my way down near the dugouts before the game, because you never know what you'll see.
I remember there were once two kids dressed in Red Sox gear, clamoring for Dustin Pedroia's autograph and leaning over the railing near the dugout to get his attention. From a distance I could tell Pedroia had seen and heard the kids, but was intentionally ignoring them. So were the batboys in the dugout.
Not to trash on Pedroia, but when I see Ochocinco going above and beyond to reward his fans, I find a lot of admiration for him.
With athletes making fatter paychecks and living increasingly luxurious lives, it's rare to see them mingling with fans like Ochocinco did with Victor Gonzalez. But it's something more pro athletes could learn a lesson from.