Manny Pacquiao: Rumored Bout with Miguel Cotto Would Be Huge Letdown for Fans
January 15, 2012

Al Bello/Getty Images
It would appear that Manny Pacquiao is close to making an official announcement about his next fight, and it is not going to make boxing fans happy. 
According to Abac Cordero of the Philippine Star, Pacquiao has already decided who he is going to challenge. His promoter, Bob Arum, knows, but isn't saying anything. Pacquiao's wife, Jinkee, may have let the cat out of the bag, though. 
She was quoted as saying that her husband would be going up against Miguel Cotto. The date has not been made official, but Arum told Cordero that he is expecting late May or June 9. 
To be clear, this is just a rumor, but if it does end up being Cotto, then boxing fans should just throw their hands up in the air and ask what is going on. 
Nothing against Cotto, but we have already seen that fight before and we know how it turns out: Pacquiao destroys him.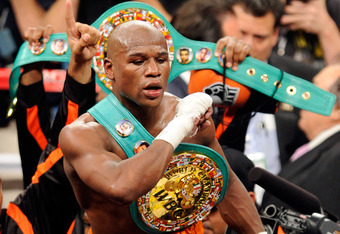 Ethan Miller/Getty Images
Let's be honest, unless Pacquiao is fighting Floyd Mayweather, none of this really matters. Anything that either of them does is going to make one bit of difference. 
Whatever petty issues Pacquiao and Mayweather have, you would think that the two sides would be able to come together to strike some kind of an agreement. 
Mayweather is out there doing his best to convince everyone that the fight he wants next is with Pacquiao. He has been posting messages on Twitter and doing interviews saying the same thing: The only thing on his mind is Pacquiao. 
So based on all that, and we don't know how serious Mayweather really is because he talks a lot, Pacquiao needs to sit Bob Arum down in a room and tell him that the only fight he wants is with Mayweather. 
If Mayweather is as adamant about facing Pacquiao as he says he is, he will do the same thing with his promoter. 
But if what Mrs. Pacquiao says is true and we get another Pacquiao-Cotto fight, we might as well just give up on the hope that anything will ever happen with Mayweather. The time is now; neither man is getting any younger, and there is always a way to make the finances work out.