Chris Jericho's 15 Greatest Promos of His Career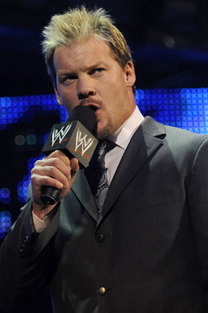 Source: http://www.thewrestlingcafe.com/chris-jericho-returns-to-wwe.php
Since Y2J's departure from WWE in September 2010, fans have been hoping he would return to the squared circle once again. The fans wishes were answered on January the second of 2012, when he returned to a huge crowd reaction on Monday night Raw SuperShow.
Chris Jericho is no doubt one of the best wrestlers of all time. He was crowned the first WWE (then WWF) Undisputed Champion, has held the Intercontinental Championship a record breaking nine times and has held several other belts during his wrestling career.
One of his best talents is his microphone skills and ability to gather a reaction from the crowd, whether a heel or face. No one can deny his charisma or ability to make the audience laugh. He is one of the few wrestlers who can hold his own whilst on the microphone with the great one, The Rock.
Since his recent return to WWE, Y2J is still yet to speak to the crowd. He remained completely silent on his return and also remained silent the following week on Raw. Fans are hanging on his unspoken segments to try and figure out why he has returned. His silence has left fans more intrigued and confused than ever. There is no doubt that the fans will be hanging on every word he says when he finally decides to talk.
Due to his silence, it only seemed logical to create a slideshow of his 15 best promos of his career to remind us all why he is so good on microphone and why we want him talk once again. Jericho cannot only hold his own when on microphone with the likes of wrestlers such as The Rock, but he can make any segment entertaining and funny. It is due to this reason that the fans are left in anticipation for the moment when he finally speaks again.
Begin Slideshow

»
Jericho recommends Vince to update his theme song to something a bit more modern.
Jericho puts Kurt Angle in his place and tells him to simply shut up.
Jericho reads a list of 1,004 holds that he wrote.
Jericho is eager to read his letter from Ted Turner.
Y2J and Christian's egos get the best of their friendship.
Y2J bumps in to Booker T and Stephanie McMahon backstage.
Y2J enlightens us all with his singing skills!
Y2J firmly puts Cole in his place.
Y2J and Rock may not get along but they both love making fun of Stephanie.
The Dudleys decided to steal Y2J and Christians clothes on Raw. Y2J and Christian end up spending their night trying to find some cloths.
Jericho and The Rock have a "friendly" chat with their favourite person they love to mock, Stephanie McMahon.
Y2J has a mini-tantrum when he does not get his pyro entrance.
Y2J seemed to love mocking Stephanie week after week, and the fans loved it too.
Jericho and The Rock are interviewed by Michael Cole backstage.
Y2J interrupts The Rock on Raw to make his debut.