Hoosiers vs. Buckeyes: No. 7 Indiana Takes on No. 5 Ohio State for Round 2
January 15, 2012

Andy Lyons/Getty Images
No. 7 Indiana Hoosiers at No. 5 Ohio State
Sunday, January 15, 2012: 4:30 p.m. ET
TV: CBS
Previous Meeting on New Year's Eve (IU 74, OSU 70)
Just over two weeks ago, Ohio State (15-3, 3-2) rolled into Assembly Hall as the No. 2 team in the nation and left the building having suffered their second loss of the season.
The then-No. 15 Indiana Hoosiers (15-2, 3-2) took care of No. 2 Ohio State.  However, the home court played as the sixth man for IU. Today is on Buckeye turf.
In their previous meeting on New Year's Eve, Ohio State committed 17 turnovers, including four in the final 1:30 of the game. 
Although freshman Cody Zeller was in foul trouble most of the game, he finished with 14 points. Lucky for the Hoosiers, the Buckeyes were in foul trouble the whole game as well.
All of Indiana's five starters scored in double digits, displaying the great ball movement instructed by Tom Crean.
Victor Oladipo was 7-for-13 with 15 points, including a huge break-away layup in the final moments of the game to seal the 74-70 victory over Ohio State.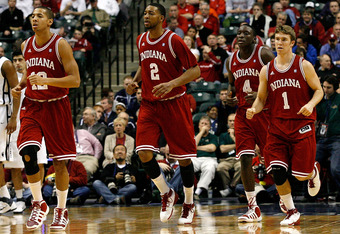 Chris Chambers/Getty Images
How the Hoosiers Can Beat Ohio State Again
Indiana won't be nearly as comfortable as they were last time, heading into a proud Columbus town and trying to pull the top-10 upset again.
In order to stay with this OSU team, the most important aspect for Indiana is playing lockdown defense, especially Cody Zeller bodying Jared Sullinger, forcing turnovers in the process.
Hulls must defend Aaron Craft, who put up 16 against the Hoosiers in their last meeting, shooting 6-for-10 from the field.
Indiana is looking to bounce back off their fist home loss of the season to Tubby Smith's Minnesota Gophers on Thursday night. If IU wants to stay in the Top 10 next week, this is a must win.
Hulls was held to 1--for-5 from three-point range and only had 13 points in the loss.  Although, Zeller saw production and showed off his "Freshman of the Week" abilities by scoring 23 points, which tied his career high.
If the Hoosiers can quickly get the ball down to the hard-working Zeller, Hulls' three will open up, and the scoring will get going.  It's all about the fast, touch passes to Zeller on the block, and IU needs to utilize his skills.
Rebounding is key.
Indiana was out-rebounded 34-26 in the win against OSU and must do better today in order to have a chance. IU allowed a dreadful 16 offensive rebounds to Minnesota in Thursday's loss.
This Big Ten, top-10 battle sets the tone for the top of the conference.
How will Indiana handle the toughest road match of the season?