Juventus and Cagliari All Even at 1-1: Now with 100 Percent More Milos Krasic
January 15, 2012

Valerio Pennicino/Getty Images
Sunday's game was a multi-record breaker. First, the 1-1 draw means this year's Juventus side is the longest to go unbeaten. Additionally, Antonio Conte may have set a 2011-2012 season record for the most variety in a Juventus lineup sheet.
The game featured Paolo De Ceglie starting in place of the suspended Giorgio Chiellini, and two other players made rare appearances. King of the transfer rumors Milos Krasic subbed in for Alessandro Matri in the 71st minute, and then later, new transfer Marco Borriello was substituted in for Mirko Vucinic. Both men are in strikingly circumstances currently, and both men played terribly today. Borriello was not as astoundingly bad as Milos; he just had a quiet game in the short of amount of time he was on.
Milos Krasic was just plain bad. I was at first very excited to see him come on, but that feeling almost immediately fizzled. The lasting memory of Krasic's play today will be of Stephan Lichtsteiner, arms out, yelling in frustration at Milos to provide the right back with some cover. It's worth noting that Milos is suffering from a considerable amount of rust, since he hasn't played for months.
Still, given all the rumors about a transfer away from Turin, one would think that Milos would come out spoiling for a fight. Instead, he seemed timid at best, and lost at the worst. I'm unsure whether or not there is even one bit of truth to the transfer rumors surrounding Milos, but I think that interest might wane after scouts see his performance against Cagliari.
The rough landing of Milos Mania was perhaps the most frustrating note from a game full of frustrating events for Juventus and her fans. The game started out well enough, though Cagliari were very much ready to bring the game to Juventus. After only seven minutes, Stephan Lichtsteiner played a one-two pass to Claudio Marchisio, and upon receiving the "two" pass, Lichtsteiner swung a horizontal pass to Mirko Vucinic, who fired the ball into the goal. It looked like Juventus was in the clear and was on their way to a 3-0 victory.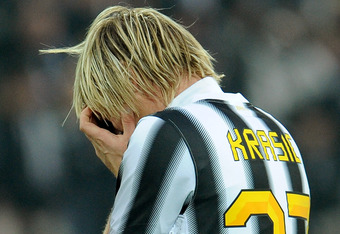 Valerio Pennicino/Getty Images
Shortly after, Alessandro Matri had a shot that was just inches off of goal. That was basically the highpoint of Juve's control of the match. After that, Cagliari began to impose themselves a bit more. They made themselves a number of chances, though Juventus still seemed in control of the match.
The second half began, and things almost immediately went sour for Juventus. Cagliari's forwards were putting heavy pressure on the Juventus backline, and this tactic was bringing back pretty impressive returns. Victor Ibarbo was particularly effective while putting pressure on Leonardo Bonucci. Indeed, Ibarbo got past Bonucci and managed to play a pass to his teammate, Andrea Cossu, who slipped the ball past Gigi Buffon and into the net. Cagliari had equalized, and Juventus Arena went pretty quiet.
This is the point where the bottom fell out of Juve's game. Cagliari opened up the Juventus back line once again only moments later, but this chance would fade out. The defense was just all over the place, and this let Cagliari expose them a number of times. Juventus had a venture into Cagliari's box shortly after the equalizer, but Alessandro Matri went down on a dive and received a yellow card.
It should be said that, though he did lose his man on the goal, Leonardo Bonucci had a fine game otherwise. Many people on Twitter had been bashing his passing and his overall game, but he was perfectly acceptable aside from his mistake on the goal. His passing was relatively accurate, at 88 percent (two percent higher than Stephan Lichtsteiner's pass accuracy rate), and he was successful on all but one of his 13 long-ball attempts. Of  course, Bonucci is scapegoated by some for all of the problems in Juve's defense. This has been the case ever since he arrived.
This is the second week in a row where a smaller side has put up a strong fight against Juventus. This is due both to problems with the play of Juventus and greater effort by the smaller sides. Juventus are now being thought of by opposing managers as one of the top teams in Italy. They are a top of the table side, and teams usually bring their A-game against top of the table sides. Usually.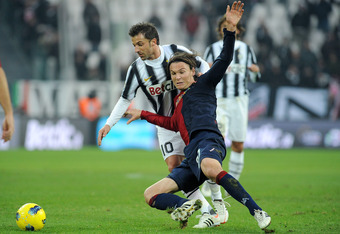 Valerio Pennicino/Getty Images
There was one more area where Juventus really had trouble today. Their passing in the final third was atrocious. They struggled to string together more than two forward passes once they got into the final third. The frontline also underwent a complete transformation over the course of the game. The starters were Alessandro Matri (playing as a striker), with Mirko Vucinic and Simone Pepe on the wings.
Pepe would be subbed out for Alessandro Del Piero, who had a decent game but struggled with his finishing. Del Piero's finishing has been poor all season, and he's yet to break in the new Juventus Arena with a goal. He had a chance today, with a header off of a Pirlo free kick, but his header went straight to the Cagliari keeper Michael Agazzi and was saved.
Alessandro Matri was subbed out for Milos Krasic, and we already know how Milos played.
Vucinic went out for newly arrived Marco Borriello. I mentioned earlier that Borriello played poorly, but that he did not have much time to show anything, really. He had only seven touches, but he was still dispossessed twice. He was never really given the ball at a time when Cagliari were particularly vulnerable. It's going to take some more time for us to really see what Borriello can do for Juventus.
Today's result is disappointing. Last week, the team struggled against Lecce but still managed to pull out a 1-0 victory and three points. This week, they stumbled to a 1-1 draw at home. The one point earned by Conte's men puts them in first place over Milan by one point. Luckily for Juve, Udinese lost 3-2 to Genoa.
If A.C. Milan lose to Inter Milan in tonight's Milan derby, than Juventus will be in first place by one point. If Milan draw , then they will stay in joint first with Juventus. A Milan win and something terrible happens: A.C. Milan lie alone in first place.
The Bianconeri players laid a big fat stinking egg on the pitch today. They have one more opportunity to pick up a clean three points next Saturday, away at Atalanta. They better win that game, because my birthday is on Friday and so it's basically their present to me.
The following Saturday, a big game at home against Udinese awaits Juventus. The last Udinese-Juvenuts match was a tense 0-0 draw, and this one has an even bigger implication on the Scudetto race, as this is the final matchup between the two sides, and thus, there is no longer a chance to avenge a negative result. Hopefully, Juventus can shake off their recent struggles and continue winning. Praise Conte, and Forza Juve.