The Down Under Report: Football News from the Australian League
January 15, 2012

Robert Prezioso/Getty Images
Hello all, this will be a new weekly update from Australia, with all the news and gossip regarding Australian football.
Results
Melbourne Victory 1 vs. 1 Adelaide United
Melbourne Victory and Adelaide United played out an entertaining draw in front of 20,000 supporters. It was Jim Magilton's first match in the A-League after the sacking of former Melbourne Victory coach, Mehmet Durakovic. 
In a match that had it all, neither team really took the ascendancy, with both goalkeepers at the top of their game. After some master trickery from Harry Kewell, Archie Thompson opened the scoring after six minutes with a powered header that left Adelaide's goalkeeper rooted to the spot. 
In the second half, Melbourne started the stronger but Adelaide's resilience paid off when Sergio Van Dijk scored from Dario Vidosic's corner in the 53rd minute. Both teams had their chances to win it but a draw was played out.
Central Coast Mariners 1 vs. 1 Newcastle Jets
Central Coast and Newcastle faced off in the battle of the F3 derby. The game started slowly, with both teams only registering a half a chance each in the first fifteen minutes.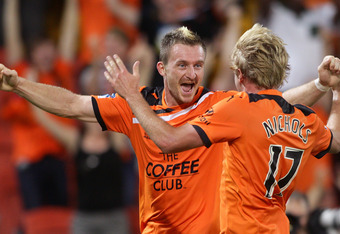 Bradley Kanaris/Getty Images
But after 16 minutes, Newcastle hit Central Coast on the counter and were made to pay after Bradley Porter gave away the ball in midfield. Labinot Haliti scored from a Jeremy Brockie cross to give the Jets a deserved 1-0 lead at halftime after the Central Coast missed a penalty half way through the half.
In the second half it was more or less Central Coast pressing for an equaliser, which they got when towering centre-back Patrick Zwaanswijk scored from a corner after an hour. From then on, it was all Central Coast making all the chances.
Unfortunately no more goals were scored and a draw was seen as the correct result.
Brisbane Roar 2 vs. 1 Sydney FC
Brisbane Roar welcomed Sydney FC to their fortress at Suncorp in the hope that they would gain points on rivals Central Coast who slipped up the day before. 
Unfortunately, things did not go to plan in the first half as Sydney took the lead right before halftime with a Mark Bridge goal silencing the home support. It was a huge wake up call for the Roar as they introduced two of their most influential players in Thomas Broich and Henrique in the second half.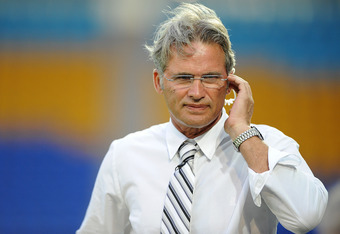 Matt Roberts/Getty Images
As the second half wore on, the Roar were making great progress in the attacking third but were not creating enough chances until added time. Bahrani international Adnan gave Brisbane hope after restoring parity with a screamer of a free kick that went into the top right hand corner.
With that momentum the Roar went on the attack in the last minute of play and were rewarded with a great goal from Besart Berisha that broke the hearts of all Sydney fans. The match ended 2-1 but was overshadowed by an end-of-match brawl between Sydney defender Pascal Bosschart and Besart Berisha.
Melbourne Heart 1 vs. 2 Perth Glory
Melbourne Heart played host to the inconsistent Perth Glory who were looking for another win away from home.
Perth Glory started off the stronger side and were rewarded with an early goal after 16 minutes from their influential midfielder Steven McGarry. For the remainder of the half, Perth controlled the game and were unlucky not to extend their lead with some fine goalkeeping from the Heart custodian Clint Bolton.
In the second half Melbourne came out and really started to play some great football that has seen them currently sit third on the table. Their goal came midway through the second half when the Heart's Eli Babalj was tripped in the box. The resulting penalty was missed, but Kristian Sarkies made no mistake from the rebound as he made it one all.
After the positivity shown in attack, Melbourne Heart fell asleep at the back and were punished when a goalkeeping error from Clint Bolton gave Perth the lead again. After the goal was scored, the Melbourne side seemed to lose Heart and Perth prevailed 2-1 winners on a fine summer's afternoon.
Gold Coast United 0 vs. 1 Wellington Phoenix
Bottom club Gold Coast welcomed Wellington Phoenix to Skilled Stadium in the hope that they would gain points on the rest of the teams. In a world first, the Gold Coast coach was miked up so that viewers at home could see first hand how Miron Bleiberg devised and critiqued his team.
Wellington started the stronger of the two teams with two chances falling to Spanish import Dani Sanchez. At halftime it was nil-nil. In the second half it was more of the same from Wellington, but Gold Coast started to attack more.
In a game of wasted chances, it was Wellington's Tim Brown who headed in from a free kick to give the travelling supporters something to smile about after 88 minutes of play. That was the way it stayed, giving the Phoenix all three points to take back to Wellington. Gold Coast now face a mountain to climb to reach the finals.
General News
A spat has erupted between to former Australian Internationals, Robbie Slater and Craig Foster. Foster recently wrote an article highlighting the appointment of Jim Magilton to Melbourne Victory as retrograde and also criticising his coaching style.
Slater reacted negatively to the comments in the article and said,
"In my opinion, it is a racist column and it is beyond me how he continually gets away with these vile articles."
There is still no word from Craig Foster, so I will keep you posted. Information gathered from Courier News.
Statistics
Top Goal Scorers
| | | | |
| --- | --- | --- | --- |
| Name | Club | Nationality | Goals Scored |
| Besart Berisha | Brisbane Roar | Albania | 10 |
| Matt Simon | CCM (Transfered) | Australia | 7 |
| Ryan Griffiths | Newcastle Jets | Australia | 7 |
| Archie Thompson | Melbourne Victory | Australia | 7 |
| Carlos Hernandez | Melbourne Victory | Costa Rica | 6 |
| Mate Dugandzic | Melbourne Heart | Australia | 6 |
| Jeremy Brockie | Newcastle Jets | New Zealand | 6 |
| Mitch Nichols | Brisbane Roar | Australia | 6 |
| Shane Smeltz | Perth Glory | New Zealand | 6 |
| Patrick Zwaanswijk | Central Coast Mariners | Netherlands | 6 |
This is a trial run and I'd love feedback on what else to include. Thank you for reading.