Philadelphia Phillies: Amaro Changing and Following Gillick's Championship Model
January 15, 2012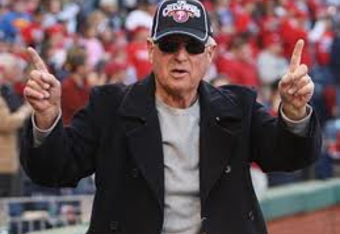 After serving as an assistant to Hall of Fame General Manager Pat Gillick for three seasons, you would like to think that Ruben Amaro Jr. learned a few things from him.
Being a three-time champion as an executive, Gillick has a lot from which to learn. Perhaps there was a blueprint model to take away from his work.
Amaro has actually acted as quite the opposite of a General Manager since taking on the position following Gillick's retirement. The current Phillies executive has seemed to focus only on collecting the big-name players like Roy Halladay, Cliff Lee, Roy Oswalt and Hunter Pence.
Big name players are nice, and obviously their big names indicate their ability to contribute, but they are not necessarily part of the Gillick model.
Gillick, aside from winning championships, was best known for two things as part of his blue print model: making the subtle move, and thinking outside the box.
Sometimes it was the subtle move that was a result of out-of-the-box thinking. And sometimes when he thought out of the box, it produced a move that ended up being quite subtle.
But always, the move, no matter how outside the box or how subtle it was, led to his primary claim to fame of being a champion. They were moves of a champion, covering all corners and thinking on all realms.
It was taking a chance on a frail outfielder from Japan who looked nothing more than a slap hitter in the United States. Or selecting a future MVP in the Rule 5 draft. More recently, it included trading a franchise's cornerstone and most consistent player for a package that was centered around a person whose most notable accomplishment since the trade was tying for lead in scoring for the Southern Nazarene Crimson Storm basketball team.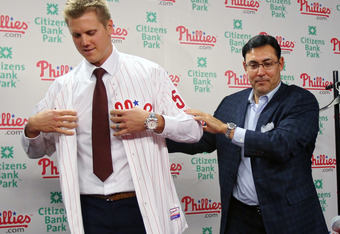 Len Redkoles/Getty Images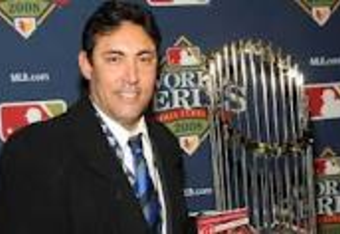 Each of those moves were with a purpose. They also produced a calculated result. Winning. Gillick's most recent example of that was assembling the 2008 Philadelphia Phillies. That offseason his signings included Geoff Jenkins, Pedro Feliz, So Taguchi, Chad Durbin and Rudy Seanez.
Additionally, he resigned J.C. Romero and traded for Brad Lidge and Eric Bruntlett. Each move, though subtle, had a purpose. Geoff Jenkins was to provide veteran leadership and a hunger to win. Taguchi was going to bring the experience of a World Series champ and Eric Bruntlett was going to give Charlie Manuel flexibility to do things like double-switch and pinch run.
And while being subtle, he also thought outside the box. Brad Lidge was seen as being done as a competent closer, his confidence shaken after his infamous home run allowed to Albert Pujols in 2005. Gillick thought a change of scenery would do him well. Chad Durbin was primarily a starting pitcher before being brought in to Philadelphia, nothing more than a number five starting pitcher. Gillick thought sliding him full time to the bullpen would allow him to thrive with the movement on his pitches.
A few months of 162 games and three postseason rounds later, he had himself a World Series championship group. After three years of failing to build a champion like his mentor, Amaro has operated to a different tune this offseason. He has been following the Gillick model; thinking out of the box and making subtle moves.
Along with bringing back leader and franchise icon Jimmy Rollins, his moves this season have included adding Jonathan Papelbon, Jim Thome, Dontrelle Willis, Laynce Nix, Ty Wigginton and Brian Schneider to the 2012 roster.
He's following the Gillick model: subtle and out-of-the-box moves with a purpose.
Jim Thome was given a little over a million dollars to provide that hunger for a championship, missing a ring from his Hall of Fame resume. Jonathan Papelbon will provide an edge to a clubhouse and bullpen that can sometimes be dual and lacking characters.
Ty Wigginton will be able to slide both around the lineup and around the field. Brian Schneider will continue to work with Vance Worley to ensure he is the real deal. Laynce Nix will provide insurance should Ryan Howard take a while recovering from injury or John Mayberry Jr. struggles.
Thinking out of the box, Amaro sees Willis as a failed starter who has a chance to thrive being a left-handed specialist out of the bullpen.
Each move has a calculated, anticipated product. The plan is that the sum of each of those part's contribution results in a championship.
This is different from his previous three offseasons. They each have featured a big-splash move, but not many of his have been the small ones needed to make a successful championship run. The only time you could possibly point to Amaro doing this was before 2010, but in reality he was just plugging roles. Juan Castro was a downgrade from Bruntlett's speed and versatility.
Ross Gload was not the threat off the bench that Matt Stairs was, and Danys Baez nor Jose Contreras were nearly as dominant or versatile out of the bullpen that Chan Ho Park was. In most of those cases, he was replacing Gillick's guys. None of which seemed to have an apparent purpose aside from just filling in holes.
Last season, aside from adding Cliff Lee, his only other notable move was selecting Michael Martinez from the Rule 5 draft. Martinez essentially replaced Greg Dobbs, which resulted in a downgrade.
This offseason, the purpose seems to be there. He's not just filling in holes but he's improving the team by bringing in role players that have a purpose. Incredibly, he upgraded a 102-win team with moves that can further strengthen their ability to compete for a marathon championship run. They have all been subtle moves, some of which have been out of the box.
But it's the purpose that brings more promise to the team. The model now says it is time to watch, enjoy and compete through the same 162 schedule plus playoff rounds Gillick had to go through. It just part of the Gillick model to a championship, a model updated and proven successful as recently as his final season.