Swansea City vs. Arsenal: Match Preview and Prediction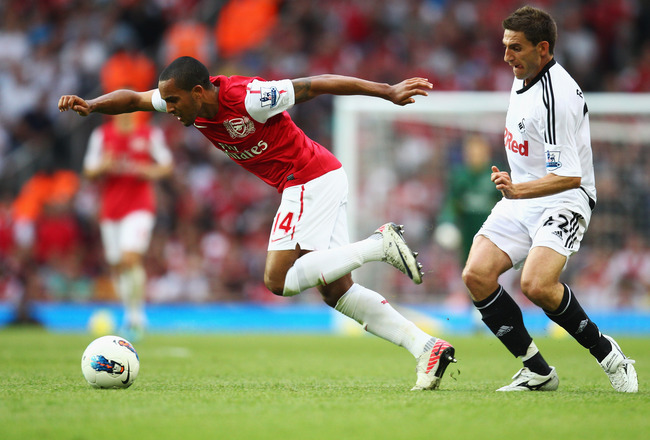 Onward to the prize, buoyed by winged feet.
Clive Mason/Getty Images
When Arsenal played Swansea City in September at the Emirates, it proved to be an even match in the end, despite the home team's early pressure and chances.
Arsenal won the match by a lone goal.
At the time, Arsenal were battling confidence issues and were seeking to recover from their disastrous start to the season.
The recovery would be halted by two more losses at Blackburn Rovers and Tottenham Hotspur, after which Arsenal enjoyed an excellent run of good results.
Arsenal will again be playing Swansea after seeing their form take a dip. They've toiled recently to win matches and lost their last Premiership game. On top of all these, the team is still enduring the loss of many of its defenders.
Confidence is not at 100 percent for this team even if it has been boosted by the presence of Thierry Henry, who has returned on a six-week loan from the New York Red Bulls.
Thus, this match will afford Gooners the opportunity to have a few of their questions answered.
I explore six of such questions in the following slides.
Will the Team Be Twice Lucky?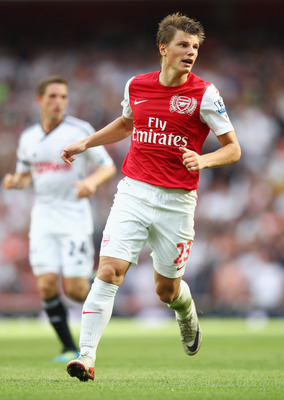 Arshavin scored Arsenal's lucky goal in the first encounter against Swansea
Clive Mason/Getty Images
The last time the two teams met in September, Arsenal got a lucky break through goalkeeper Vorm's mistake.
Is another lucky break in store for this match?
Andrei Arshavin was the lucky beneficiary of Michel Vorm's mistake, showing remarkably quick wits to smash the ball home from an acute angle. See the goal here.
"Take your chances," they say, which is exactly what Thierry Henry said about his goal against Leeds United on his re-debut for Arsenal: "You never know when you will have a second one, if you have a second. You have to make sure you take it, and I took it well."
It is essential that Arsenal take their chances in this match.
The recent tradition follows the pattern of fecund early, but unconverted, chances that then peter out to leave an often lumbering and laboring team shorn of ideas.
The expediency of winning this match is three-fold: Arsenal maintain the gap between them and Chelsea; they widen the gap between them and Liverpool while keeping Newcastle United at arm's length; they shorten the gap between them and Tottenham Hotspur by two points.
This is the task facing them in this match. Success will determine whether this will be a good week or bad one.
Where and How Will Thierry Henry Play?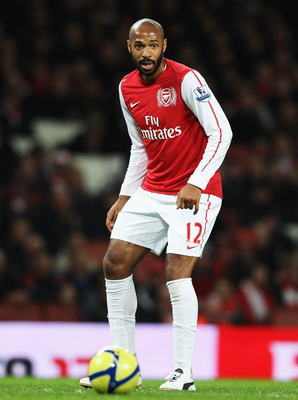 Where and how will he play?
Clive Mason/Getty Images
Arsene Wenger is most likely to play Thierry Henry in the second half of the match.
In his post-match interview with Arsenal Player after the Leeds United FA match midweek, Wenger said this about where and whether or not to play Henry with Robin van Persie.
I haven't decided yet. Robin will be back against Swansea. Will Thierry start or not? I don't know yet. He can play behind or in front of Robin or on the flank, Robin can play on the flank too, but I don't know yet what I will do. They can play together, of course, and they did play together.
Here are my thoughts on how Henry should be played.
First, it seems more profitable to play him as a substitute rather than as a starter, for although Wenger has stated that Henry has been training extra hours to gain full-match fitness, he may not yet have regained it.
But even if he has, it may be better to play him as an impact substitute, especially when the goals refuse to come.
Moreover, Arsenal want to be stingy with playing him to reduce the chances of injury, burnout or loss of confidence from elusive goals.
Furthermore, bringing him on as a second-half substitute can serve as a morale booster to both players and fans, especially in difficult matches.
Here's an insightful comment from a fellow Gooner on the issue. I have culled it from the comments section of this article.
The comments from players regarding Henry are precisely why signing him on loan was such a good decision. Regardless of his goal tally, and even before he scored against Leeds, his presence in and around the team is a lift.

What I didn't think of at the time, but which became evident when I watched the second half of that Leeds FA tie again, was how he also lifts the stadium.

His presence alone has inspired fans to get behind their team. Quite often, over the course of recent seasons, the Emirates has resembled a morgue.

At times it must be a terrible place for the team to play in—the jeers the boos, the gasps and moans when players miss or give up the ball.

All these contribute to this overwhelming sense of anxiety at the Emirates, which has to be counterproductive and maybe contributes to stifling the side's potential for success (Fabregas stated Arsenal was never the same after the move from Highbury, as the atmosphere at the Emirates was never replicated).

Henry's coming back has reminded the fans of the club's proud heritage. I hope it inspires a better atmosphere going forward. The players deserve that.
Second, I believe Henry's potency can be better exploited through playing him in the middle, the exact same way he was played in the Leeds match.
Here's why.
To play him as a winger may not serve his present strength.
Henry, we know, is not in his twenties anymore. Playing on the flank will be more demanding of him in general, especially since he'd be required to track back frequently to defend. You want to conserve his energy, which can be better applied terrifying the opposition's defense.
Moreover, you want him lurking within the opponent's defensive line in search of that one chance mentioned above.
Here's how I propose changes be made to accommodate him when he's brought on.
Remove Andrei Arshavin, whom I assume will now start frequently in the absence of Gervinho.
Shift Theo Walcott to the left flank and then move Robin Van Persie to the "Iniesta position," which means he doubles as a quasi right winger and a false nine. As a false nine, he begins majority of his movement higher up on the flank and then moves diagonally inside. As he does this, Aaron Ramsey who plays at the tip of the midfield, moves outward to the wing position on the right.
Meanwhile, van Persie searches for Henry who lurks within the opponent's defensive line.
The foregoing should work splendidly. However, I'm sure Wenger will find more fascinating ways to utilize Henry in the next six weeks.
How Will the Defense Look in This Match?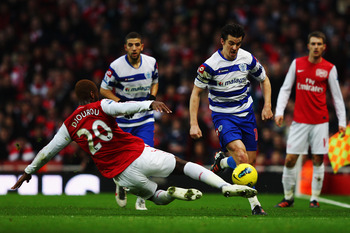 Johan Djourou returns as a make-shift defender in this match.
Clive Mason/Getty Images
We should see Per Mertesacker and Laurent Koscielny partner in central defense. Johan Djourou will return from his one-match ban to man the right-back position.
Barring a surprise return of Kieran Gibbs, Nico Yennaris should play at the left-back position.
Like I said in my preview of the Fulham match, expect Swansea to exploits these two positions. At the moment, they still are Arsenal's Achilles' heel.
Yennaris' inexperience will serve only to invite more pressure upon the left-back position. Therefore it is critical that Andrei Arshavin tracks back to help him in defense.
The fact that Arshavin doesn't like defending only underscores the problematic nature of this particular position. Look to see Swansea's pacey wingers explore this weakness.
Will the Midfield Show Improvement in Its Transition from Defense to Attack?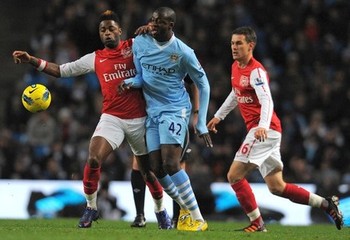 What influence will Song and Ramsey bring to this match?
The loss of natural full-backs has coincided with the midfield's inability to transit between tempos. Let me explain.
Some readers may recall the underlying point of my article on rhythm and tempo, the main point of which was that a team should never play at the same tempo, but should vary it throughout a match.
In that article, the culprit was fast tempo, which I felt is often counterproductive to Arsenal's cause since it negates deliberate and calculated build-up to attacks. I seem, though, to have neglected to stress the importance of the reverse situation.
Since that article, and perhaps because of the loss of full-backs who are no longer there to help the team transit more fluently from defense to attack, Arsenal's tempo has become more deliberate from the back.
However, instead of giving one cause to rejoice, the newfound deliberateness has been fraught with attack impotence when Arsenal advance forward. The result has been tame possession.
To turn possession into either a psychological weapon or a goal, a team ought to be able to alter the rhythm of the possession.
For example, if the team begins a slow build-up from the back, knocking the ball around as Arsenal have been doing, the next thing would be to look for the opportune moment to make that devastating pass, which should at least cause problems for the opposition's defenders and goalkeeper.
Ramsey and Arteta must control the rhythm and tempo of the game.
At the moment, Arsenal are unable to transit from slow possession to increased tempo in passing as they approach the opponent's goal area.
This means that by the time they reach the final third, the opposition's defense is well organized and is thus unfazed by Arsenal's possession.
The key then is to use possession in an unnerving manner. That is, your opponent should never guess what you'd do next with the ball. This should be done through quick transition from tempo to tempo.
For example, you can be deceptive by building very fast from the back, but then refuse to attack the opponent's goal, choosing instead to change your tempo and keep possession in the middle. You could then send the ball back to the defenders to begin another build-up.
This is what I mean when I say possession can be used as a psychological weapon. To do this, the team should use it in a way that frustrates its opponent, especially since teams now decide to cede possession and pack their goal area.
Enough of this for now.
What suffices for now is to watch and see whether or not our midfield of Alex Song, Mikel Arteta and Aaron Ramsey display more shrewdness in the way they control the tempo of the match.
How Will the Opponent Play?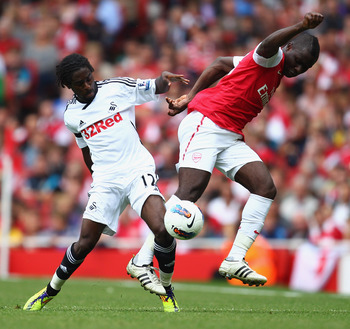 Swansea will contest the match stride for stride.
Clive Mason/Getty Images
Swansea play attacking football.
They should come all out in this match since they are playing at home. While this sounds like a strategy that should play into Arsenal's hands, it may not be so; Swansea are a very organized side.
Their passing game could trouble Arsenal, as it did in the first encounter between the two teams at the Emirates.
Their players to watch include Kemy Agustien, Danny Graham, Scott Sinclair and Nathan Dyer. Their impressive goalkeeper, Michel Vorm, could prove frustrating to Arsenal attackers if he has a good match.
What Will the Scoreline Be?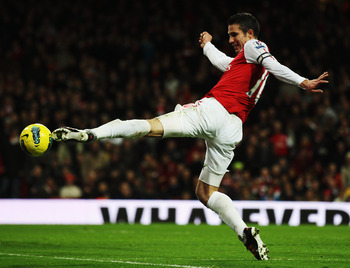 The Flying Dutchman could return to his scoring habit in this match.
Clive Mason/Getty Images
A bad day could see Arsenal control possession, pile up pressure on Swansea in a bid to get the elusive goal, only to be struck by a sucker punch to lose the match by a goal to nil.
A slight variation of this scenario could see the game headed to a draw as it winds down, only for an unlucky deflection to end in the Arsenal net. The reverse of this could happen, of course.
A bad day could also be a disjointed Arsenal performance.
A frustrating day could see Arsenal controlling the game, but only managing a draw. The scoreline in this case could be a one-all draw. It's hard to predict a goalless draw from this encounter.
A good day could see Arsenal toil very hard to get the stubborn goal, managing to snare it eventually.
Or a really good day could see them score early goals, or score a goal each in either half of the match.
In this case, Arsenal could win by two goals to nothing or by two goals to one, or they could win by as much as three goals. Three goals will be a really good day. This, though, is unlikely to happen, but what's the harm in wishing?
Here, then, is wishing for a really good day.
Keep Reading

Arsenal: Like this team?