If Marco Huck Wins the Title, Can He Breathe Life into the Heavyweight Division?
January 15, 2012

In February, Marco Huck will face Alexander Povetkin for Povetkin's world title.  While neither man is well-known in the States, Povetkin is a current heavyweight champion who some fans know because he is trained by Teddy Atlas, a commentator on ESPN's Friday Night Fights.
Huck, on the other hand, is almost totally unknown.  That is because when he steps into the ring against Povetkin for the heavyweight title, it will be his first fight in the division.  
It isn't just because the heavyweight division is lackluster that he is getting the fight.  Huck will be moving up from the cruiserweight limit of 200 pounds, where he is a champion, in an effort to win one of boxing's most prestigious championships.
As the two men face off, it comes off as deja vu.  At one point, Povetkin was seen by many as someone who could challenge the Klitschko brothers' stranglehold on the division and inject some much-needed excitement into boxing's staple weight class.
After a seven-year pro career which has just seen Povetkin turn 32 and just defend his title once with the second being against Huck, that hope has dwindled.
Looking across the ring is Huck, who just turned 27 years old.  He has one loss on his record to former cruiserweight champion Steve Cunningham in a title fight.  
Since then, he has gone on to become the European champion, beating decent opposition, and then a world champion who stepped up against quality opponents.
Huck has had the career that many wanted for Povetkin, and if he wins, he has a better chance of fighting one of the other champions of the division.  
He has stayed in his native Germany when defending his title, but with the Klitschkos often fighting there, a matchup between them isn't impossible.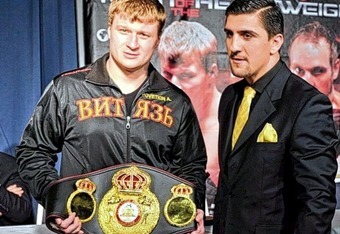 In fact, it would be a lucrative bout for all involved.
Huck may not have the size of the Klitschkos, in fact he is a half inch shorter than the 6' 2" Povetkin, but he would have the mobility to possibly give them problems.
Of course, all of this is pointless unless Huck beats Povetkin in February.  Still, it is worth remembering that there are interesting fights in boxing that involve more than two of the most famous fighters out there.
It's also worth remembering that there are worthwhile fights in the heavyweight division.
And if Huck beats Povetkin convincingly, there will even be another boxer worth watching and hoping he brings some excitement to boxing's marquee weight class.
Huck could be the heavyweight hope that fans have, because for all of boxing's gloom, it's worth having a little bit of hope.
It's keeps watching the sport fun.