NFL Playoffs 2012: The Redemption of 49ers Tight End Vernon Davis
January 15, 2012

Jed Jacobsohn/Getty Images
After the biggest moment of his career on Saturday, Vernon Davis wept on the sidelines as his exuberant teammates celebrated around him.
Davis had just caught the go-ahead touchdown with nine seconds left, slipping between the Saints coverage and elevating above safety Roman Harper for a 14-yard score, the biggest play in a game full of them. 
It was a poignant moment for Davis and the 49ers that made one thing clear: The 6'3" tight end has finally found redemption. It felt like that had been underscored as the 49ers celebrated a 36-32 victory over the Saints, one that would take them to the NFC championship game. 
However, it wasn't always this rosy for the big tight end. 
Three years ago, Davis was essentially labeled a loser by 49ers coach Mike Singletary.
Davis was sent to the locker room in the third quarter of a 2008 game against division rival Seattle after drawing a 15-yard unsportsmanlike conduct penalty. After the game, Singletary sounded off on Davis, saying he wanted winners and that Davis was a player who thought it was all about him instead of the team. 
By all accounts, Davis changed his attitude after that moment, stepping up as a team leader over the next three seasons.
However, another problem has remained—despite all of his freak athleticism, Davis has never quite lived up to the expectations placed on him after he was drafted sixth overall in the 2006 NFL draft.
Sure, he's has his moments, such as his breakout 2009 season in which he tied the all-time single-season record for receiving touchdowns by a tight end with 13. 
But due to injuries, the 49ers game plan, or a lack of talent around him, Davis has sometimes disappeared. Instead of 2009 becoming the norm for Davis, it has remained an anomaly. While Rob Gronkowski and Jimmy Graham set a new standard for tight ends in 2011, their seasons also were a reminder at what Davis had potential to be but only had been able to achieve in inconsistent bursts. 
That was, until Saturday against the Saints, when he took over the fourth quarter of his first career playoff game, the first the 49ers have participated in since 2003. 
With three minutes left and the Niners trailing by one, Davis split out wide and used his speed to get by cornerback Malcolm Jenkins as Alex Smith, another much-maligned Niner, lofted him the ball for a 37-yard gain. 
Then, he abused Jenkins again, busting off the line and cutting toward the sideline as Smith hit him in stride. After the catch, Davis turned on his jets again, turning it into a 47-yard gain with 30 seconds left.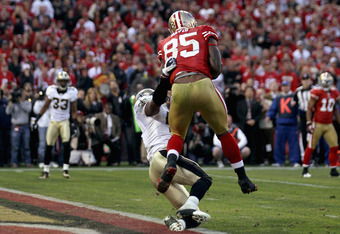 Jed Jacobsohn/Getty Images
Finally, he capped off his huge day by making the play that would send the 49ers to the NFC championship game. With nine seconds left, Davis ran up the seam and used his big body to shield the coverage. Smith made a perfect throw to the goal line, and Davis hauled it in for a 14-yard, game-winning touchdown.
With Smith and Davis playing at the highest level of their respective careers, the Niners are finally seeing what they expected when they selected the two players in the first round of consecutive drafts. 
In the biggest game of his career, Davis dominated, gaining 180 yards on seven catches and coming up big when it mattered most. 
In one game, everything came together for the big tight end. He became the best and most impressive player on the field in a game that included Drew Brees and Graham. 
And with one 14-yard play, he proved everything that Singletary had said about him three years prior wrong.
He has proven he is a winner.