Tim Tebow: While Detractors Get Their Wish, Broncos QB Will Get Last Laugh
January 15, 2012

Jim Rogash/Getty Images
With every pass in that flats that one-hopped to a receiver, they smiled.
With every feeble attempt to escape a pass rush, they celebrated.
When the clock read all zeroes, they rejoiced.
Tim Tebow may be America's most popular athlete, but he's the same kind of popular as the president. Sure, everyone knows about him, but the divide between his supporters and detractors is about as wide as the Pacific Ocean.
The Denver Broncos' playoff run is no more. The team of a stout-turned-porous defense, the team of the iron-legged kicker, the team of the tight end moonlighting as a quarterback, is now eliminated from the playoffs.
However, judging from reactions, it seems as if many people have lost perspective on what this means. The beauty of sports is the mantra of, "Wait til' next year," and the ability to rise and fall with a team while they pursue a championship.
Wait til' next year applies just as well to Tebow. No, he is not a one-man team. No, the Broncos' miraculous wins this season were not all his doing. Yes, many of the Broncos' losses may have turned out differently with a traditional quarterback.
But whether you love him, hate him, or are just tired of hearing about him, what Tebow brought to the NFL this year was something that transcended football. He was not just a story. He was a phenomenon. He was a mania. He was everything—a story, a hero, an object of hate.
He was not a fad.
As much as many people would like to believe the contrary, Tebow has many years of playing football left. He has many offseasons to get stronger, many training sessions to get better, many training camps to get wiser.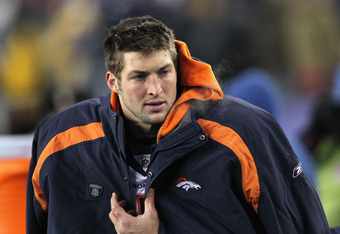 Jim Rogash/Getty Images
What we saw from Tim Tebow this season was merely a beginning. We saw a quarterback who was not supposed to start in the NFL lead a team full of has-beens to the playoffs, where they beat a team they weren't supposed to beat. Then, they got routed by their conference's best team, led by the greatest quarterback of our generation.
Let's put this in perspective here. The Broncos have a defensive line that got consistently manhandled by opponents all season. They have a linebacker corps that will only get better, led by Von Miller. They have an aging secondary. They have one wide receiver who would start on another NFL team and a stable of second-rate running backs. They have an offensive line that protected their quarterback about as well as a glass window protects a house from a home run derby.
And then there's the quarterback. He's unlike any player the NFL has ever seen. He has a throwing motion worthy of the scrawny JV starter on a high school team, the footwork of a newborn deer, and he needs Hooked on Phonics to help him read through his progressions.
But damn it, he gets the job done. He makes throws when it matters, and when he is put in position to win, he wins.
No, Tebow is not going away. He's going to be a quarterback for a long time, and eventually, people are going to have to accept that. His team is only going to get better. His coaches are going to create more chances for him to succeed. And if you know anything about Tim Tebow, you know that he will work hard to not one-hop his check-down throws and not overthrow his receivers every other throw.
Everyone who wanted him to fail sits happy now. Merril Hoge, Stephen A. Smith, Howard Bryant and every other person who publicly opposes Tebow's football ability will have a field day breaking down his shortcomings.
The countless fans who want Tebow to fail will undoubtedly continue to doubt his abilities. ESPN will undoubtedly continue to foster the hate by treating Tebow like the greatest thing since sliced bread.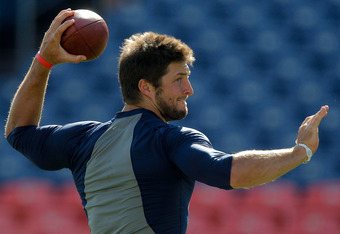 Justin Edmonds/Getty Images
But Tebow will be back. He'll probably go to the Philippines to visit sick children across the country and then train his ass off all spring and summer. He'll do endorsements, signings, pictures and interviews. He'll be insulted, blamed, praised and worshiped.
Next year, Tebow will still play football. He will still be the quarterback of the Denver Broncos. He will still be the darling of the media and will still be football's most popular topic.
He will be there, in the same "15" jersey he's been in for years. Whether you love him or hate him, you had better get strapped in and get ready for the long haul, because Tebow is here to stay.
The playoff defeat to the Patriots was not the end of anything except for one tiny, insignificant season for Tebow and the Broncos. It was the end of a season.
It was the beginning of a long future.