Maurice Edu, Kyle Bartley Racially Abused Via Twitter
January 14, 2012

Stu Forster/Getty Images
Strathclyde Police in Scotland are said to investigating complaints, according to Sky Sports, after information was made available to them that two Glasgow Rangers players were racially abused on Twitter.
The racial abuse was directed towards United States midfielder Maurice Edu and on-loan Arsenal defender Kyle Bartley in the social networking site and these recent incidents beggar belief after other recent high profile players Louis Saha and ex player Stan Collymore have ended in part, with a conviction for the attack on Collymore.
Bartley, who is on a season long loan from Arsenal, wrote on his own Twitter page, "Disappointing that in 2012 things like this are still happening. Hopefully, the police will take action. Thank you all for the support."
In a moment of ignorance and stupidity, it appears the abuser sent one of the comments towards another Rangers player, Kyle Lafferty, instead of his intended targets.
As if the incidents weren't bad enough, it appears the culprit's racial comments were also made towards Emmanuel Eboue, although it's unknown at this stage if these are to be investigated as well.
The culprit in question claims to be a Glasgow Celtic supporter and states in his bio that "his kids are his life." Not exactly the type of role model that his kids require if this evidence is anything to go by.
Strathclyde Police have confirmed that they were looking into these complaints, stating in a brief statement: "We will pass these posts on to the relevant officers for their attention."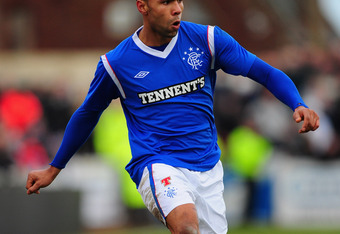 Stu Forster/Getty Images
Scottish Champions Glasgow Rangers also voiced their unhappiness, with a spokesman telling stv: "These comments are disgraceful and we have notified the police who are now investigating the matter.The club will assist with all enquiries."
These comments have no place in football or in the world as a whole and its good to see the Police becoming involved before these incidents can escalate any further.
In the cauldron that is the Old Firm in Glasgow, they already have their own sectarian abusive elements to deal with without bringing race into the equation, and nothing but a jail sentence will suffice for this type of behaviour.
mcfcno1 Celtic#1 
@jacko505 shut the duck up ya ****** duck. Hahn's. Who's at the top ya toss pot 4 hours ago
mcfcno1 Celtic#1 
@MauriceEdu oo-oo do the ****** gibbon. your an immigrant. Free everything 4 hours ago
mcfcno1 Celtic#1
@Kyle_Lafferty cany wait till wan of the hoops decapitates u ya ***** skinny ****** 5 hours ago 
mcfcno1 Celtic#1 
@kylebartley22 hope you crash on the way hame ya monkey fuk 5 hours ago     
mcfcno1 Celtic#1 
@MauriceEdu ya ****** ***** ******* your ficin push. Back to the jungle were u belong way air homes
mcfcno1
@kylebartley22 Bartley your gettin it ya **** *******. Hink yir wide oan a pitch. Yir a dead **** walkin