NFL Playoffs: Why This Season Was "Not Good, but Important" for Lions
January 14, 2012

Ronald Martinez/Getty Images
They're done.
Last week, the Lions were told to clean out their lockers, take one last team photo, deliver one last press conference and hop the team plane one last time for their flight out of New Orleans.
The Lions lost 45-28 in New Orleans in their NFC Wild Card matchup.
That's done. It's over, and now it's time to move on. The Lions go into the offseason with many more questions than answers.
What are they going to do about the secondary? How could they possibly manage to re-sign Cliff Avril and Stephen Tulloch and Calvin Johnson?
Before we drown ourselves in the waters of speculation and get whisked away in the sea of negativity, let's take a look at some of the positives the Lions can take away from this season, deemed "important" by head coach Jim Schwartz:
1. By George, the Lions finally found themselves a quarterback!
Matthew Stafford played out of his mind this season. Make any argument you will about how "he threw for 5,000-plus yards because of no running game" and all that.
That's fine, but Stafford also threw for 5,000-plus yards because he has the ability to throw for 5,000-plus yards.
There were several plays Stafford made throughout the course of the season that made even the most pessimistic of Lions fans go "Wow! Did I just watch that?"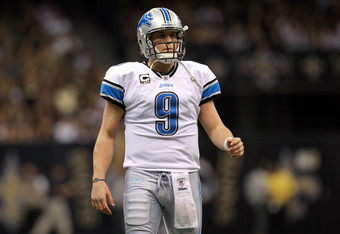 Ronald Martinez/Getty Images
Yes, you did. Stafford could make throws that even Brett Favre—yes, I said it—even Brett Favre couldn't make. The way he would zing the ball up, down and sideways made it almost seem as if we were watching a reincarnation of Favre himself.
2. Calvin Johnson, Stafford's primary weapon had, for lack of a better word, a spectacular season. He became the first-ever evolved form of Megatron—Mega Megatron.
Johnson finished the year with over 1,000 yards receiving and was among the league leaders in touchdowns for a wide receiver. His ticket was punched for Hawaii since he left Georgia Tech, but he will not be able to play this year because of an Achilles injury.
There's no doubt Johnson will command a lot of money. Thankfully, the Lions have another season to wait before hammering out a long-term deal.
Let's not discredit what Brandon Pettigrew, Tony Scheffler and Titus Young have done for this offense either. Young has come up huge in times, and with him, we could be looking at the No. 2 guy next season.
3. Stephen Tulloch and Cliff Avril have been anything but duds on the defense. There is no question that Tulloch was the rock: the solidifying force in the middle. Tulloch didn't always look the part, but he was the surest tackler on the team.
As for Avril, no one had witnessed a career resurgence like him, except maybe Kevin Smith. With Ndamukong Suh being a non-factor for a few games this season, Avril stepped up big.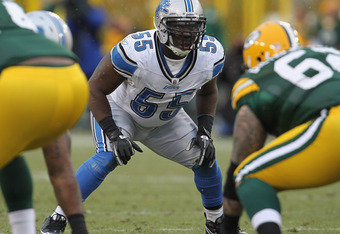 Jonathan Daniel/Getty Images
The Lions face a question with their defense, however. General Manager Martin Mayhew has publicly stated he wants to keep both Avril and Tulloch. Avril wants a long-term deal.
There's always the franchise tag, which will make him among the top five highest-paid defensive ends, but only for one year.
Most players get angry when they're franchised, but it's likely Avril would accept. Or, the Lions face the real possibility of losing Tulloch unless they re-up him for one year.
All I know is this season was an important step for the Lions. Now they know what they need to look for in the offseason. Now they know what needs to be done to put them on the pedestal of the NFL's elite.
Contrary to what Jim Schwartz says, this season was good too. But while this season was an important one, the offseason will be even more important.